Sony Xperia XA Ultra hands-on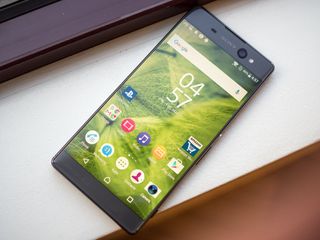 After unveiling the next chapter of its mobile story at Mobile World Congress in the form of the Xperia X series, Sony has today added another member to its Xperia family. The Xperia XA Ultra takes the basis of the XA and upscales it to an enormous 6-inch form factor.
Building on earlier mid-range Sony "phablets" like the Xperia C5 Ultra, the XA Ultra brings a gigantic display to what should be an affordable handset. Design-wise, it closely mirrors its smaller sibling, meaning the footprint of the phone is surprisingly narrow. That in turn means it's not impossible to one-hand in a pinch.
On the outside, the XA Ultra features a similarly good-looking polycarbonate body, with Sony's trademark symmetrical design language front and back. Sure, it's yet another rectangular design, but it's also elegant and uncluttered — if not as impressive to behold as the metal and glass-based competition. We're fans of the 2.5D-effect glass use by Sony here, and paired with the rounded sides and corners, this gives the impression of something that's industrial, yet slightly organic. (And yet, that also helps with ergonomics.)
Around the front, there's one thing that'll catch your eye besides the 6-inch 1080p display, and that's the front-facing camera. Although it sits flush with the surface of the screen, there's a noticeable border around it, and it's larger than the average selfie camera. There's a good reason for that — the XA Ultra's front camera boasts a 16-megapixel sensor with OIS (optical image stabilization.) And to top it off, there's also a front-facing flash. Still, it's something that'll stand out each time you pick the phone up.
Around the back, there's a more traditional 21.5-megapixel shooter — a Sony Exmor RS sensor — without any hardware stabilization. Sony says its Bionz processing enhancements mean it's able to handle low-light scenes well even without OIS — another claim we'll have to put to the test.
As for the display itself, we found it reasonably bright and vivid in our brief time with the XA Ultra, though we'll need to spend more time with the phone to know how it performs in daylight. In any case, we didn't find the 6-inch screen size to be a problem when combined with that Full HD resolution.
In terms of performance, the pre-production Xperia XA Ultra we used handled Android 6.0 Marshmallow with Sony's UI with ease, though it was somewhat less speedy than the higher-specced Xperia X. Again, performance will likely tighten up some as the phone approaches launch.
And battery life remains unclear as well, with a 2,700mAh cell powering the XA Ultra — that's not a whole lot of juice behind a very large smartphone display. That number's enough to make is a little nervous, but numbers alone rarely tell the full story.
Overall, the Xperia XA Ultra is an intriguing handset catering to those wanting a big screen, top-notch selfie capabilities and a price tag that won't break the bank. It's an important addition that lets Sony flesh out its major new line of Xperia phones.
We should have more details on pricing and availability for the Xperia XA Ultra soon, so keep it locked to Android Central for the latest.
Alex was with Android Central for over a decade, producing written and video content for the site, and served as global Executive Editor from 2016 to 2022.
Man I'm really intrigued by this phone, even though it's a mid ranger. Doesn't matter though because I bet it doesn't make it to the US anyway

6 inch screen and bargain bin processor. Interesting phone.

And a AAA battery. Why I don't know.

Man, this phone is gonna have some TERRIBLE battery life. If this phone would have been equipped with a 4,000mAh battery like the Mate 2, it would be a fantastic mid ranger. Whoever chose the battery size needs to be taken into a room and beaten with a stick. There's just zero sense behind putting such small battery capacity in this device. It's an instant turn off.

Why they didn't go for a battery above 3000mAh for a phone whose size can fit one without issue (in most cases) is beyond me, unless it's for "MUH THINNESS". Also, OIS on the front camera but not on the back. Ehh, that's pretty odd. I know Sony claims that there isn't any need for one, but it's still odd to me.

With their camera sensor as zippy as it's been with the latest generation of their handset they're probably not much mistaken wrt the necessity of the oft-fetishized OIS extra Posted via the Android Central App

Really? Top notch camera's front and back, not to mention it's a mid range device. They have to cut corners somewhere. If they cut corners with the camera everyone would cry about that. No matter what these manufacturers do they can't please people

Yeah, two top notch cameras that you'll be able to use for a few hours before you have to charge the phone again. Not sure if Sony can really cut corners when this is still probably gonna cost $500 if not more. Posted via the Android Central App

Mediatek will make it easier for the phone. Afterall it's mid-range and they do claim 2 days, which is around 1 day for the average user and that is on par with any so called "flagship" phones nowadays that sell you similar specs for a kidney.
Oh, did I mention it's way below 500?

The SOT will probably be horrendous on this device. I'm sure it won't be far under $500. Anything north of $300 for this device is too much really.

Not really true all the time, usually Sony phones last longer than most because of some software tweaks.
Xperia Z3 for example lasted 7-10 hours on video playback.

I've never understood Sony ignoring the US market. I wonder if the FCC is really that much nastier to wade through for a US phone. I'm waiting to see what Google releases, but if Sony released this at a decent unlocked price (unlikely) I would be ordering early.

Sony hasn't always ignored the US market, but they started to when they realized they couldn't sell any phones here. Posted via the Android Central App

Considering how overpriced the entire Xperia X range is, I wouldn't have much hope for this one to be priced reasonably at all.

You are too poor to buy it anyway, stop dreaming about buying any Sony phone. Big spec low quality Chinese phone is better suited for you. You will get what you want - lots of spec with low price.

Who let you out of your parents basement?

The announcement of the XA Ultra makes the rumours I've heard about a X Premium coming out seems a bit more realistic now. Posted via the Android Central App

I've watched a few videos on this phone and im kind of liking it. Posted via the Android Central App

Sony, I want to love you. Why U no love USA? Unlocked Marshmallow Nexus 6 on Verizon. I'm a happy guy.

It's marked coming soon in Sony USA but not for carriers

Dem bezels, though. But there's one thing. 6-inch screen. 2700mAh battery. Okay, why is this a thing? Shouldn't this year be the year where we get bigger batteries?!

Stop trying to apply logic to anything Sony does on Mobile. It never works because there never is any. Except maybe for the idea of the Compact line which they axed because they're "brilliant". Posted via the Android Central App

If they had any sense of logic left, they'd be bringing the Compact back. I mean, if the iPhone SE is a sign that there's still a market who wants a smaller phone, isn't is logical to keep the Compact? XPERIA X Compact or something. If that's not happening.....

That won't happen. If it makes sense, Sony will do the opposite. That's the rule. Posted via the Android Central App

+1 Posted via Android Central App

Without a doubt Sony BLEW it when it came to the battery!

I love the design & the cameras as well. They must produce great photos.

Great hands on.Thanks AC. one of few sites I trust when it comes to reviews

The S7 edge is the same thickness, with a 33% larger battery, a smaller footprint, and waterproofing.

And a 0,5" smaller screen. Even then the S7 is clearly a superior device, don't get me wrong. But it is a little disappointing for a 5,5 incher to have a bigger footprint than a 6 incher. Well, for a 5,5 inches ANDROID at least :) .

Honestly Sony, why do you even bother anymore?

I really love this phone I wish it have it in Canada Virgin Mobile, Telus, bell Canada, Wind Mobile, Rogers, Koodo

I was really intrigued by this phone. And then I saw it had a MediaTek processor and a 2700 mAh battery. Maybe next time Posted via the Android Central App

But does it come in purple? Posted via the Android Central App

Why such a small battery? I would expect at least a 3,500mh battery.

Battery life might be a factor here, is it waterproof? What about RAM and SD card slot? I love the 6 inch screen size!!! Posted via the Android Central App

Would be great if T-mo picked this bad boy up!

Anyone know why the XA looks better than the X performance? I know the X performance is made from better materials and better specs, but the XA looks more modern with zero side bezels. Sony continues to confuse me. Posted via the Android Central App

Agreed; I like the look of the XA more than the X or X Performance.
Android Central Newsletter
Get the best of Android Central in in your inbox, every day!
Thank you for signing up to Android Central. You will receive a verification email shortly.
There was a problem. Please refresh the page and try again.