Sony Internet TV's Google TV 2.0 update pushing out now!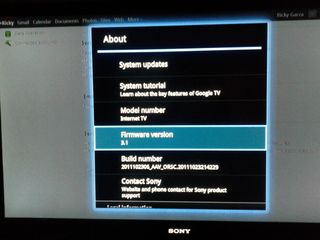 Just as Google foretold, the Android 3.1 update (aka Google TV 2.0) has begun pushing out to Sony Internet TV boxes and televisions. As you'll recall, this is the update that brings:
A simpler user interface, with a customizable home screen.
Finding content becomes easier. TV and movies get their own search, whether they're on Netflix, YouTube, Amazon, cable, satellite, etc.
Improved YouTube experience. Leanback was just the beginning. It's now been integrated even deeper.
Apps. Finally, the Android Market comes to Google TV. You won't initally have the full breadth of the market on Google TV -- apps that require a touchscreen, GPS or telephony won't show, so that pares things down quite a bit -- but Google says it has 50 developers already lined up.
Will it finally launch the era of Android-connected television? We'll just have to see, and we'll still have to wait a few months for new hardware. (And owners of the Logitech Revue will have to wait until later for their update. Sigh.)
Thanks, Ricky!
More in the Google TV Froums
Android Central Newsletter
Get instant access to breaking news, the hottest reviews, great deals and helpful tips
Let us know how it works for you guys, if any of you have the Sony products.

Can't wait to see the results and some videos. I'm surprised they are not putting ICS as I though that was half the point but excited none the less. Anyone know if this gives access to the entire market or just googletv approved apps? I've got the Revue so i'm still in waiting

Don't think there's any approval process for GTV apps but they have to meet certain criteria to be compatible with GTV. First obvious one would be being able to handle the screen size. My understanding is that the market will show any app that meet those criteria so there will be more and more apps as developers make them compatible

Don't understand why you are posting on this link if the only GTV device you have is the Revue. The roll-out for Revue will come in the upcoming weeks and will be different from Sony devices. ICS was never apart of the plan when it was announced but was demonstrated as being used on upcoming GTV boxes, (Vizzo and Samsung) at Google I/O 2011. That comment shows that you bought your Revue when it dropped to $99. As far as the Android Market, 60-85% of apps are touch based so those apps will not be available, that's why Google got commitments from 50 app developers to make GTV specific apps.

With regard to the update for Revue has there been any comment from Google or Logitech as to the meaning of "later"? Is that like later this week or month or sometime next year?

I just got an email stating that the update will be pushing out in the next few weeks. Other than that, not anymore news.

Quick question. Can i download Google TV and run it on a home PC? You know... instead of having to buy a the logitech thing.

pretty sure if you're running linux. you can emulate it through androids emulator, not sure it would be ideal tho hehe http://code.google.com/tv/android/docs/gtv_emulator.html

I got an email from Logitech this morning saying that the update would be coming "over the next few weeks." Personally, I think since they have boxes labeled in the stores that the new OS is available (meant to be on the floor or not), it will be pretty soon. No store can afford to just sit on product like that if it's a sellable item (new release DVDs are a different entity entirely).

Wish I had power in CT to download this!!

How did you make this post? Are you sitting in your car with the phone charging up on the car battery?

The only statement from Google is the update is rolling out in the next few weeks. At least the 2.0 update is live after waiting for over a year, and waiting a free weeks is a known thing rather than coming out at a unknown time.

It sucks that revue is the last for the update when we were the first to get googleTV

Sony came out before revue

LMAOOL. Flawless Victory!

I'll update my TV when I get home. Hopefully, the Spotify app will be available!

I got nothing yet. Anyone able to manually update?

you can go to settings,about and than system update. But my still says my device is up to date...

I got the same.......I was hoping there was something that could be downloaded and applied. The wait continues.

They stagger the push to make sure update servers don't get overloaded. So there's nothing you can do to get it earlier. You have to wait for your device's turn to come

I don't think you can force a manual update, just delay the update push. I also got the email from google tv just a few minutes ago that said the update was rolling out over the next few weeks. The exact quote was: "We're excited to send you this advance notice about a number of software improvements that will soon be coming to your device through an automatic update. The update is rolling out over the next few weeks." One wonders what "few" means in this context. I am glad the Revue update is in queue but if its ready now why can we not have it now? Since all we have ever heard was that sales were lousy there can't be so many of them that the network will be swamped

wake me up when any google tv can stream x264 encoded video over my home network. I just don't get why simple little boxes like wdtv can do this but most other set top boxes can't. I realize google tv is all about content in the cloud, but some of us have plenty of content locally.

PS3 media server works. And plex is available in the market in GoogleTV2.0/ I stream everything to it thru its built in media player.

thanks, I didn't realize they had a plex app for GoogleTV. Still not sure if I wanna run a separate server for it. WDTV works well for streaming, I just hate the interface.

Also if you have XBMC or Boxee running on a computer in your home than it can stream most file types to a Google tv set, without an extra app. Both run a media server like PS3

Thanks for the info. Sounds like a decent solution, but I still would rather not run a third party server if I can help it.

I will see if it gets pushed to my Sony box when i get in, does it now support Flash 11??? I need to be able to watch ESPN3.com on there... hated when Espn changed the site up and I know longer had access due to lack of flash support. Does anyone NO if it now does???

The leaked GTV came with Flash 10.3. The Market has Flash 11 to download, but I don't know if that shows in the GTV Market (I believe with GTV market only allows GTV working apps to show up). I assume it could be sideloaded if it doesn't show up.

Anyone looking to force update your sony google tv should crash something in the OS and send a report to Google. I crashed Google Chrome and 5 minutes later my TV wanted to install the update. Give it a try and report back.
Android Central Newsletter
Get instant access to breaking news, the hottest reviews, great deals and helpful tips
Thank you for signing up to Android Central. You will receive a verification email shortly.
There was a problem. Please refresh the page and try again.