So you just got a new Android smartphone ...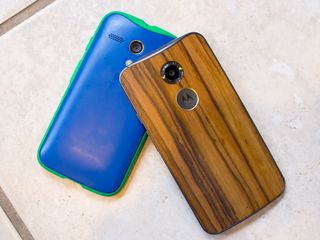 You've got the new phone, now we're going to show you how to get up and running
So, you just got a new Android smartphone — that's pretty exciting! But once the initial awe of this new gadget wears off, you realize you actually need to use that phone. For those of us who read (and write for) Android Central regularly a new phone isn't such a big deal, but if you've just received your first Android phone it can be a bit daunting.
But that's what we're here for — with a little research you'll have your new Android up and running, and you'll be a pro in no time at all. Read along with us and see the first things you need to do with your new phone.
Where to get started
First thing's first — you'll need a Google Account to get started with your Android phone. If you have Gmail you have a Google Account already, and if not you can make one either online or when you first set up your phone. This single account unleashes the power of Google Play for apps, but also Gmail, YouTube and sync in Chrome.
Just as important, let's talk about security. Set up Android Device Manager so you can keep your data safe if your phone is lost or stolen.
Coming from an iPhone? You'll probably want to know how to get your iTunes music over onto Android.
Once the music is on the device, check out our favorite music player apps.
Don't care for the look of your phone's software? Consider a third-party launcher to customize things a bit.
You'll probably spend some time in Google Play grabbing some new apps. Check out our app reviews for information, read our weekly list of app picks every Sunday to see what we're all using and browse the app gallery for all of the apps we recommend.
For further learning, read all of the basic help and how-to posts we've written on our main How To page.
Where to ask for some help
We have a fantastic and vibrant community in our forums talking all things Android on a daily basis, and we'd love to have you join us! We have forums for all of the major devices — Nexus, Samsung, HTC, Motorola, LG and Sony, some of the lesser-known stuff, and everything in between. You can even just go browse at your leisure, or maybe introduce yourself and get into the conversation.
Get to know us here at AC
We're all about bringing you the latest news, device reviews and help for the devices you use every day, but we also like to give our opinions and tell you a bit about ourselves from time to time. Our Editor in Chief Phil gives us an update with his weekly column, while each of the writers here chimes in with an editorial now and then.
Perhaps the best way to get to know the folks here at AC is to listen to our weekly podcast, where we wrap up the week's news and talk about what's going on in the Android world. Going a step further, you can even watch it live — and interact with Hangouts Q&A — as we record at 4 p.m. ET / 1 p.m. PT every Friday, with slight changes when our schedule is full.
After spending a little time with your new phone and the appropriate resources here, you'll be off to a running start enjoying your new device and the world of Android. Welcome!
Andrew was an Executive Editor, U.S. at Android Central between 2012 and 2020.
Hello all! Welcome to android ownership!

OK gang here goes a good one. Through these magnificent forums I researched which smart watch I should buy for myself this Christmas season. I read the forums, went to stores, played with the Moto, the Pebble, and various Gear watches. I finally chose the Gear S, no its not too big, and I'm really enjoying it. It's attached to my Note 4. Does everything I want it to do, Dick Tracy thing and everything. It is not active through Sprint. So I'm home, it disconnects from the Bluetooth, I go to sign in on my home network and then it happened! Of all the wonderful things this beast does, it DOES NOT have the $ symbol to input it anywhere! ANYWHERE! I called SAMSUNG, did the chat thing, the email thing, and each time was told that SAMSUNG didn't put the $ symbol in, and that I should change my passwords to everything to compensate for it? WHAT? REALLY? Any ideas anyone? I'd hate to return it if the only reason to do so is that I can't use the $ symbol! HELP! Posted via the Android Central App

$illy $am$ung. What were they thinking? Posted via the Android Central App

Mail it to me, I'll take care of it for you... Posted via the Android Central App

Would installing a different keyboard work? Or are the third party keyboards just skins?

Yeah. A third-party keyboard like Minuum should clear this issue up.

$am$ung and $print just took your $$$. Posted via "the Contest-Won" Sprint Galaxy Note 4 (Sprint Prepaid $35 Plan)

If you like it enough just change your damn wifi password. If that's a deal breaker you didn't actually want one to begin with. Posted via the Android Central App

This guy knows what's up Posted via the Android Central App

You miss the absurdity in it all. Posted via the Android Central App

Agreed 1 tiny flaw...no matter how annoying it is tiny...change your WiFi password. If I were the sales person who handled your return I would be annoyed with u Posted via Android Central App

Are y'all going to make one for android wear? I think I got some good apps for my lg g watch but would like a guide. Posted via Android Central App on 1+1

Great article. Posted via Android Central App

I've been a smartphone (Android user) user for one year and four months. I was skeptical at first being one of those people who didn't think much of technology. Playing it safe I purchased a Huawei Ascend Plus and activated it on the Straight Talk network. I enjoyed the convenience of bring able to check my email and get notifications on the fly. I experimented with different apps, started watching Netflix and I discovered the enjoyment of taking pictures and having the ability to instantly share the pics with friends and family. By some twist of fate I discovered the "Android Central" app and that's when things started to take off. Reading the different AC articles I learned about all the things an Android smartphone could do. One of the many things I was discovering is I was quickly out growing my entry level smartphone. So two months into my Android journey and based off a little research I purchased a Samsung S3. The long and the short of it is Android Central and some of the users here have been very helpful to me along the way on my exploration of the Android ecosystem. Posted via Android Central App

I just got a new Verizon 32gb unlocked LG G2 delivered to me on the 23rd for $229. Some might scoff that it's not the latest and greatest but it's one hell of an upgrade coming from a 1st gen Moto g. Life's good in Android land!

Awesome Posted via Android Central App

Nice article, forwarded to my wife who just got her first Android phone. Posted via the Android Central App

That's cool Posted via Android Central App

Article should be updated to include what to do if coming from another Android device. How to back up apps, app data, etc. How to make sure your Angry birds and candy crush data come through to the new device. How to backup stuff...

Great article for my neighbor. just stopped over the "I house" to find a LG GPad 7.0 for xmas, and they were trying to figure out how to get iTunes on it..... Oh neighbors...... Lol. To make it better, their 11 year old daughter got a Chromebook from a cool aunt, and she was blowing her parents mind with it. Good times....

Great info as usual guys. I just want to make sure about something. Can u use your previous Sim Card if it fits on your new phone. Of course I'm asking because I'm on Verizon, I know it isn't a problem on GSM phones, thanks. Posted via Android Central App

Appreciate the post. I took the plung and just got a new Samsung Galaxy s5 so this will help a lot. Not the flagship I know but still a good phone from what I've read . Coming from a BlackBerry 10 I've noticed a couple of things that are tough. The typing isn't nearly as good as the touch screen on a BB 10. Even with swift key so it may take time to get use to it . Another is the overall flow. Constently taping in and out of apps seams like things could work better. The lack of a hub is a real eye opening. Having everything together is amazing and I really really miss that and taping in and out of apps and email , again and again is a real pain. Love the big screen and all the games and the apps . People say that BB didn't have the apps apple or android has and this is true but all the major apps are there. I find android has just more fodder. Finally, I've had a few Google play and game shutdowns so that makes me a bit nervous. This is not a bash but more of an observation that I don't see a lot of plusses thus far after doing the switch . For speed and everything connectivity BB10 is way better. For games and novelty items and general connection is android. I'm sure I will squeeze more out of this phone as time goes on but it's hard to do things as fast on twitter, Facebook, snap chat and multiple email accounts as in the past as on the BB10. I'd appreciate any coowl app or setting help to assist in the transmission. Cheers! Posted via the Android Central App

How do I set up speech to text on the LGL34C Optimus fuel? I've downloaded several and no Mic shows up.
Android Central Newsletter
Thank you for signing up to Android Central. You will receive a verification email shortly.
There was a problem. Please refresh the page and try again.