Snapseed for Android now available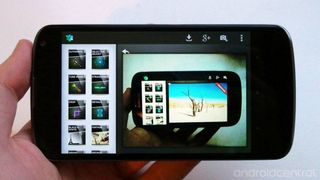 Snapseed developer Nik Software, now owned by Google, has released an Android version of its photo sharing app. The app has several filtering and tweaking options to allow photos to be improved, distorted or stylized. And of course there's a big Google+ button up top, so there's no doubt as to where Google wants you sharing your snaps.
Bundled image tools include basic stuff like cropping, brightness and contrast controls, as well as more exotic capabilities like framing, "grunge" and "drama" filters.
In addition to the Android launch, the iOS version of Snapseed is available for free from today.
Hit the Google Play link above to get downloading, and let us know how you're getting on with Snapseed down in the comments.
Alex is global Executive Editor for Android Central, and is usually found in the UK. He has been blogging since before it was called that, and currently most of his time is spent leading video for AC, which involves pointing a camera at phones and speaking words at a microphone. He would just love to hear your thoughts at alex@androidcentral.com, or on the social things at @alexdobie.
Would someone be so kind as to post the APK? It's not available for the Nexus 7 and I can't install it on my phone because it's too big. I have enough space for the app on my phone but it won't budge. APK link: http://www.mediafire.com/?r85h7iaxvodwx5d

Dont see the link and I cant search for it on my phone or Computer. Wont show up

Doesn't show in Play Store

It's there now...downloading

Here is a link for it until it shows up in the search: https://www.androidcentral.com/e?link=https%3A%2F%2Fwww.anrdoezrs.net%2F...

Currently don't see it on the Play Store for any of my six devices at the moment. So not sure if its just your Nexus 7.

I 'installed' it from the website, but it still hasn't downloaded to my device. *sigh*

Requires Android 4.0 and up.

Ah ok. It did end up downloading from the link as posted above. Didn't take long to show up on one tablet. Another device I had to go into the Play Store and look at the MyDownloads section. Then the download started. The 4.0 excludes the other three devices I have hear, but I can understand why they would do that. They should include the Nexus7 though. Just cause it doesn't have a backfacing camera doesn't mean that we wouldn't want to edit images on it.

Right, this could've been pretty cool if I could've used it on my Nexus 7 to edit my photos on Dropbox. But it's not compatible with Nexus 7 and won't let you save directly back to Dropbox.

Not bad just posted a pic to G+. The application will have a slight learning curve with all the swiping but it seems to be a pretty great tool.

What's this supposed to do for people not on Google+?

It's a photo editing app similar to pixlr express off the top of my head. You can share to other services it just has a dedicated g+ button for sharing. The other services you hit the menu button then share and a list of choices comes up. It's a good app worth a look, can't beat the price.

Didn't show up in the Play Store for my Galaxy Nexus either, had to follow the link here.

Great image editing but I think pxlr might be a little easier to use

how do you look at your gallery for example .. :)
Android Central Newsletter
Get the best of Android Central in in your inbox, every day!
Thank you for signing up to Android Central. You will receive a verification email shortly.
There was a problem. Please refresh the page and try again.