Snapchat Spectacles review: More than just a toy for Millennials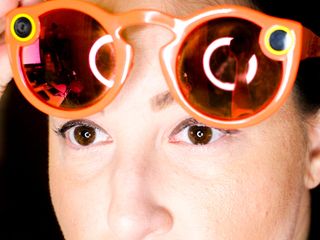 I confess: I am a sucker for the next cool thing in Millennial technology, though I'd argue that Snapchat Spectacles are more than that. Spectacles are the perfect example of accessible technology because anyone can don a pair as long as they have the slightest interest in capturing life 10-seconds at a time.
I've been using Spectacles for a few weeks now and though they're not my primary method of shooting stories, they are a helpful aid when it comes to capturing memories. They're also stylish — I've had a few passersby mention that they could barely tell there was a camera embedded inside. This is exactly what wearable technology is about: Making it easier for us to exist presently among our peers without being distracted by what's on our face.
Presently, you can't purchase a pair of Snapchat Spectacles outright unless you live near the Fifth Avenue pop-up shop. I purchased my pair through eBay for about $100 more than they're worth. Was it worth it for me? Well, let me tell you what life is like with a pair.
They're sunglasses
First and foremost, I have to set the record straight about Snapchat Spectacles: They are sunglasses and you can actually wear them out to shield your eyes from the stinging sunlight.
Second, they actually work rather impeccably at capturing video. With each press of the button, you're shooting 10-seconds of video at a time, up to 30 seconds total. There is a circular LED light on the left side of the glasses (as you're wearing them) that indicates whether you're recording and when the video is coming to a close. It also lets people on the outside know if you're shooting them unannounced. (You should always let people know you're filming.)
Videos from the Spectacles to the Snapchat app are transferred at a lower quality over Bluetooth first. This is to help you get your story out faster. If you'd rather go high resolution, you can connect directly to the Spectacles via Wi-Fi (easily from the Settings app!) and download your content that way.
Posting them to Snapchat requires a bit of labor, however. You'll have to load them up in the app, then cycle through every single video clip you recorded and then edit from there. This can be super frustrating to do when you're juggling more than a few clips, for instance, and I'd often have to deal with the Snaphat app crashing on me (on both a Samsung Galaxy S7 edge, Pixel XL, and Moto Z Force) because it couldn't handle loading all the video.
If you have a bit of a patience, however, you can make great content with the Spectacles on your face. Just don't plan on a point-and-shoot-and-share-immediately type of experience. The point of the Spectacles is to shoot when your smartphone can not, so leave it in the bag.
Lastly, I want to profess my appreciation for the way this stylish little gadget charges. Spectacles come in a bright yellow case with a magnetic charging strip embedded on the inside. You can charge up the case to charge the Spectacles when you're on the go, or charge the Spectacles separately with the included charging cord. Be forewarned that the case is a bit bulky, so ladies, make some room. I'd also caution against carrying them around without the case since the lenses scratch very easily. On the plus side, you can easily swap in your own lenses.
They don't play nice with other apps
The videos that Spectacles produce do not translate particularly well to other social networks.YouTube appears to be the only practical solution for sharing stories you filmed with the Spectacles. Instagram Stores is the worst way; the 1080x1080 square image doesn't translate well into Stories' narrow video player, though it's fine as a standalone Instagram post (as exhibited above).
You can probably get a little creative with the aid of other applications, but the process of actually exporting the Spectacles video to your camera roll is another headache that's not worth bothering with unless you have some time to kill.
People love 'em
My family loved that I showed up to Christmas wearing these things. I don't plan to post the full story that was shot with the Spectacles, but I love that I have a reel that was produced even when I wasn't donning the pair. Both my immediate and extended family, young and old, wore the glasses around and added their own colorful commentary to the holiday celebrations.
The video I have from Christmas is the perfect little keepsake of the amazing holiday we shared as a family. It reminded me a bit of the videos my dad filmed of us as kids. Every Christmas, he'd prop up a video camera on a tripod and film my brother and me as we were opening presents. Snapchat Spectacles are much weirder-looking in comparison, but their intended use falls along the same vein.
I don't regret buying Snapchat Specs
Snapchat Spectacles may seem like a massive gimmick, but that's because they are. They exist solely to sell the Snapchat app as a lifestyle, one that periodically serves you advertisements in between video clips your friend made at work in the lunchroom. It's admittedly a strange way to live life, but I'm into it.
I also think it's interesting that the more I wear these out, the more I hear of comparisons to Google Glass. I don't doubt that I'd receive the same treatment if I walked into San Francisco's Molotov's wearing Spectacles on my face, but the proprietary nature of this gadget will be its biggest caveat for anyone interested in a pair.
Regardless, Snapchat Spectacles are a great case for embedding technology into existing fashion accessories. A wearable doesn't have to look as different as Google Glass did to be considered innovative. And wouldn't it be cool to use Glass's interface on something that looked like a pair of Specs?
Florence Ion was formerly an editor and columnist at Android Central. She writes about Android-powered devices of all types and explores their usefulness in her everyday life. You can follow her on Twitter or watch her Tuesday nights on All About Android.
Seems pretty cool, though I have to say, contrary to the title, these seem EXACTLY like toys for millennials IMO ..

Why did the author need to reference millennials in this article at all. It has no relevance to the topic. My mom uses Snapchat. You're not special.

You seem a little sensitive. You okay, buddy?

Maybe your mom is special and out of the ordinary, not sure where you are tho.

did your mom go out and buy special sun glasses to use to take those snapchats she sends?

Man, those things are ugly.

Second that +. God awfully ugly!

10 seconds is all i need too, bro

Wow, give me a pair of these and ready access to the very latest emojis, and I'm Fk'en set. Woo hoo! In all seriousness, different strokes for different folks, if they're your type of thing, enjoy the hell out of them.

They certainly redefine ugliness, that's for sure!

I came across a Snap Chat vending machine which sold these in Big Sur....So NY isn't the only option.

At some point a tech company will design connected eyewear that does not look like part of a Geordi la Forge costume or you have borrowed your 12 year old daughter's sunglasses, add some useful applications, and the thing will go mainstream. Until it better integrates with common appearances, and can be used with actual prescription glasses these will be niche products at best.
Android Central Newsletter
Get the best of Android Central in in your inbox, every day!
Thank you for signing up to Android Central. You will receive a verification email shortly.
There was a problem. Please refresh the page and try again.