This smart LED bulb packs a 3W speaker for easy listening with custom lighting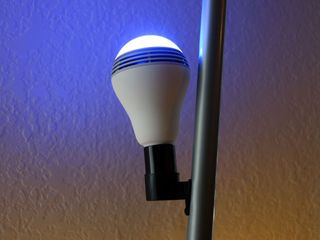 Taking smart lighting to the next level is the PLAYBULB Color, similar to its sibling the PLAYBULB Rainbow, only with a 3W speaker added around the bulb that provides easy listening anywhere you decide to twist it in. Compatible with standard E26 and E27 screw base light sockets, this light connects to your Android or iOS device over Bluetooth, but requires the free PLAYBULB X app to control colors, effects, and set up special groups for managing multiple bulbs simultaneously.
Capable of 16.8 million colors, the PLAYBULB Color adds unique lighting whether it's at your bedside or keeping the party alive on your back porch. Its built-in speaker pushes a frequency of 135Hz / 15KHz, which sounds decent for casual listening levels. Once you start edging towards extra high volumes there's a distinct decrease in audio quality, both distorting and muddying any mix you throw at it. That said, keeping your tunes at a reasonable volume will ensure you get the best experience for most settings.
Read our PLAYBULB Garden review
The 3W LED bulb isn't overly large in design, making it suitable for lamps and lighting fixtures inside and out. Even when you're not utilizing its various RGB color collection, its natural warm light is still ideal for regular use. It features a 3000K color temp and lumen count of 200. Pairing with your device is easy for the most part, but as I've mentioned in previous PLAYBULB reviews, their native app still has some kinks that need to be worked out. For simply adjusting colors and effects there's not a lot to argue with — it's when you get into setting up multiple bulbs in a group and delving into the app's built-in music player that things tend to get buggy. Still, majority of the features are there and accessible with a little bit of experimenting.
Image 1 of 2
After a few trial runs around my house, I found that the PLAYBULB Color fits best out on my screened-in porch where guests seem to migrate most. When I kick on the tunes and matching light scheme it's always a surprise and conversation starter for those that haven't seen one in action. If the PLAYBULB Color seems like a smart accessory for your home, they're up for grabs right now for $67.99 on Amazon.
Get the Android Central Newsletter
Instant access to breaking news, the hottest reviews, great deals and helpful tips.