Slingbox releases Slingplayer for Tablets optimized for Honeycomb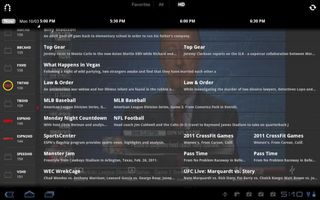 Slingbox, the popular set-top box that allows you to watch your TV in a variety of places, today released Slingplayer for Tablets optimized for Honeycomb. There has been a Slingplayer for phones for quite some time, but it wasn't specially designed for a large-screen experience.
If you have a Slingbox SOLO or PRO-HD, you can now get all of your channels directly on your Android tablet. The cost of the app is $29.99 from the Android Market. With the app, you can change channels, control your DVR and enjoy your favorite shows on-the-go as long as you have an Internet connection.
To get the new Slingplayer for Tablets app, follow the links after the break.
Are you a big Slingbox user? We'd love to hear your thoughts on Slingplayer for Tablets. You can share in our Android App Forum.
Source: Marketwire
Android Central Newsletter
Get instant access to breaking news, the hottest reviews, great deals and helpful tips
messed up that they don't have it included in the app for phones... you have to pay $60 to get it on both your devices if you own an android phone/tablet.

I've heard the same thing, but I have it on both my tab and phone and I didn't have to pay for two apps. Hope this update doesn't screw stuff up.

That is messed up. Charging me another $30 if I already have the app for my phone... I thought Google added a feature to the Market where developers can post a phone and tablet version to one app entry so it only needs to be downloaded once for the appropriate device? I do have the phone version on my Tab 10.1 and it works great, so I'm probably going to stick with what I have. Another money grab...

yes, app developers can have a honeycomb optimized app bundled with the regular phone app.

This is the final straw Slingbox. Sorry, but I'm not buying a 3rd software product for $30 (WinMo originally, then Android at no discount even though I was no longer using my WinMo license and now a tablet version!). Monsoon Vulkano here I come....

No offense, but I don't get your logic. How exactly is having to buy new equipment (@ minimum $99) AND a $13 app better than just an extra $30 to use equipment you already have? Am I missing something here?

Sorry, yeah, should have explained that I have a Slingbox AV that, while not optimal, works with the original Android phone/tablet app. It does not work with the new Honeycomb app. Therefore, I must buy a SOLO or Pro/HD and the new $30 Honeycomb app to get full features for my tablet. At this point, I have had enough and will happily pay $113 and rid myself of the ever money sucking Slingbox AND get the ability to record shows to my homeserver for off line replaying on my tablet via the Vulkano. Seems like a no-brainer to me.

I have the phone version (1.3) and performance is pretty crappy :/ Stream looks great, but there's like a 3-5 second delay every time I try to change a channel or do some sort of interaction with my STB. The delay was never this long on older versions. Not really sure what gives. Still love the app/product though.

VULKANO FLOW all the way baby.. Their app is half the price.. Woks well on both phone and tablet really easy to set up..

I've had slingbox for years, used it on my windows 6.1 phone. 30 bucks is a cheap price compared to the junk apps out there and for the hd quality video i'm getting on my xoom now, i would have paid twice that. The new guide is fantastic. Thank you slingBox. It's without a doubt the best think i've ever bought. to be able to watch my cable from anywhere and my dvr recorded shows, it's worth it's price in gold.

question is will this be the same app on Google TV? when it gets the honeycomb update.

I just downloaded it but had to get refund. Every 2 minutes I got disconnected from my slingbox and I had to reconnect. The DVR button on the remote is missing as well. The picture quality is great. Much better than the phone version. They should improve the picture quality on the phone version.
Maybe I will re-buy it when they fixed the issues. But this will probably take a year (that is how long we had to wait for an upgrade for the phone version)

I currently have a Hava Titanium from Monsoon. I use the Vulkano (Newer version) app that was free and I watch TV and my DVR just fine on it. Now Monsoon customer service (For Hava, unknown for the new Vulkanos) is horrid and just totally absent, but the device is great and works over WiFi so you do not need it plugged into your router and can have it in a different room. I would suggest checking out the Vulkano models that are now out since they now have more features like on screen guides and built in DVRs. (Note: one version has a pay app, the rest use a free app so pay attention before you buy) http://www.myvulkano.com/
Android Central Newsletter
Get instant access to breaking news, the hottest reviews, great deals and helpful tips
Thank you for signing up to Android Central. You will receive a verification email shortly.
There was a problem. Please refresh the page and try again.