SKIT! comes to Android to turn your photos into crazy little animations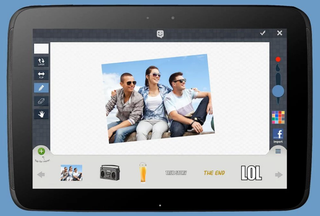 SKIT! today has officially launched on Android in the Google Play Store – and indeed the Amazon Appstore – to turn your photographs into hilarious short animated video clips. It's a pretty simple yet effective idea, in that the app gives you visual effects like animations, text, graphics and the like to lay onto to your own photos and turn them into moving clips.
Besides the creative element, SKIT! has a pretty solid social component baked in. It can pull in photos from Facebook to work on, as well as being able to share out your creations to YouTube, Twitter and Facebook, or send an animated card to your friends and family through e-mail. All that on top of the actual SKIT! community itself.
The app is free to download, and is available now from the Google Play link up top, and the Amazon Appstore at the link below. More information can be found in the full press release after the break.
Download: SKIT! (Amazon Appstore)
Boston, MA – February 5, 2014 – SKIT! (http://www.skitapp.com) today announced the release of its popular comedic photo animation app to Android users, via both Google Play and Amazon's App Store. Developed by former Electronic Arts animation technical director Robin Johnson and Max Woon, a founder of Xfire, the Android app takes creative expression to the next level – with drawings, animated text, visual FX, and photos that actually "move" – to incorporate into personal animated videos right on your tablet.
"Other apps focus on manipulating photos with baked-in graphics. The result is a single-frame static message. With SKIT!, photos come to life with motion; they breath and walk, stickers animate, and FX are cinematic. The best part: every story shared can be continued or remixed by the viewers – nothing is baked-in, which unlocks a really fun form of collaborative creativity," said SKIT! Co-founder Robin Johnson. "Animation is such an expressive and beloved medium, but traditionally very complicated. SKIT! makes it tap-and-drag simple, so that anyone can tell their story."
SKIT! also provides a second component to its creative platform: fan engagement. Brands are featured in SKIT! to be utilized in the video personalization process. For the first time ever, users can express their love for a brand their own unique way – through remixable stories they create and share on SKIT!. Prior updates include a social entertainment component allowing users to follow other users, create profile pages and comment on their animations. The Android app is free to download from the Google Play Store.
Other highlights of this SKIT! release include:
Personal profiles that showcase your Skit count, followers and more
Hundreds of free stickers, characters, and props.
Faster, easier sharing
Viewing followers, views, likes, and Re-Skits.
New video tutorials
Beautiful new graphics
Importing your Facebook pics, or album photos.
Posting on YouTube, Facebook, Twitter, or send privately via e-mail.
The Valentine's Crush Skit event, with beautiful love-themed backgrounds, card templates, competitions, and exclusive items to SKIT! and share.
"I'm thrilled to bring the excitement of collaborative storytelling to our loyal Android fans. This release is our best ever, and I can't wait to see what they create!" said SKIT! Co-founder and CEO Robin Johnson.
SKIT! is now available for free download in the Google Play store.
Get the Android Central Newsletter
Instant access to breaking news, the hottest reviews, great deals and helpful tips.