Should you upgrade from the LG G6 to Pixel 2?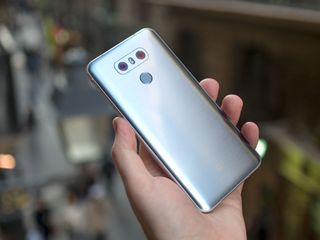 There have been a lot of great smartphones this year, but because devices such as the Galaxy S8 and iPhone X tend to steal a good chunk of the limelight, it can be easy to let a lot of other solid devices slip under your radar. For a lot of people, the LG G6 was one such phone.
You can now pick up the G6 for as little as $399 if you know where to look, and for that price, you're getting one heck of a phone. Along with its 18:9 display and minimal bezels, the G6 also features a solid dual-camera setup, slick design, and snappy performance.
However, as great of a deal as the phone currently is, spending a bit more cash to get the Pixel 2 just might be worth it. Here's what some of our forum users had to say.
Now, we'd like to hear from you – Do you think it's worth upgrading to the Pixel 2 from the LG G6?
Get the Android Central Newsletter
Instant access to breaking news, the hottest reviews, great deals and helpful tips.
Joe Maring was a Senior Editor for Android Central between 2017 and 2021. You can reach him on Twitter at @JoeMaring1.
Yeah I really liked the G6 when it came out but I just can't get behind them any more with their poor software support. Even my Galaxy S8 at least gets regular security patches (on October patch) compared to the Verizon G6 which is still on July.

I refuse to buy a Sammy because of the terrible updating experience I had with my Galaxy note 10.1 (2014). One lousy update was all we got. Why sink $800+ into a phone when you get almost no support?

He is talking about the S line. They get 2 years of Android updates plus an extra year of security patches. The Galaxy S5 still got updates this year, I don't think any other 2014 flagship got so far. They are also releasing all security patches in their S and Note lines, while manufacturers as Moto or LG aren't. Even on the mid/low-end, Samsung releases quarterly security patches. Comparing to what most cheap devices get, that's actually pretty good. I have a Moto G3 here that is basically stuck in the January 2016 patch and Android Marshmallow. The Galaxy J3 model from 3 or 4 months later may be stuck on Lollipop, but Samsung actually has it patched to August 2017. I would say that, right now, unless you have a Pixel, Samsung really is the best choice to have an up-to-date Android device.

You're right about the S5. It's on the August 2017 security patch right now which is pretty impressive. The S6 is on October 2017. I'd agree that Samsung is actually one of the best for software support even thought the platform updates take forever. Moto is pretty good too though at least on Verizon. OG Moto Z is on September 2017 and Moto Z2 is on October 2017. And for anyone who's curious, if you Google "Verizon (insert phone here) software update" it'll bring you to the support page showing the latest update.

Lol my unlocked s8+ is still on August. How lame is that.

I actually have that tablet too (was bought for me) and I'm actually not a big fan either but to be fair, mine is on the May 2017 security patch which is almost as good as the LG G6. And the 10.1 was released like 3 years prior. Looking at the Verizon support page, even the Galaxy s6 is on the October 2017 patch. Much better than the G6 and also released years before. I think it'd be worth it for you to give them another chance and not take that tablet update support as a reflection of their phone software support. UPDATE: the Verizon LG G5 is on the October 2017 security patch apparently so idk what to make of that lol.

Samsung devices the flagship ones perform much better than ugly looking crappy LG software. Samsung has come a long way but all LG does is try to copy Samsung and that too they don't do properly and their software performance and looks bad.
Pixel 2 will feel like heaven after using G6.

It's crazy and very disappointing

Definitely not worth the upgrade. Don't get these comments about the camera. It has been my favourite camera to use. However, at the same time, the G6 has become laggy over several months and the battery is crap.

Really my battery is still pretty good I used wireless charging all the time though. I might have used my quick charger maybe 5 or 10 times over a 6 month span.

Why would you do that? Mics on a Pixel are atrocious, LG G6s are actualy pretty good.
Just why? Because it's 10% faster and have better image quality? That's realy a lame excuse to buy a new device.

There's absolutely no reason to upgrade from a less than a year-old phone.

The G6 was basically a late 2016 flagship in terms of specs. In fact, I don't think it is a better buy than the Pixel XL.

All high end phones from the last few years are good enough. Even the Galaxy S7 is amazing.

It is if you do carrier financing and don't have Verizon, which the Pixel phones are exclusive to.

yeah at this point the xl is definitely the better buy, although i'd prefer the smaller pixel just to avoid the screen issues headache.

The forum comments were taken out of context. If you go to the main thread, I was questioning whether or not to keep the LG G6 or exchange it for a Pixel 2. (I'm on Verizon if that matters) It's not really upgrading from a phone less than a year-old, it's whether or not I should go with one flagship versus another based on some real-world opinions from other users.

yeah that wasn't clear from the comments, but in that case i'd probably be tempted to go for the pixel just for the software and camera.

Iam still loving my G6...just got a new update...using the phone since april...zero issues...

I'm coming from an iPhone SE so an LG G6 would be an upgrade.

at this point with what's going on with the Pixel 2 and all its problems I would not recommend that phone as an upgrade to anybody plenty of other reliable options out there in the android world

That is what has me cautious about doing an exchange. I don't know which problems are hardware related or that can be fixed with software patches. I would consider the G6 to be a "two-year" phone and the Pixel to be a possible "three-year" phone based on support and the lack thereof alone.

I upgraded to the V30 since I couldn't do Google financing and T-Mo was more than happy to jump me. So far, really liking it, cameras are improved over what was already a good setup.

The V30 looks like an excellent phone, I don't understand why they're pushing people to the Pixel 2 with this article instead? Maybe since it's a little smaller? Seems like the V30 is still the better phone.

Went from an S8+ to G6 then to Pixel then back to G6. No way would I upgrade to a Pixel 2 due to cost Vs performance compared to G6. Only thing I'll be upgrading to is a V30 once it drops in price.

I had a Nexus 6P and sold it to buy an Essential PH-1. That was a bust.
B&H had the LG G6 for $449.I jumped on it.
A Pixel2 as an upgrade from this phone. Don't be silly.
The LG had a better hand feel, larger screen, MicroSD, etc.....
The Pixel would be a downgrade.

I can't wait to ditch my G6 personally. Freezes up now and again, mediocre camera, unusable front camera, bad battery life... Just not working out for me.

I don't know how anyone could recommend the pixel 2 with all it's problems. Even if I didn't have any of them it seems they did not spend to much time testing the device.

I have a Pixel 2 and it works flawlessly. No problems at all. I have yet to experience 1 issue that most people are talking about. Did I get the only good one....? I doubt it and know for a fact that there are plenty out there that work as intended. Problem is you only hear all the complaints. Don't hear a lot of praise when something works properly. Too bad. I have no doubt there are some bad Pixels out. But I can say that I didn't get one! This phone is awesome. At least "mine" is.

Hi yall, to be honest I haven't used either of these phones but as a tech geek I read a lot about thee products. Pixel phones are highly over rated in my opinion. They do not offer any kind of useful added functionality to the end user like LG or Samsung but still try to sell those phones for flagship prices. Google did very well with their Nexus lineup, why, because they did price those correctly. That's the path google should be in given that they don't offer any interesting additional hardware or software features in line with the competition. In this case I think LG G6 is a very good feature rich phone which has an awesome camera compare to boring Pixel 2.

I bought the G6 on launch day and was immediately wowed. At the time, my two options were between this and the Pixel. Overall value for what you're getting, the G6 is good. I wouldn't call it perfect though. It occasionally freezes up, the front facing camera is junk, and the battery life is horrible. Headphone jack is already crapping out on me. I primarily use Bluetooth anyway, but if I wanted to use plug in headphones, I wouldn't be able to. If I even touch the headphone plug, it will crackle and cut out and the music will pause. Then LG decides to automatically lower the volume each time I unplug and plug back in! Great move there LG! It's a frustrating experience. Definitely should have gone with the Pixel for slightly more money. This phone will probably slow to a crawl in a year's time.

This is what we need to hear more of. Real world experience. Good or bad. We have enough "opinions" about phones. My daughter had the G6 and had an abysmal experience with it. I had the original Pixel from near launch until the launch of the Pixel 2. NEVER had a freeze up on either phone. Never has either one shown any lag. My best experience with Android before the Pixel was an S7 Edge. Had to give it up because it began to lag and freeze up daily. These are phones that I dealt with personally and they are my experiences. I know everyone's is not the same. Some phones do have issues. But, that's one of the positives with Android - you have a wide variety of phones to choose from. Pixel doesn't suit you, great, pick another phone. Pixel does suit me and lots of others. My opinion and experience of the Pixel 2 is that it's a great phone. But, to each his own. If another phone has worked well for you, great, tell everyone about it. Doesn't mean you have to trash the Pixel 2. Try it, you may like it. And if not, return it and choose another phone.