Shazam 8.2 gets more personal, now plays full playlists with Spotify and Rdio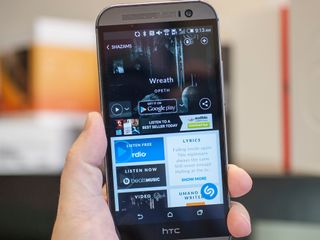 Music identification app Shazam has received a major update today to version 8.2. It adds new features to the home screen of the app, a new way to play music, and deeper integration with Spotify and Rdio.
Shazam's new home screen makes it easy to keep up with the artists you like, along with keeping up with what is trending with other users through quick access to Shazam's charts. If you and your friends have logged in with Facebook, then you can also see what artists they have used Shazam with.
The app features a new Play All button, and better integration with music services. You'll find it in the Home, My Shazam, and Explore sections. It allows you to play full playlists in Shazam when connected to Spotify or Rdio. If you like a track that you're listening to in Shazam's new music player, you can now swipe right to add that track to the My Shazam section. In addition to playing full tracks, you can also add a Shazam track to any playlist in Spotify, and Shazam will also add its own playlist.
The latest Shazam update is available for download now from the Google Play Store (opens in new tab).
Do people still use Shazam? I used it, but before google music search was added

I use it like once in 3 months, but having it installed on my phone when I'm in a hurry to Shazam a song on the radio is still nice. I use it instead of google's music recognition because for some reason google hasn't allowed their music recognition service in my country, and Shazam has a wider variety of songs anyway, including some local (Israeli) songs

I actually still use(d) Shazam. I didn't realize Google Music Search had a widget that kept the history until just now. I was always using the Google Now "What is this Song" and didn't think it kept track of my "tags" Switching now!

Hmm, now I'm in a quandary. Didn't think to use Google Music Search in the ways listed in the comments. Currently use Sound Hound, but have wanted more Spotify integration. But now, the concept of triggering a scan with "OK Google" seems appealing... Guess I need to go play with the 3 services and decide my preference!

8.2 ? latest version is 5.1.1. oO Posted via Android Central App

Have shazam and spotify (full membership) on my nexus5...BUT shazamed tracks can not be linked to spotify!!!
People say that there should be a drop down menu next to the play button on shazamed tracks and you should be able to choose spotify from there...BUT I don't see that!
Android Central Newsletter
Get the best of Android Central in in your inbox, every day!
Thank you for signing up to Android Central. You will receive a verification email shortly.
There was a problem. Please refresh the page and try again.