Sports Illustrated's 2016 swimsuit issue goes VR with 360-degree videos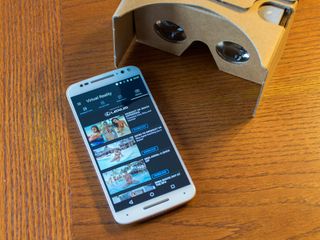 Sports Illustrated's annual swimsuit issue is joining the virtual reality trend. The newly launched SI Swimsuit app includes VR video content that supports both Google Cardboard.
According to Engadget, the app will launch with five VR videos for free, with additional videos added on a weekly basis that can be checked out for an additional fee. They will feature many of SI's swimsuit models in full 360-degree videos. The print edition of the SI Swimsuit issue will also come with a Cardboard-like viewer:
The article adds that the idea for adding VR content to the app happened when Chris Hercik, the creative director of Sports Illustrated, got a demo of the upcoming HTC Vive headset several months ago in Seattle:
You can download the Sports Illustrated Swimsuit app now from the Google Play Store (opens in new tab).
Source: Engadget
Android Central Newsletter
Get instant access to breaking news, the hottest reviews, great deals and helpful tips
Should be a 360 view of the girls

Wait... I thought the swimsuit edition had already been killed off by the Feminazi uprising in recent years. If not, hopefully they're wearing tasteful parka jackets or something, so as to not 'sexualize and objectify' the women. /s

It'll happen some day. Just look at what happened to Playboy...

I am guessing that's why there are 3 models this year; one being overweight and the other being a muscular/fighter type rather than the typically stick figure.

When you say overweight you mean full figured real woman. Posted via the Android Central App

When you say "stick figured" you mean women that eats healthy and exercise regularly to be be thin and fit. Google Nexus 6P

I would think they would target that womens Football League first. Those outfits they have to wear are totally ridiculous Posted via the Android Central App

I agree with that. Lingerie football is ridiculous. Posted via LG G4 H811

Lingere football is some people's past time. Lam I Am

Next, it'll be: let's get rid of all the tall athletic basketball players. They make me feel self-conscious because I'm short and out of shape. These complaints are getting ridiculous. Everybody is offended by everything now. Google Nexus 6P

And so it begins. Posted via the Android Central App

Based on the reviews for the app the VR portion doesn't actually work.
Also, it appears to only be available in America.
360 videos are only exciting if they're 3D as well, otherwise no point in having VR support.

I tried the iOS version and it worked fine. The issue is the downloads are so slow. The Android version crashed everytime. The iOS version also crashed but at least one VR video managed to download.

Ah, well I'm running Android so I guess I'm out of luck.

Get a new VR cool game called : "Zombies Invasion : VR" on Google play! Such an amazing game Posted via Android Central App

Who the blazes wants to look around??? Posted via the Android Central App

This isn't VR, it's just a new version of the stereoscope which has been around since the 1850's.
Android Central Newsletter
Get instant access to breaking news, the hottest reviews, great deals and helpful tips
Thank you for signing up to Android Central. You will receive a verification email shortly.
There was a problem. Please refresh the page and try again.