Security camera showdown: Dropcam HD versus Belkin NetCam HD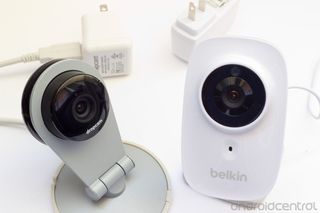 Over the last year, I've been getting really excited about connected home gadgets, and with Talk Mobile's security week kicked off (opens in new tab), now's a perfect time to dig in. To date, I hadn't really taken the plunge on any major phone-friendly home accessories — not even for the Nest thermostat. But I got in on the preorder for Lockitron (which is shipping shortly), and the other week both the Dropcam HD and Belkin NetCam HD landed on my doorstep. These Wi-Fi-connected security cameras are both sitting around the $150 price range and offer access to live video streams from Android, iOS, and web apps. Both can share those streams publicly or privately, and both have night vision.
I was already pretty familiar with Belkin's WeMo system (the remote light switch works great), so was excited to see what they were doing on the home security side. Meanwhile, Dropcam has been a long-standing leader in consumer security, and I was eager to see if their product stood the test of time. So let's dive in and see which of these two is the better big brother.
Set-up
Out-of-the-box software setup for these two devices is surprisingly different. For the Dropcam, you plug it into your computer through microUSB, at which point the autolauncher opens a web page. From there you identify and authenticate your home Wi-Fi network, and sign in to your Dropcam account. By contrast, the NetCam has a switch on the back that turns it into its own Wi-Fi hotspot, to which you connect from your Android device. Once you're done, you flip the switch on the NetCam back so it can connect to your home network and start streaming. A little convoluted, but not terribly worse than Dropcam.
As for physically setting them up, both have wall mount accessories included, but overall NetCam has the upper hand. Dropcam only pivots front and back, while rotating on the separate wall mount plate. The camera itself sits a little loose within the stand and can be popped out. Due to the placement of the USB port, this can make it a bit of a hassle to keep straight while also plugged in, unless you're using the wall mount plate with the wire notch. When notched, there's a lot of stress on that wire, and I'd worry about it staying that way over time. Meanwhile the NetCam has a fully adjustable ball joint and a secure, heavy wall mount built right into the base. Though it doesn't use a more convenient USB charger, at least it's positioned sensibly.
Web
Dropcam has a highly polished web interface that's hard to beat. If you've got a premium stream which caches videos either a week or a month back, motion events are marked on a video timeline. When you mouse over those marks, animated thumbnails give you an idea of what happened before clicking through and seeing the full resolution video. Fun fact: this system makes it really easy to see the weird stuff you say and do in your sleep if you set it up in your bedroom. If you don't have the premium subscription, you can still tune in live and have two-way chat thanks to the Dropcam's built-in speaker and microphone (though there's a significant lag).
On the flip side, NetCam's web interface isn't particularly great at all. It requires a custom browser plug-in installed to view the live feed, and once you've got through that rigamarole, it only works intermittently. Though it provides the same quality of live streaming video, there's no premium option for access to archived video, which might be a deal-breaker for many folks.
Mobile
The one leg-up that NetCam has over Dropcam on the mobile side is the ability to record video clips live and instantly to your device. Sure, you can do this from Dropcam's web access, but they leave a pesky watermark on the video in the process. Dropcam's mobile app is still leagues ahead of what NetCam is offering, though. Movement notifications are sent instantly through the notification drawer, rather than through e-mail or SMS with Belkin's solution. Dropcam's app is location aware, so you can set it to activate when you're away from home, and deactivate when you're there.
Beyond functional disparities, I think the biggest strike against NetCam on Android is that the user interface is little more than a mobile site built in the style of iOS. I had a pretty big headache punching in my Wi-Fi password when setting up through the mobile app because it wouldn't accept passwords that were a nonstandard length (even though I could connect directly from my Android device just fine). For whatever reason, I could set up through the iOS app without any trouble. The final straw for me was that NetCam wouldn't allow more than one user to watch a stream from an account at once. Getting kicked off randomly on your phone just because someone else is checking it out on the browser can be a pain in the ass.
Verdict
Now onto a pretty significant caveat for both of these cameras. For one, even with mounting options, these cameras are highly visible. For devices that you're going to have indoors around the house, I think they need to be a little more seamless to avoid creeping out guests and feeling creeped on yourself day in and day out. Also, if you're legitimately concerned about intruders, it's probably best that they don't know which areas to avoid due to surveillance. There needs to be a way to tuck one of these bad boys into a digital picture frame, or a tasteful painting or something else less visible.
Secondly, wiring is a big hassle. I know something that's constantly streaming out video will need power, but I would just as soon be happy with a bulkier camera with its own power supply. I'd be fine if it would only kick in when motion was sensed and the camera was armed, or if the admin wanted to manually check in on things. I'd even be happy to take a dock in video resolution if I could leave the thing a week without needing a charge.
With all of that said, if I was going to pick one either one of these systems, it would have to be the Dropcam HD. The user interface is really smooth on both Android and web, the premium archiving feature is awesome (though expensive enough that it would make me seriously consider how important home security is to me). NetCam HD does have a few bonuses, like being able to record live video clips directly to your device, but it needs a serious user interface overhaul, and additional features like location awareness and long-term archiving to compete. On that note, it makes sense that the Belkin NetCam HD is twenty bucks cheaper than the Dropcam.
Though I'd snag a Dropcam if I needed a home security system tomorrow, Belkin's offering will eventually tie into their WeMo family of interconnected gadgets, which is especially promising since they also play nice with IFTTT. The Android app for their light switch product just went live last week, which bodes well for a NetCam tie-in soon. If you're willing to wait awhile, Canary may be worth a gander as well, especially if you're looking for something less visually conspicuous.
Buy Dropcam for $149.99 (opens in new tab)
Buy Belkin NetCam HD for $129.99 (opens in new tab)
Simon has been covering mobile since before the first iPhone came out. After producing news articles, podcasts, review videos, and everything in between, he's now helping industry partners get the word about their latest products. Get in touch with him at simon@futurenet.com.
Not sure about the Belkin, but I own a Dropcam and it's pretty slick. Video quality is awesome and the motion detection notifications on my phone are pretty slick. Now if my Dog would just lay still a little more :-) Posted via Android Central App

does it not have a size option? my outdoor motion detectors have them to where animals wont set it off, but a person would. that is my main concern though. i would love to get this as a baby monitor/home security camera, but i have 3 cats running around that would set this thing off constantly.

Just motion and sound alerts. No setting on size or anything. Posted via Android Central App

Did you take a look at Lorex Live Ping wireless Network Camera? Costco has a sale on them right now. You can limit the notifications only to sound, in case you want to know when the baby is crying but it will ignore cats movement. I have two of those in my house and I'm please with them. Small and they don't stand out, you can't easily tell they are monitoring and they record for later playback.

Dropcam also does just sound notifications. Also they can be sent to all your mobile devices. Android, iPhone, and iPads are supported. Also you don't have to do anything special to record video. For only $9.95 a month you can have 7 days of Cloud storage. This simply means that you don't have to rely on an onsite solution. Even if someone comes in and steals the camera your recordings are still safe in the cloud.

Hi, say if I want to put Dropcam at my neighbors apartment using wifi do I need a smartphone for initial setup? Thanks!

Any suggestions for similar devices that can be mounted externally? Bearing in mind it rains loads in the UK. I was thinking a y-cam, but they are a bit pricey. Posted via Android Central App

Logitech's alert line has both internal and external models, and in my experience, are superior to both of the ones mentioned above.

Crikey, they are over 300 a piece. Y-cam it is Posted via Android Central App

I have Compro CS400 and it is a water proof IP camera. It works great for me.

Why not just review some IP cameras...they're often cheaper and can do a ton of things--even the entry level foscams do all the things (except stealth) that this article mentions.

It is possible to disable IR light on Foscam cameras and tape over the network lighting behind the unit. I use a few older Zmodo IP camera (ones w/O tilt/zoom/pan feature) and hide them among furnitures. I use TeamViewer to view log into my computer to access Blue Iris software and make camera settings changes remotely and view capture videos from dropbox.

Dropcam is the best for basic security. It's affordable, easy to set up, and troubleshoot. I recommend it over anything else in that price range. The only downside is that Dropcam has the letters HD when it isn't. Video quality is based on your internet speed, but even at best it still isn't true 720p quality.

I use Foscam F8910W and coupled with DropBox and TunyCam app, it works better, cheaper and also have Pan and Tilt capability.

I agree. I use a couple of Foscams and 4 zmodo wireless network IP cameras. Couple these with DropBox and you'll have the cheapest solution available. I dismantle the zmodo camera casings and hid them among the house decor and without the IR light, it's virtually impossible to spot. I do use Blue Iris as my DVR software and set it to snap a picture every five minutes on at least one camera. If I don't see that a picture every 5 minutes I can suspect someone has shut down power to my room.

Nice introduction article, but I would second the motion to look into other cameras and IP camera apps for Android. I personally use the F8910W's ($85) predecessor the FI8918W ($<70) with their newer 720P/HD FI9821W ($160) which are all in the range of the two cameras that you tested, but have Pan Tilt and IR night vision. The FI9821W has had it's growing pains, but it getting better. The other two non HD cameras are solid. There is also a wide user base for Foscam which helps with mods, like wide angel lenses, IR illuminators, etc. I know there are a lot of cheaper china products as well as more expensive pro/prosumer solutions, but Foscam has a good price point and decent software. On the apps side I would recommend ip camera viewer pro for $3.99. It is updated frequently to add support for newer cameras and can support RTSP streaming. It has a multi camera viewer (currently I'm using 12 cameras) and also supports frame and video capture.

The app is called "IP Cam Viewer Pro" from Robert Chou. They have free trial "Lite" and "Basic" editions as well.

I 2nd the cheap cameras, I got four for <$50 a piece. Just get the cheapest ones, the pan/tilt IP cams seem almost all the same. IP Cam Viewer Pro is excellent too, I ponied up to get the audio feature as well.
Have to look into the better quality cams some day.

Instead of lockitron I'm looking at the August

>"For the Dropcam, you plug it into your computer through microUSB, at which point the autolauncher opens a web page" Which will not work under Linux or BSD or Solaris. It is also an incredibly stupid way to set up something. So you *HATE* to run an MS-Windows (or perhaps MacOS) machine just to set it up???? Why? >"NetCam's web interface isn't particularly great at all. It requires a custom browser plug-in installed to view the live feed" Which will not work under Linux or BSD or Solaris or Android or Wii or pretty much any non-PC browser. And Dropcam's "web" access directs you to THEIR SITE to see your own stuff? How does that fit into security? Sounds like both have serious issues.

I have the Belkin Netcam HD, Foscam FI9821W, and Dericam H502W.. The FI9821W has great 720p video quality and features (like motion detection, email alerts, 2-way audio, and PTZ), but it has quite a few issues -- constant wifi disconnections being the biggest one. Some people have issues with this camera every day, but fortunately for me I encounter them once a month. The Dericam H502W has the same features as the FI9821W, but it's very stable. The only downside is the video quality is not as good as the FI9821W and it doesn't have a wide viewing angle. The Belkin Netcam HD is garbage, IMO. The video quality is really bad, video is really dark in night vision (can't see anything more than 5 ft away), it doesn't have PTZ, and you can't schedule which hours of the day you want the motion detection turned ON or OFF. The upside of this cam is that it's really easy to set it up. It has a great step-by-step setup that's easy to follow and you can be done in minutes. You don't have to mess with IP addresses and port forwarding like the IP cameras.

I have some Panasonic IP cams from a few years ago. Still going strong but you need static IPs.

To make dropcam less obvious, you can turn off the front indicator light.
Once you do that it becomes much easier to make it disappear in the normal household background. The key is mounting them low, no more than waist high so that thieves wearing ball caps or hoodies can't hide from them as easily. Also if you have a covered entry, you can mount them outside without a waterproof enclosure. But the wifi transceiver is a bit whimpy, and needs to be fairly close to your router, because the camera will disconnect if it can't keep up with the data stream. If you need to put it at some distance, you can set the resolution down by half, and get more range.

Would be great to see a comparison of Dropcam vs the Y-cam HomeMonitor as the HomeMonitor seems to be a much better camera on all fronts, and even though initial costs are higher, the free online cloud recording means you save money after just a couple of months! http://www.homemonitor.me

this isnt about the cameras but i ended up looking up the WeMo system and its pretty sweet. just sucks you need to purchase one for each device you want to control. I mean you could plug multiple devices into it using a power strip but then all those devices will turn on/off at the same time.

Don't buy the Belkin Camera. It works fine until after a few weeks. Support is horrible and there isn't even a number you can call. Only support is a GetSatisfaction forum where they reply to your questions - but only if they feel like it.

Hi everyone,we're the best Security camera!

I own a Dropcam and I have to say that I am really happy with it, I wouldn't change for any other brands. However, I am still looking for an outdoor possibility. Some people told me that some accessories were existing but I can't find them on the web. Does someone already found them?

I finally found them on the web! It's Dropcases if never anyone is interested

It would be great if there was a better way to hide the Drocpam in your house. I have seen Dropcam video footage on youtube that shows how burglars go straight to the Dropcam and disable it. Any suggestions would be much appreciated.

@Janet Darling1 there is a company called Dropcessories that makes accessories to hide your Dropcam. dropcessories.com/collections/frontpage

Bellkin Netcam HD. Connecting to the Belkin server has been a nightmare. I worked with their customer support by calling 8 different times over a month for lengthy troubleshooting. At their request I called my Internet Provider 3x to have them change channels on my router. Nothing worked. I even set up a different router and ran through all the troubleshooting processes with each on 4 cameras. In addition, I found out that if you want to utilize the motion detection and storage for your camera you must pay $10 per month, per camera. After being strung along by their customer support for a month, I decided to return the cameras for a refund. This cameras were bought as a Christmas present in November.....so then I found out I missed the 45 day limit for refunds. I explained this long laborious issue over and over again to Belkin...to each different person they sent me too. They refused to offer a refund. Now I'm waiting for them to get back to me again on the return process. I've checked the Internet and I see there are many people having problems with this camera and their customer support. My advice is invest more up front and buy a wireless IP camera with motion detection that does not require connection to any vendors servers or services. (free)

The information you have shared is exactly what I am looking for. As a security guard it is very much useful for me and also others who are always looking for safety and security.... Thanks you so much...

Drop camera is a fraud company twice in two different hotels I set this camera up to my jet pack. My jet pack is plug up separate outlet. With in two hour my jet pack was damage by someone at hotel camera cut off no video. There only one way in,a hotel. Drop camera states they don't know how someone knows when your camera is on fraud again they send you a text alert everytime your camera is offline. So there sending someone alert when camera is on. Otherwise why u need pay them to scream your camera that should b free if you are providing your own Internet connect. No Internet and if you don't pay them u have no service.
Android Central Newsletter
Get the best of Android Central in in your inbox, every day!
Thank you for signing up to Android Central. You will receive a verification email shortly.
There was a problem. Please refresh the page and try again.