Say hello to Dark Mode on Android Central!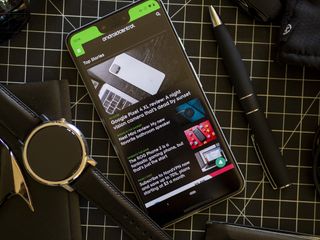 (Image credit: Android Central)
I'm so excited to announce that dark mode is now available on Android Central. We heard your pleas to turn down the lights and we've taken that to heart. It took a lot of work to make it happen, but now we're thrilled to offer dark mode — and light mode — to whoever wants it!
Here's how it works:
On iOS 13+, Windows 10, Android 10+, and macOS 10.14+, we'll see if your device is in dark mode or light mode and adjust the site theme to match.
If you want to override the automatic selection, or you're using an OS or browser that doesn't support theme detection, you can hit the brightness switch in the ≡ menu in the top left corner of the site to switch between dark and light modes.
Or you can hit the same brightness toggle right here:
And that's it! We're excited to roll this out to you, and want to hear your feedback. Like it? Hate it? Found something that's broken? Drop a line in the comments and let us know what you think!
Get the Android Central Newsletter
Instant access to breaking news, the hottest reviews, great deals and helpful tips.
Derek Kessler is Special Projects Manager for Mobile Nations. He's been writing about tech since 2009, has far more phones than is considered humane, still carries a torch for Palm (the old one), and got a Tesla because it was the biggest gadget he could find. You can follow him on Twitter at @derekakessler.
I've seriously had this option for a long time.

This is for the website, not the app.

Lol me to. What's up with that?

My AC app has been dark for a while.. is this just a larger rollout?

This is for the website, not the app. Glad you're enjoying dark mode in the app, though!

That was a nice surprise today, though I'd prefer if the articles weren't white text on black background as that gets hard on the eyes for longer articles. The comment text field has a black background but light grey text, I think that would be better for the articles. Other issue, I can't see the toggle inside the hamburger menu when visiting the site on mobile - I can see it on desktop, though. Finally, even though this is nitpicking, dark mode is technically supported in Android 9+ (through the developer flag or Samsung's toggle) - why not add automatic detection for Android 9 as well?

Wait, never mind my first paragraph, I guess my eyes were broken for a moment or something - the articles are clearly in light grey, only the headings are.

Hello, dark mode! Umm.. I'm just here to say hello to dark mode. And I'm back out.

Can you make the widget dark mode too please?

Do you mean the app widget on Android? That has had a dark theme for ages, settings--night mode...

Ahh Yeh for some reason it hadn't switched over. Just re added it and now it has!

How about getting rid of these annoying and intrusive pop up ads???

Especially the ones that wake everyone in the house up they're so ******* loud

They've got me into trouble a few times too many

Seriously, at least make them silent. I know the sure needs to make money too.

I'm so glad other folks are annoyed by this, I'm ok with having ads but PLEASE make them silent!

I'd rather say goodbye to all the full screen ads!

Thanks! Loving it on the desktop version.

I'm surprised it took Ara nagging you this long to make it happen, lol

I have been visiting Android Central for years but just recently bought a totally new cellphone. After being a Google User since Nexus 5 I've had a steep learning curve both with EMUI and the photo software with the Huawei P30 Pro. The learning curve is steep but it's also rocky since there is no Users Manual. I realize most people don't read them but I do. Maybe not as soon as I should but eventually. I wish you would have a "sticky" of Tips and Tricks for all hardware and software forums.

Hello! I used to be able to view articles on mobilenations as far back as I wanted to but it appears I can only see back a few days now. On my Chrome browser I seem to be able to see them four days back and on Safari only two days back. I normally read everything I missed during the week on Sunday afternoons and would hate to think I am missing anything. Is there a limit now on how far back I can view? If there isn't, can you provide any feedback on why I may not be able to view older articles?