SanDisk 16 GB microSDHC card review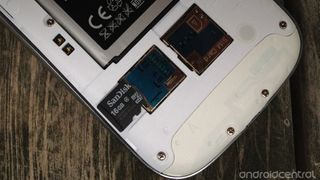 The Samsung Galaxy S III (S3) has been lauded in the press, praised here at Android Central and generally loved by its users.
Of the many great features, one that separates the Galaxy S3 from many of its competitors (like the HTC One X or the iPhone 4S) is that the back comes off. A removable back means removable batteries and removable storage.
Removable storage is a very big deal since you can, effectively, double the capacity for storing music, videos, photos or apps with the addition of a microSD card.
MicroSD cards
Removable storage has changed over the years and gotten way better. Remember those big, old and clunky SD cards? They are hardly big, but seem huge next to this new crop of storage cards.
MicroSD cards used to have a capacity limit of 2GB because they were based on a FAT16 file system. Enter the microSDHC (high capacity) category based on a FAT32 file system and capacity was raised to 32GB.
MicroSDHC cards also use a "class" organizational system. A class 2 card reads data at a minimum of 2 MB/s. A class 4 card bumps that up to 4 MB/s and a class 10 bumps that up to a full 10 MB/s.
Most cards seems to fall into the class 4 group – as does our sample SanDisk card, but many of them perform at a much high rate of data transfer speed.
Installing the SanDisk microSDHC card
Installation of the card is really quite easy on the Galaxy S3.
Pop off the plastic back
Insert the microSDHC card into the microSD slot at the lower left of the backside of the phone
Click into place
To remove the card, just push it in again and it will click and eject right out.
Verifying the additional storage
Once the card is installed, you just need to verify that you have the additional storage.
Go to the Settings menu
Notice a new icon next to the Storage tab
Tap on the Storage tab
Scroll down to SD card and look under Total space and Available space
Performance
I don't have all the required apparatus to test the read/write speed of this card so I did a good amount of research. Each test I found conducted mentioned that the read/write speed far exceeded the minimal 4MB/s of a class 4 card and more closely resembled the 10MB/s of class 10 cards.
Needless to say, for most users this card will function well and read/write speeds will be very fast.
Using the microSDHC card
Unlike earlier versions of the Android OS, you can't choose to install apps to the microSDHC card on the Galaxy S3. What you can do is load up your music and videos from your PC or Mac to your microSD card (see more about this here.)
You will notice that the first time you start your Camera app after inserting the microSDHC card, you will be asked if you want future images takes to go to the card instead of the internal memory. While it might be a little slower to access photos on the card, it can save you lots of space.
The wrap up
If you have a Galaxy s3, it makes sense to get an additional microSDHC memory card. You can store so much more music, videos and photos on your device if you utilize the extra storage capabilities on an external microSDHC card. The SanDisk card offers speedy read/write times and works flawlessly.
The good
Easy to install
Works as advertised
Speedy read/write times
The bad
A tad more expensive than some other budget cards
The verdict
There really is no downside to buying the SanDisk microSDHC memory card. It doubles your capacity to carry music, videos and photos with you, it works well, it is fast and it is not too expensive.
Buy it now
Other storage options
The class rating is for minimum write speeds. Read speeds are usually much higher than the write speeds.

64GB version is $70. Review please!

I bought that same card for $16 with free shipping a couple months back. There is always a deal out there.

You should update your explanation to also talk about Micro-SDXC, the newer standard above HC that allows for SD cards updwards of 2TB or larger. I currently have a 64GB one of thos that is UHS-1 speed rated.
Which is the second thing. There are new class speeds also. Older devices may not be compatible with them, but UHS-1 effectively is supposed to be a bit faster than Class 10 speeds, but with better stability and long-term viability.

How did it double post when I only hit save once? odd. (ICS stock browser)

I just got this card yesterday only to discover exactly what this article says, you can't move apps to the SD card. WTF Samsung, why would you not allow this? I love my GS3 but I may move to a Nexus for my next phone if this is how Samsung is gonna mess with the Galaxy series.

Um you DO know what Nexus devices don't have external SD cards AT ALL right? Lol.

This is a really funny review. Hahahaha
Android Central Newsletter
Thank you for signing up to Android Central. You will receive a verification email shortly.
There was a problem. Please refresh the page and try again.