Samsung SmartThings Outlet vs. Wemo Mini Smart Plug: Which should you buy?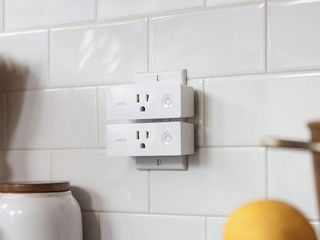 Samsung SmartThings Outlet
Samsung's smart outlet supports on/off scheduling and can even alert you that it's still on as you're leaving the house. This is easily the best smart plug to buy if you're already invested in Samsung's SmartThings ecosystem — though if you're not, you'll have to buy a $70 hub to make it work.
Samsung SmartThings Outlet
Integrates with other SmartThings devices
Can be scheduled to turn of/off
Alerts you if accidentally left on
ZigBee range extender
Requires a SmartThings Hub
More expensive
Wemo Mini Smart Plug
Like the SmartThings Outlet, the Wemo Mini can be programmed to turn on and off automatically, and its Away Mode randomly turns on lights to make it look like you're home and deter break-ins. It supports nearly every voice assistant around and even ties in with Nest.
Wemo Mini Smart Plug
Supports Alexa, HomeKit, Google Assistant, and Nest
Away Mode randomizes your lights
More affordable
Easy to stack on an outlet
Wemo app isn't great
Doesn't show energy consumption
Smart plugs are a great, affordable way of making regular electronics and appliances more useful. Attach one to an ordinary lamp or coffee maker and suddenly, you can turn them on and off from your phone. Schedule specific on/off times. Keep things from running when you're not home. There's no doubt that smart plugs are useful, but the hard part is figuring out which one to buy.
Ecosystem versus affordability
Samsung's SmartThings Outlet is, as the name implies, part of its SmartThings ecosystem of connected home products. You'll need a SmartThings hub to get things up and running, which can cost a whopping $70 — this will be an instant non-starter for some people, but if you already use other SmartThings devices, they can work together with the Outlet to automate certain processes.
If you have a SmartThings Multipurpose Sensor, for example, you can plug a fan into the Outlet and set it to automatically turn on when your home reaches above a comfortable temperature. You can also pair the Outlet with a SmartThings Motion Sensor to automatically turn on an attached lamp (or whatever else you plug into the Outlet). When it detects that you're leaving, the Outlet can also alert you when you've left it on through the SmartThings app on your phone.
If your house isn't already outfitted with SmartThings gadgets, though, the Outlet doesn't make much financial sense, especially when compared to the Wemo Mini Smart Plug. Made by Belkin, you don't need a hub to operate the Wemo Mini, and it's compatible with Google Assistant, Alexa, and Apple HomeKit, making it an easy fit for virtually any home.
Belkin's Wemo app isn't great, but just like with SmartThings Outlet, you can schedule automatic on/off times, or manually control your plug from your phone or voice assistant. You can also use the Wemo Mini with IFTTT, which allows you to find recipes created by other Wemo users for any number of automated tasks.
In addition, the Wemo Mini features an Away Mode that randomly turns connected lights on and off throughout the day to give the appearance that you're still home, which could help deter any would-be burglars. If you have a Nest Learning Thermostat in your home, you can pair it with the Wemo Mini to automatically toggle Away Mode, as well as setting the lights to come on when you return.
The Wemo Mini gets its name from its small stature; it's short enough that you can easily fit two of them on a single receptacle, which can be extremely useful for setting up multiple appliances in the same area — the SmartThings Outlet is pretty bulky by comparison.
While Samsung's Outlet has some great integrations with the rest of its SmartThings lineup, it's simply not a great buy if you don't already own those other products. Combined with the hub you'll need to make it work, the SmartThings Outlet can cost upwards of $100 at first — for the same price, you can get three Wemo Mini Smart Plugs, which will work with virtually any voice assistant.
Expensive, but well-integrated
Samsung SmartThings Outlet
This is a great smart plug if you already own other SmartThings gadgets.
The Outlet ties in nicely with other SmartThings devices, but if you're new to the ecosystem, you'll need to buy a hub as well — this can get costly fast.
No hub necessary
For anyone else, this is the better buy.
The Wemo Mini works great without a hub, and supports Google Assistant, Alexa, and HomeKit. Its small size also means you can use two from the same wall receptacle.
Get the Android Central Newsletter
Instant access to breaking news, the hottest reviews, great deals and helpful tips.
Hayato was a product reviewer and video editor for Android Central.