Samsung has sold over 3 million Galaxy Note 2's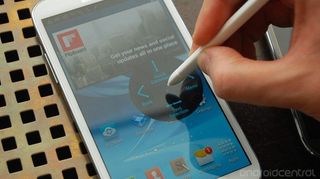 Not so surprisingly, the Galaxy Note 2 has sold well. Samsung is reporting that in just over 30 days, the Note 2 has surpassed 3 million devices sold. It took just a handful of months for the original Note to hit 10 million devices sold, so the Note 2 is expectedly selling at a faster pace than that. There's a lot of demand for the huge phone, and it has only been announced on two of the four major carriers in the U.S.
Back in September, JK Shin -- head of Samsung Mobile -- said he expected to hit the 20 million sales mark for the Galaxy Note 2 (although no time table was given). A lofty goal for sure, but the holiday season will surely be kind to Samsung as we see the launch of the device on Verizon and AT&T here in the states.
Source: Samsung Tomorrow (opens in new tab)
Android Central Newsletter
Get instant access to breaking news, the hottest reviews, great deals and helpful tips
Andrew was an Executive Editor, U.S. at Android Central between 2012 and 2020.
best phone ever
go sam, go

Congratulations.. now get back to update your old phones

I just made that 3,000,001.

If only they could be in stock in Canada. Have two on order through Rogers. Can't find any stock in a 2 hour drive. Every place you call says they are still waiting to receive them yet. Looks bad on Samsung. When you release something you should at least have stock in stores.

and tomorrow when I am back in town I will make it 3,000,002

On November 15th I too will make that well into the 3,000,000 range. Nothing tops this device on the market period. It's on it's own level that's for sure.

It will sell even better when it hits Verizon in a few weeks...now hurry up and TAKE MY MONEY!

I was one of those 3M. Best phone ever!!

I got mime :-) I'm part of that 3 million sold! It's the only device I could actually see myself keeping until the Note 3.

The supply is not keeping up with the demand. The Sprint store near me only had 4 on launch. I snagged the 3rd and a guy after me got the 4th, and that was 2 hours after they opened.

I agree but my wife will be waiting til Jan 2013 to get hers

Nice, I was really unsure about that massive screen size at first, but I think it would be manageable with a ThingSling or FlyGrip. I was looking at the Nexus 4, but I don't think the limited storage, sealed battery, etc will work for me. I'm running out of reasons not to go for the Note II!

gr8 phone, gr8 specs, gr8 features, huge screen n lil gr8 screen resolution.. way ahead of other OEM in technology dept. a gr8 phone to brag abt and show off its features to iphone users.. does ur mobile have this in it.. or will it b coming in iphone 5s next year.

Go Note 2. Glad I pre ordered mine from att. Come on next week!

Wow, Samsung keeps killing it. 2 things, did you see the LeBron James commercial? This phone looks so normal sized in his hands. Secondly, you guys that have this phone seem happy with it. Are you planning to stay on the stock software or switch to something like CM10?

I'm lovin' my Note 2! Can't wait for a 6" 1080p Note 3!! :)

I have had this phone for a day and it is in a word...amazing. This is without even using the pen. Super super fast internet (Tmobile) and processing.

Sick phone indeed. Picked one up in Canada last night and havent put it down yet. Owned the iphone5 for a month and I felt embarrassed even looking at that small hunk of fisher price technology. Sadly my wife wont make the switch or id be all over another
Android Central Newsletter
Get instant access to breaking news, the hottest reviews, great deals and helpful tips
Thank you for signing up to Android Central. You will receive a verification email shortly.
There was a problem. Please refresh the page and try again.