Samsung Galaxy S7 Oreo update: Which versions have received it?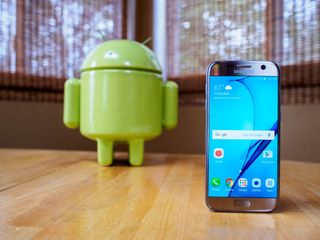 The Samsung Galaxy S7 is far from Samsung's latest and greatest, but it's still kicking thanks to an update to Android Oreo. The new software has recently started making its way to the S7 and S7 Edge, and these are the versions of which it's arrived on so far.
United States
AT&T
Galaxy S7 and S7 Edge owners started receiving the long-overdue Oreo update on Saturday, June 9, and it's available as build number G93xAUCU4CRE4.
The update comes in at 1789MB (at least for the S7 Edge) and comes with the April 2018 security patch. That's pretty outdated at this point, but it's better than what we had before Oreo's arrival.
Verizon
Oh, Verizon. Big Red tried rolling out the Oreo update for the S7 and S7 Edge twice, and each time, pulled it without much explanation. However, assuming that third time's the charm, this third (and hopefully final) release of Oreo for the Verizon Galaxy S7 series should be the real deal.
Android 8.0 Oreo started hitting S7 handsets on Verizon shortly after AT&T on Monday, June 11 and the firmware version is updated to G930VVRU4CRE5 and G935VVRU4CRE5 for the S7 and S7 Edge, respectively.
Similar to AT&T, the April 2018 security patch is included with the update.
Sprint
Following AT&T and Verizon, Sprint began updating its Galaxy S7 and S7 Edge during the week of June 18.
This is the exact same Oreo update you'll find on other carriers, meaning you'll get features like Google's Autofill for easier password entry, notification dots, picture-in-picture video, etc.
T-Mobile
T-Mobile announced its Oreo update for the Galaxy S7 and S7 Edge on June 29.
Oreo began rolling out to phones starting the week of June 29, so be sure to keep an eye out for it!
Unlocked
Nearly two months after their carrier counterparts, the unlocked Galaxy S7 and S7 edge models, models G930U and G935U respectively, have begun receiving the Oreo update. Though the build only contains the April 2018 security update, it's still nice to see that all S7 models are now running the same software.
Canada
Rogers / Fido
Rogers, one of the largest Canadian carriers, recently updated its Android Oreo release schedule for its supported phones to reveal that 8.0 Oreo is heading to the Galaxy S7 and S7 Edge on Monday, June 11.
Also, since Fido is owned by Rogers, anyone that purchased a Galaxy S7 / S7 Edge through Fido should expect Oreo to arrive on their phones beginning on that same day.
International
UK
According to various reports on Reddit, the unlocked version of the Galaxy S7 and S7 Edge have begun receiving over-the-air updates that bump them up to Android 8.0 Oreo / Samsung Experience 9.0 – the same software found on the Galaxy S9 series.
The model numbers getting the update include SM-G930F and SM-G935F, and Oreo should change their build numbers to G930FXXU2ERD5 and G935FXXU2ERD5, respectively.
You'll know you've been graced with Oreo's good fortune when you have a 1.27GB update file waiting for you.
Updated July 24, 2018: This article has been updated with information about the unlocked Galaxy S7. Enjoy your new update!
Android Central Newsletter
Get instant access to breaking news, the hottest reviews, great deals and helpful tips
Joe Maring was a Senior Editor for Android Central between 2017 and 2021. You can reach him on Twitter at @JoeMaring1.
Nice to know the S7 still has a little life left in it

So it should, is only just over 2 years old.

Mine's gonna be with me for years to come. Nothing out there that is a "must buy" over this one IMO.

I know which one won't get any time soon... US unlocked models .. You are unique Samsung.

That's likely due to the contracts that Samsung has with carriers.

How could carriers get an input on the US Unlocked variants if these shall be updated directly by Samsung?

Sammy is better than LG, my G6 is still on Nougat with Tmobile USA...never again LG!

Not sure that is entirely correct as I have a S7 Edge on Tesco's tarrif and I recieved the update this morning.

What CSC code is yours? Mine is BTU and got the update this morning.

Galaxy S7 Edge on Vodafone UK updated to Oreo overnight. Quick and seamless. Very pleased

Not showing for me yet (unlocked S7 in UK) :(

Me neither. I've heard before about Samsung's Smart Sync sometimes forcing an update direct from Samsung, but it hasn't worked yet (I'm still on 7.0, with 3, albeit with security patches) and it's not giving me Oreo now either. Still, I'll keep trying!

I have the Samsung Gajaxy S7 , Model SM-G930F
Tesco Mobile network and I got the
Android Version 8.0.0
Samsung Experience Version 9.0
Yesterday installed early this morning.
I'm in the UK .

PS.. should have said my S7 is unlocked.

Just checked my Verizon s7 for system updates and it shows a graphic saying they're "working on the Oreo update. Check back in a few weeks". So I guess there's hope!

Not sure why there was a comment saying unlocked USA phones deals with carriers but they are two different things. I got a T-mobile branded phone S7 Edge that was unlocked via T-mobile app and converted to TMK Unlocked firmware via sammobile and odin flashed, and I got the BRD1 firmware via OTA, and T-mobile phones do not even have it yet, they are on the BRC1 still. So I get my updates 2 weeks ahead of T-mobile. So, NO it does not depend on carriers for unlocked phones. Forgot to mention that I flashed the BRC1 from odin but OTA updated to BRD1.

Oh and I am sure glad I put the unlocked firmware on it. The branded one did not have the toggle for data on the panel but now I do with unlocked firmware. Also, nice to see no brand boot screen too, without the T-mobile apps.

I bought the unlocked USA GS7 Edge and I still haven't had the update yet. The Nougat update was several months later than all the carrier versions. I hope I don't have to wait extra long this time.

My UK Unlocked S7 Edge got the update yesterday. Would recommend backing phone up as my upgrade didn't go smoothly. Thought I'd killed it. Needed a couple of factory resets to bring it back to life

There is a global(uk) version to download on official samung firmware site sammobile to install with odin. https://www.sammobile.com/firmwares/galaxy-s7/SM-G930F/BTU/download/G930... My s7 is from poland and installed it with no problem :3 Here is how: https://www.youtube.com/watch?v=o4EFOgy4WwU&t=216s

Got it this morning on both my GS7 & GS7 Edge w/Telus. Working great so far.

Hahaha, hahahaha, S7 Edge is only getting Oreo now? I'm on 8.1 on my Pixel lol.

Good for you. I hope you enjoy features the S8 and S9 have had for a while, like split screen apps. Google is ripping off Samsung's tweaks.

Haha hahaha funny how google always copies stuff that Samsung has had for a while

I bought a used S7, and the boot screen says it's from U.S. Cellular. Does anyone know when it could get the update? Is it possible to install the stock version of the OS on it?

By stock version I mean the software that would be installed if I bought the device direct from Samsung. I know that stock Android can't be installed on it.

You can get it from Sammobile.com and use Odin to flash it. Exactly as you would have gotten from Samsung.

Mine still hasn't received it, so happily took £161 to sell it and moved to OnePlus 6 instead - has been a great switch!

Tmobile Lg G6 still on Nougat....damn shame,never again LG!

Got mine today. Nice refresh and this ole gal is running like a champ again!

This is being a dick just in case you can't figure it out.

It's just banter. It's no secret I hate Samsung software.

You don't like it when we bang on you do you?!? Well we don't like it when you do it to us/them. So stop already.

The Google Bot is alive and well.

Indeed I am along with my Pixel 2 XL lol.

With it's crappy ass screen!

My screen is fine, better than that oversaturated crap on Samsung displays try again troll lol.

Haven't got it for my G930FD S7 in the UK yet.

Just checked for an update on my US Verizon S7 and it was ready to download! Seeing that it's almost 2GB and I only have an 8GB plan... I'll wait until I'm home on wifi to grab it.

I have a US unlocked S7 Edge SM-G935U on Boom Mobile and no update as of yet. Just checked and it says I'm on the latest version.

I thought the S7 received the update months ago. What a long wait for Oreo.

My AT&T S7 Edge was SO laggy and janky I was really starting to HATE the phone. It was so stuttery trying to use Samsung Pay, I actually gave up and pulled out my actual card. Since getting the update to Oreo things are MARKEDLY better. My notification shade does not freeze up the phone every other time and the switch from WiFi to Cellular is much, much better (GPM used to halt and hiccup as I pulled out of my driveway and headed up the street). Hoping this improvement lasts long enough for me to pay the damn thing off and get a new phone.

Did not see Bell on the list but on a whim, I hit on manual update. Lo and behold, there was an Android Oreo update lying in hiding. Needed just over 10 minutes to download the 1.3GB update file. About the same to install and process Android updates and now I'm rocking Oreo on my Bell Mobility Galaxy S7. Freed up 2GB of system, space! Just moved the better half to an LG-G7ThinQ. Always hated the notch, still think its ugly but you know what, you get used to it. The G7ThinQ--I drank the LG KoolAid--is one heck of a phone. So am waiting patiently to move from my newly revitalized GS7. Note 9, Pixel 3...impress me!

Updating my S7 Edge in India. Will post screen shots once done.

Update done, it is working smoothly. Not able to post screen shots...
Total download size was 1399.27MB

Sprint started pushing out the Android Oreo update today (June 18) in the US. It is coming as Android 8.0.0 (G930PVPU6CRE7) at 1627.64MB along with security level 04/01/2018.

Freezes and lags now. Full of ads. I loved my phone before this update. Now i can barely use it without it closing apps or showing me ads

And I am not tech savvy like everyone here seems to be.

I do not believe you. Unless the aps you run are games that require a payment to remove ads... But that would have nothing to do with an Oreo update. If the ads are outside of apps...and if you installed somerting from outside of Google Play or Samsung Galaxy app stores, you might have a virus... Or you visit porn sites and you browser & GMAIL is getting spammed.

Yeah I have not seen a single ad. That's not how Android works. Ads aren't baked into the operating system. Your **** is infected.

My fiance and I both got the Verizon version last week and its awesome. My S7 flies and is very responsive since the Oreo upgrade. I'll have this phone another year or 2 at this rate. I love my GS7.

My S7 Active on AT&T got the update today.

I was just about to ask about this! My wife has an Edge, not sure if she installed hers yet (she's weird, lol). Any comments on it yet? Better/worse? I have the Active, and it's been pretty good, but could be better. I'm hoping it's not worse.

Downloaded it. Seems to run okay. But it got rid of my AT&T app that I used to control my data toggle. Luckily I "found an app for that", lol. The real annoying thing is that there is no way to change the text color or background on the status bar. I had to change my wallpaper, because the status bar text was completely unreadable. And I couldn't find an app for that....

My S7edge got it last week.

Unfortunately my daughter has my S7 Edge now so she gets the O benefits. Well at least we got it but it will be the last update. I hope the phone lasts a couple more years!

Is there a way to make it where the badges stay after cleaning the notifications?

My AT&T S7 Edge actually got the update on June 8 (not June 9 like it says) before I could even find an article about the Oreo update.

Oreo is gonna be best OS against others!

UK Unlocked, S7 Edge: Can confirm, I got my update to Android 8.0/Samsung 9.0 at the weekend. This is the first OS update I've ever received, having been stuck on 7.0 forever, so you can imagine my joy. The phone is so much faster now, right from the moment it's turned on (after restart, the inputs on the PIN screen used to be more than half a second behind each touch, so this isn't my imagination!).

Anyone update a Sprint S7 and have anything to report? Sometimes my phone seems slow as it is, would be cranky if it slowed down more.
And can anyone report if it has a dark mode throughout the phone?

I've had the update for a few weeks on my Sprint S7 edge. It's faster than ever with no problems so far. You might want to back it up and do a factory reset. I've read that some apps that aren't optimized for Android Oreo can cause problems after the update. That's above my skillset but it could be the issue.

We updated my wifes TMO S7 Saturday and she has been complaining about it ever since. Phone is slow, apps slow, and I'm sure more issues will follow. No idea what to do or how to fix it. If anyone has some pointers, I'd love to hear about them. p.s. Please don't say I need to wipe the phone (full reset). She hates when she has to re-create the way her phone is set up and also having to remember all the app logins etc.

Samsung's backup tool should take care of a lot of that.

Does anyone know if the S2 Tab will be getting the update?

Omgosh. The number of these rerun articles is increasing exponentially. Did all the writers take an extended summer holiday, cut backs in pay, or just experiencing a terminal lethargy? The life of a tech writer is a grueling one. Take your rest then lads and lassies.

I guess better late than never but damn...11 months to get Oreo? Wow.

Of course, they want you to buy a new device

In Canada there's also Bell and Telus.. Not just Rogers. These are the big 3s. Fido belongs to Rogers, Virgin mobile to Bell and Koodo to Telus. All S7 have been updated to Oreo. If you update these articles so frequently, please do it right.

My US unlocked S7 Edge (SM-G935U) just got the update today after I manually checked for it. Too early to tell if it's an overall improvement but so far I didn't like the new default clock style on the AOD and lock screen (but I just changed that) and I do like that now Google Wallpaper finally has access to set the lock screen wallpaper in addition to the home screen.

S7 Edge Olympic Edition updated !
Android Central Newsletter
Get instant access to breaking news, the hottest reviews, great deals and helpful tips
Thank you for signing up to Android Central. You will receive a verification email shortly.
There was a problem. Please refresh the page and try again.