The Galaxy S22 series isn't all that appealing to our readers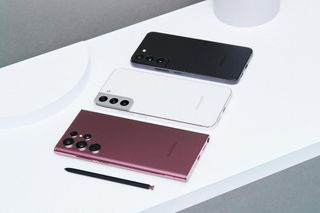 (Image credit: Samsung)
What you need to know
We asked our readers if they were preordering any of the Galaxy S22 smartphones.
Nearly half say they'll pass on the phones, expressing disappointment in specs or trade-in values.
The Galaxy S22 Ultra received the most votes of any of the models.
With the Galaxy S22 series finally official, we were interested in seeing if our readers were preordering any of the models. After all, the Galaxy S22 Ultra managed to bring back the Note thanks to its built-in S Pen.
However, out of more than 700 votes, nearly half were not interested in preordering any of the devices. That said, the Galaxy S22 Ultra received the most votes of the models, which makes sense given that it received the most changes compared to Samsung's best Android phones of 2021.
Many readers who actually tried to order one complained that the site was down and prevented them from purchasing the devices.
One reader, paulw3, doesn't think it's worth it and that his midrange Samsung smartphone does just fine:
Readers also complained that trade-in values don't make much of a dent this time around, although one reader, issosci, points out that carrier deals appear to improve on those from Samsung:
Unfortunately, many users are still not too happy with certain compromises, such as no expandable storage and downgraded RAM, and don't think it's worth it to upgrade.
I was, solely to try out and either sell on or return. But I'm not sure if even want to do that. I'm just not that interested in Samsung devices anymore, they're almost the same year after year and we're now getting less for more.I was, solely to try out and either sell on or return. But I'm not sure if even want to do that. I'm just not that interested in Samsung devices anymore, they're almost the same year after year and we're now getting less for more.— 🄰🅂🄷 🏴󠁧󠁢󠁥󠁮󠁧󠁿 (@_AndroidAsh) February 9, 2022February 9, 2022
It looks like Samsung may have a tough time convincing consumers to buy its latest phones, despite some of the upgrades. We'll be testing and comparing the devices soon, which will hopefully help some of our readers decide, particularly those that may be on the fence. Still, you may want to check out some of the Galaxy S22 preorder deals.
The new Note
(opens in new tab)
The best gets better
As Samsung's latest premium smartphone, the new Galaxy S22 Ultra has all you'd want in a flagship. It features a vibrant display, impressive 108MP camera, built-in S Pen for all your note-taking needs, and you're guaranteed up to four OS upgrades, so you don't need to worry about losing missing out on the new updates for a long time.
Derrek is a long-time Nokia and LG fanboy who loves astronomy, videography, and sci-fi movies. When he's not working, he's most likely working out or smoldering at the camera.
I initially preorder the S22 Ultra, but after playing with it in Best Buy yesterday, I wasn't that excited for it and canceled my preorder. The S22 Ultra is just boring when compared to the Z Fold 3. Sure, it may have better cameras and housing for the S Pen, but it doesn't fold in half.

My S20 FE is still holding strong.
MST, expandable storage, and paid for.

Same with my S10. Plus I still have the heart rate and SpO2 sensors and my headphone jack. I love going to a store, whipping out the phone, having the clerk tell me they don't take Apple Pay, and paying successfully with my phone. Maybe Samsung should have checked with the status of credit card readers in the U.S. before deciding to remove the MST feature from their devices. Other countries may be up-to-date on that situation, but here in the U.S. we're not. Samsung removed all of these great features, so now, other than the screen, they're no better than any other cellphone manufacturer, so where's my incentive to get a new high-end Sammy (and I've had the S3, S5, S7, and now the S10) or even a Sammy at all? I'm seriously looking into the A series for when my S10 dies in a few years, since I know they have the SD card slot and the IP68 rating (amazing how many phones don't).

No better than any other smartphone manufacturer? Hmmm. really? OnePlus has terrible software issues; Google has terrible software issues. Sony are good (get one of those instead?) but they don't make anything like the S22 Ultra. OneUI is incredibly polished too. Galaxy is more than MicroSD and MST (was never a thing outside of NA anyway). But if you're considering a Galaxy A it tells us you're not really interested in Galaxy S anyway, but sure the A52/A72 are also great. Your argument for lack of MST is being put in the wrong place. You should be angry at your local retailors for using out of date tech. MST is there on all contactless terminals in The UK but I heard it's not usually enabled because NFC is everywhere. It's been years since I've seen a terminal that didn't have it. Your venting is towards the wrong company. Being annoyed at a tech company for continuing to support very legacy tech is a bit silly to be honest. Shouldn't you be asking why there in The US you're not up-to-date by now? It's not as if Apple Pay (2014), Google Pay (2015) or Samsung Pay (2015) are new technologies.

The fact that local retailers still use out of date tech may be on them, but it still impacts the consumer, hence the value of MST. Samsung may indeed be more than MST and SD support, but those are two key reasons why I preferred them and gave them my business. Now that they have essentially become no different than Apple, or OnePlus, I MAY still buy Samsung phones. However, I am also more inclined to consider different manufacturers.

I read somewhere that the ultra has virtual ram which effectively can double the amount of ram. Maybe Samsung should market that feature. Or at least explain it.

It's a OneUI 4.0 feature, so all compatible phones have it. It's locked to 4GB on OneUI 4.0 and can be increased on 4.1. It's more a nice to have than a replacement for actual RAM.

With all the deals on Samsung.com I ordered the S22 plus and the Tab S8. Too hard to pass up.

Deals? Trade in values suck compared to previous releases. They can keep their $200 credit and $370 trade. I'll take a free S22+ from Verizon instead.

After comparing T-Mobile to Samsung, I opted for Samsung. I like paying phones off and not having a bill that creeps higher and higher. T-Mobiler offered me $140/160 (can't remember) for S20+ if I paid in full, but $600 if I let them do the monthly credit crap (aka: 2-year agreement). At Samsung I got $480 for it and used the store credit for the S8+. All in all, I'm happy with the price and not having any strings attached.

A combination of poor trade-in value and me being underwhelmed by the S22 Ultra compared to my S21 Ultra meant I didn't bother. It feels more like a note 21 than an S22 Ultra.

No SD card did it for me.

This right here. Every new generation of phone gets better, yet they always pull away features that will kill a potential purchase. If I'm going to have a phone with 8K recording and this great screen, I need an SD card slot. Not everyone wants to put their content in the cloud. Don't make me pay more for a locked- in amount of memory only to realize it still isn't enough. Especially if I plan to keep the phone for more than 2 years. I've had this Note 10+for 2 1/2 years. And I still love this phone. I'll keep this until I can get a Note phone that has that SD card slot. And I know they can add one. They just haven't had enough consumers complain that makes them reconsider it. And that means with their wallet.

They offer a 1TB version, but even that is only available from limited locations - Best Buy, Samsung direct, etc. Not from the carriers, meaning you eat the full $1600 for 1TB. Weak.

Ditto. I thought the 1TB model might sway me, but at the price they're asking for it, it's just not worth it, especially since I've been holding out on the Fold series. My guess is that the Fold 4 will get the little S22's cameras, which should be great, and a 1TB variant, which I'll tolerate on that particular device.

I just bought the Galaxy S21 FE 5G, so the S22 was not in the cards for me.

I'm waiting on the Folds later in the year.

Until they bring back the memory card slot and the headphone jack, I'm keeping my S10e.

I'm sticking with my LG V30. Still one of the best phones ever made. All these new phones keep REMOVING features people want while charging more; No headphone jack (for me it's a MUST HAVE)
No SD card (another MUST HAVE)
No charger in the box means extra purchase.
No significant performance improvement
Same UGLY camera arrangement on the back of the S22/S22+ The Ultra looks better and has a pen but still lacks all of the above. Tbh the only decent premium phones on the market are the Sony Xperia 1 and 5. And as a whole the budget phones offer the best value bar none. If I were to replace my V30 I'd either look at getting another LG or a budget/mid range phone. Plenty fast and have all the features we want.

But LG is done. No more software updates.

...but you're okay with no more software updates, leaving your personal info vulnerable? You sure are showing Samsung.

The Samsung S22 series have no SD card or audio jack, so for many of us, it is a deal killer. I prefer having the ability to store my data (music, photos, etc.) locally where I can readily access it. Having all your data in the cloud is not great when you find yourself somewhere with no internet access, or the cloud provider is down or their servers have been compromised. And having to stream your music only instead of playing it from your local source, i.e., your SD card, can cost you more due to data charges, insuring that you select an "unlimited " plan with your carrier. It almost sounds like a conspiracy between phone manufacturers and wireless carriers, but that's crazy right?

So you're left with, what, the Xperia 1 III? So many choices there.

Dude the S20 and S21 didn't have a headphone port (its a port btw not a jack, it's not hard). It ain't coming back. Deal with it. SD card removal is a more recent loss. "Having all your data in the cloud is not great when you find yourself somewhere with no internet access" Agreed, but you really need more than 1TB on a phone? "And having to stream your music only instead of playing it from your local source, i.e., your SD card, can cost you more due to data charges, insuring that you select an "unlimited " plan with your carrier. It almost sounds like a conspiracy between phone manufacturers and wireless carriers, but that's crazy right?" Yes its crazy because it's total nonsense you've just made up to make your point. Again, you really need more than 1TB storage? But yeah Sony make great phones too.

For me, the floor is 1TB if no micro SD card slot is available. 1TB. Better to have it and not need it than the other way around. My original Motorola Droid had 512MB of native storage and a 16GB micro SD card installed at the factory in November 2009. I thought, initially, that 16 gigs was adequate but that didn't last too long.

It definitely seems that Samsung is putting more resources into foldables, and with pressure from Huawei and Mi in the space... and the inevitable Apple attempt.... Margins and marketshare are up for grabs.

Despite this, AC will still push Samsung phones upon us readers.

"I'm just not that interested in Samsung devices anymore, they're almost the same year after year" Android is a mature platform and smartphones are over a decade now. Of course it's all going to iterations from now on. Foldables are where Samsung sees growth.

Gonna order the S22 Ultra from Samsung. I wanted to wait a bit, but can't pass up on £360 trade in for my S10. Sadly no free storage upgrades in The UK but we also get Galaxy Buds Pro and 1 year's Disney+. Will sell the Galaxy Buds Pro, prefer my current earbuds (Powerbeats Pros).

I realize that things have plateaued. It had me thinking of the eclectic period of the early-2000s when the design language for personal communication devices was all over the place. I'd walk into my local Sprint store (they were the leading carrier back then) and the sales representatives always seemed to have a dozen new phones to show to me. A very exciting time. In December 2004 I bought two Palm Treo 650s, one for my girlfriend and one for me. It was right then that my perception of what a phone should be and what it should do changed for good. I still consider that Treo 650 as my first smartphone. I also remember the very early-2000s when someone taking or placing a call in public was a showstopping event. Right there in the mall or restaurant a person using a cellphone was a real sight. That lasted, maybe, all of six or ten months. It was quite a time to be in the market for a new phone.

I didn't believe I'd finally come to this smartphone crossroads so soon; or at all for that matter. After advocating for 1TB of native storage in a device, especially if the manufacturer is removing the micro SD card slot, Samsung delivers a variant that has precisely that. I missed my opportunity for instant gratification on pre-ordering from Samsung directly as they'd run out of 1TB S22 Ultra phones. Temporary, I'm sure. Xfinity Mobile isn't even offering the 1TB S22 Ultra. I've had time to think about it. I'm not that bothered to stretch, look about and frantically try to secure one before launch day. I have a perfectly fine Note10 Plus Aura Glow (which still impresses me) and a Note20 Ultra (the darling of 2020) to tide me over. Both old(er) phones are running Android 12 and they function as brand new. I don't actually need a new phone for, at least, 18 to 30 months. I'll look around at the smartphone landscape in a couple of years to see what is what.

I am trading my Note 20 Ultra for a S22 Ultra (512GB, Burgundy). Held out for the pen upgrade plus the better cameras over the S22 and S22+. Ordered directly from Samsung as I am paying outright and for unlocked phone.

I was going to order an S22 Ultra to replace my Note 20 Ultra, but it's just too much money. Samsung is only giving $600 for the trade in of my Note, plus a $200 credit toward stuff I don't need or want. I already have 2 sets of Samsung ear buds from my previous upgrades. If the$200 could go toward the purchase of the phone I would pull the trigger. Verizon on the other hand is giving a $1000 credit on a trade in of the Note 20 Ultra but evidently only if it's a Verizon phone. I have an unlocked phone and was only offered a $440 trade-in allowance from Verizon, plus a $100 credit. Needles to say, I did not place the order. Other important tidbit, if buying a phone for the first time maybe you're better off buying from your carrier as they may offer you a better trade-in down the road. I'll just have to wait until the price starts to tumble as it almost always does on high end Galaxy phones. I'm not used to waiting but my Note 20 Ultra is still a great phone, so I'll wait it out or pass entirely if the pricing and trade-in remain the same.

Horrible article.
Completely misleading title.
Nonsense. Find real content elsewhere.
Android Central Newsletter
Get the best of Android Central in in your inbox, every day!
Thank you for signing up to Android Central. You will receive a verification email shortly.
There was a problem. Please refresh the page and try again.