Samsung Galaxy S20 night mode pics show big improvement over Galaxy S10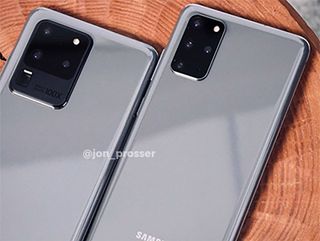 (Image credit: Jon Prosser/Twitter)
What you need to know
Max Weinbach of XDA has given us a couple of Night Mode images from the Galaxy S20 and Galaxy S10 to compare.
In the two sets of images, the Galaxy S20 comes out on top easily by providing a brighter and clearer photo in both situations.
The Samsung Galaxy S20 also did a better job of balancing out the exposure and provided a more accurate white balance.
Over the past couple of years, night time photography modes have become a big deal on smartphones. Companies such as Apple, Google, Samsung, and Huawei have all introduced dedicated camera modes to help take better photos in extreme low-light conditions, with each one battling it out to be the best.
Now, on the eve of Samsung's big Unpacked event, we're getting a look at some samples comparing Night Mode on the Galaxy S20 versus the Galaxy S10. The photos come to us courtesy of XDA's Max Weinbach, who tweeted out two real-world examples for us to analyze.
After looking at both sets of images, it's pretty clear that the Galaxy S20 will offer a noticeable improvement over the Galaxy S10. In the first set of images, the Galaxy S20 picture on the right reveals that not only will Night Mode images be brighter, but they will also show much more detail. In the Galaxy S10 image displayed on the left, you can barely make out any texture in the grass, looking more like an abstract painting than a photograph. The Galaxy S20, on the other hand, shows a little more texture, although it is still quite blurry.
Source: Max Weinbach/Twitter
The second pair of images shows an even more dramatic difference between the two photos. Here, the Galaxy S20 on the right is once again brighter than the Galaxy S10 and reveals much more details in the houses in the distance. In comparison, the Galaxy S10 on the left is a bit of a blurred mess. Even the exposure balance is much improved on the Galaxy S20, as can be seen from the blown-out highlights in the windows on the houses in the Galaxy S10 image. Additionally, the white balance is also more accurate on the Galaxy S20 with the fence and houses actually appearing to be white, unlike in the Galaxy S10 image.
Source: Max Weinbach/Twitter
Overall, it's pretty easy to conclude that the Galaxy S20 wins in both of these example images. However, it remains to be seen how the Galaxy S20 will do against the rest of the competition. Stay tuned for when we get our hands on a review unit and put the Galaxy S20 through the wringer.
Get the Android Central Newsletter
Instant access to breaking news, the hottest reviews, great deals and helpful tips.