Samsung Galaxy NX camera priced in the UK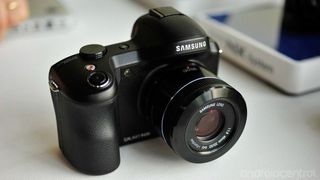 The first UK pricing information for Samsung's Galaxy NX Android-powered mirrorless camera has started to emerge, with British camera retailers Jessops and Wex Photographic both listing the device with a hefty £1299.99 price tag. That money gets you the Galaxy NX body — complete with 20.3MP sensor, 4.8-inch HD display and 4G LTE connectivity — and an 18-55mm OIS kit lens. That's a significant step up from last year's Galaxy Camera, which sold for around £350, but it's not entirely unexpected considering this is a professional-quality camera.
Jessops lists the Galaxy NX as available today for home delivery, while Wex's listing is pre-order only. There's still no word on U.S. pricing at this point, but if you want to take a closer look at the Galaxy NX, you can do so in our hands-on feature from the camera's London launch event.
Source: Jessops (opens in new tab), Wex Photographic (opens in new tab); via: Pocket-Lint (opens in new tab)
Alex was with Android Central for over a decade, producing written and video content for the site, and served as global Executive Editor from 2016 to 2022.
Pricey, to say the least. I wonder if it can draw DSLR fans away from their cameras or just create a new segment of customers to fit between them and the P&S owners (like myself).

Not a chance DSLRs (the entry level) are cheaper and will have better image quality for sure.

And you know this how? Posted via Android Central App

"mirrorless" and "professional" are a dichotomy.

For less then 1/100 of the price I can get a USB-OTG adapter and hook my DSLR to my N7 ;-)

This thing is an abomination. I'm sure it will take nice pictures in fully automatic mode or preset scenes but nobody who uses manual mode is going to be happy using an on-screen menu. My N7100 has lots of buttons and dials so I can adjust settings with my eye to the viewfinder. It's hardly professional if the user is meant to hold it in front of their face, set ISO, shutter speed, aperture, metering, etc through on-screen menus and then shoot using the screen as a viewfinder (it looks like it has a real viewfinder but I doubt buyers of this camera will use it). This is for wealthy tech enthusiasts to play photographer, maybe for bloggers to get quick and dirty good quality photos uploaded quickly and remotely. Anyone who shoots RAW and post processes with Lightroom or similar programs are going to find the connectivity relatively useless. I really can't imagine a demographic large enough to support this product.

It's not professional quality, it is amateur quality. A professional camera has a full frame sensor, 36mm x 24mm. The sensor this is rocking is slightly smaller than the APS-C, 23.6mm x 15.6 mm, that is used by everyone but Canon. This camera is what is referred to as a Prosumer camera meaning the people who buy the camera want "professional like" results with the professional price tag. If it really was a professional quality camera, like you claim, without the lens the camera body would cost upwards of $5,000.

Looks like the photography snobs are on their game today.

+1 Posted via Android Central App

All these "photography snobs" as you call them do make very good points.

So people who actually care about professional image quality are automatically snobs? Serious photographers who make a living may actually have photography as a profession? Ah, the fanboyism…

Well, this is probably going to perform better than the Canon 1100D and Nikon D3100 if you look solely at image quality considering the sensor inside. But then again, we need to compare this with cameras from the same price point such as the new Canon 70D or Nikon D7100. Things this camera is lacking of: a decent AF system, weather sealing, physical dials, decent glass (or the ability to upgrade to decent glass), and furthermore, android isn't even optimised to function as a camera OS. Yes, the wifi option is nice for quick sharing shots, but the new Canon 70D has this option as well. Someone who's serious about photography as a hobby or profession is not going to touch this camera. This has purely been made for those Samsung fanboys who just don't know any better.
Android Central Newsletter
Thank you for signing up to Android Central. You will receive a verification email shortly.
There was a problem. Please refresh the page and try again.