Samsung Galaxy Note 9 vs. OnePlus 6: MrMobile's $500 dilemma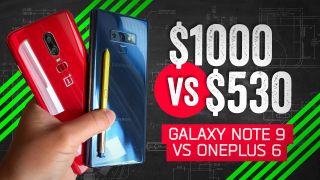 Here's something I heard a lot from viewers when I said that Samsung's Galaxy Note 9 was actually worth the thousand bucks it costs: "no, dude." See, it turns out a lot of folks don't think any smartphone is worth a four-figure price point, no matter how fully-featured it is. It's not just viewer feedback, either; I listen to a lot of tech podcasts, and nearly every time the Galaxy Note 9 was brought up in conversation this week, another smartphone was hot on the tongue of the next host: the OnePlus 6.
You might remember the OnePlus 6 as the smartphone I lightly chastened in my review for being the most expensive of its formerly-very-affordable line. But here's the thing: it's also one of the best Android phones of 2018 – and at a mere $530, it's almost 50% less expensive than Samsung's Galaxy Note 9. That's not just a price gap; it's a price canyon. Given how much I enjoy using both of these smartphones, I wanted to know just how the two fared when put head-to-head.
So join me for the Galaxy Note 9 vs. the OnePlus 6! We'll recap some of what you already know; we'll gaze upon some camera comparisons that might surprise you; and we'll barely touch on the Poco F1 that launched to much hoopla right in the middle of this video's production process (more on that soon). If you're more of a casual tech lover, or a lapsed phone geek who's checking back in on Android after a hiatus … you might be surprised at just how much (or how little) difference an extra $500 makes when you're shopping for the best smartphone of 2018!
Stay social, my friends
Get the Android Central Newsletter
Instant access to breaking news, the hottest reviews, great deals and helpful tips.