Rumor: Samsung Galaxy Note 20+ to come with a 108MP camera, 4500mAh battery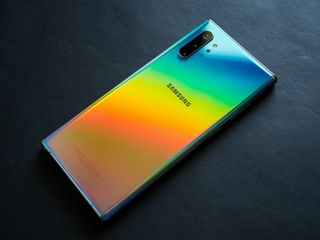 (Image credit: Harish Jonnalagadda/Android Central)
What you need to know
Samsung's upcoming Galaxy Note 20 Plus may come with a smaller battery than the Galaxy S20 Ultra.
While the Galaxy S20 Ultra packs a 5,000mAh battery, the Galaxy Note 20 Plus is tipped to feature a 4,500mAh battery.
The Galaxy Note 20 Plus is also tipped to sport a 108MP camera, although there is no word yet on whether it will have a 100X "Space Zoom" periscope lens.
Last week, a leak suggested that the Galaxy Note 20 Plus could be Samsung's first flagship phone to feature a variable refresh rate display and Qualcomm's second-gen 3D Sonic Max fingerprint sensor. Some more information about the upcoming Samsung flagship has now surfaced, courtesy of the folks at Galaxy Club.
As per the new report, the Galaxy Note 20 Plus will have an identical 4,500mAh capacity battery as the Galaxy S20 Plus. If the information turns out to be accurate, the Galaxy Note 20 Plus will have a smaller battery than the Galaxy S20 Ultra. However, the Galaxy Note 20 Plus may still be on par or even slightly better than the S20 Ultra in terms of actual battery life, thanks to its "LTPO" variable refresh rate display
In the camera department, however, the Galaxy Note 20 Plus will likely be more impressive than the Galaxy S20 Plus. According to information obtained by Galaxy Club, the Note 20 Plus will be equipped with a 108MP primary camera, just like the S20 Ultra.
Unsurprisingly, the report suggests the standard Note 20 will not come with a 108MP camera. What remains to be seen, however, is if the Note 20 Plus will use the exact same ISOCELL Bright HM1 sensor as the S20 Ultra. There is also no word yet on whether the Galaxy Note 20 Plus will offer a periscope "Space Zoom" lens like the Galaxy S20 Ultra.
Android Central Newsletter
Get instant access to breaking news, the hottest reviews, great deals and helpful tips
Honestly, if there is anybody left spending this kind of money on a smartphone needs psychiatric help!! It is no longer phone for function, it's just a display trophy...

I disagree with your comment. How would it be a display trophy if the phone contains features that a prior model doesn't have? Those minor features and tweaks could be valuables to someone that utilizes them in their daily lives. For example. If you want faster network speeds and 5G carriers that in your area and you want a 5G phone, do you keep or get a phone that doesn't have that capability, or do you buy a a phone that has the customary feature to it? It comes down to pros and cons.

Oops, IUse and utilize have different meanings and uses. Sorry, I did not receive the memo stating "rather than utilize use we will now utilize utilize"; sounds weird huh. Using utilize when the correct word is use, comes across as pompous and self ingratiating.

Is Galaxy Club usually a reliable leaks source? I don't know them...

No idea,I just follow through ice universe

I own a Note 10+ 512gb so nothing here is making me wanna move up, bit disappointed in no ultra version etc but will wait till it's officially announced then if I like it I will wait 2/3months when the price drops and upgrade. I never ever pay silly launch prices for Samsung phones, they drop like a stone in price from launch I picked my 512gb Note 10 plus for £775 in September roughly 5/6 weeks after launch last year on ebay no way was I paying the £1199!

I don't mean to troll (uh oh)... But you have a Note 10+ and expressed reservations about price, yet you are seriously considering upgrading again so soon? You have a flagship phone... It's good for five years, at least... lol. New phones are nice, and spend as you please... But consider the math on ten years of flagship mobile phones, upgraded biannually..... It's an insane amount of cash, I don't care what time of year you buy them. Lol, you can't live in your phone, nor can you drive it anywhere. PS. 5G is overrated and still so limited in availability, almost everybody consumes most mobile content over home or work WiFi networks.

Considering upgrading yes, your right I could use my phone for 5 years but at the end of that I'd likely have to fork out about £1500 or more at one go for the next flagship with nothing to put too it as a 5 year Samsung phone would be worth nothing. Whereas if I use this for a year sell it on and wait on the Note 20 to reduce then I can make the upgrade for a few hundred or less each year it literally cost me £125 to upgrade from the Note 9 to 10 plus and that way I don't have a big outlay and I always have the latest handset

Maybe there will be 3 notes, mote 20, note 20 + and note 20 fold. It would make sense bringing the fold into the note line.

There is a rumour the next fold will have an S pen so you probably right with the new note lineup

For as powerful as these phones are anymore, that battery to me isn't big enough. I wasn't impressed with the battery in my note 10+

I know a lot of people want top of the line specs on a camera but there are those of us that want to know about the upgrades to the "Note" stuff which is what is supposed to make the Note line different. It seems that the focus is usually camera, camera, camera...

I will upgrade to get 5G service with T-mobile. I have the Note 10+. I use T-mobile's Jump on Demand for upgrade, so it really does not make sense to keep a phone for more than one year. On my second line, which is not JOD, I purchased the OnePlus 8 Pro outright. It works well with T-mobile's 5G network.

At this point, who really cares about what the Note 20+ will come with. You will still have to wait an average of 7 months to get Android 11 after Google releases it. Meanwhile, someone on a crappy Pixel phone gets it the same day it's released and OnePlus phones (that would be me) get it a few weeks later. Imagine paying $1500 for a phone but having to wait half a year to get Android 11!!! Make whatever excuses you want for Samsung but this is a serious deal breaker and is completely unexceptable considering the wealth and resources that Samsung has

Now we know : same 108mp camera sensor as S20 series BUT with new autofocus method, using another sensor to get the focus right! To sum up, Note 20+ will be a much better version of the S20 Ultra on many hardware specifications: memory, fingerprint scanner, screen, chip and camera! All this with an S pen. Great!

I have the Ultra, but miss the S-Pen. But, I've had good results with the 10x to 30x zoom camera and not likely to upgrade without some robust version of it
Android Central Newsletter
Get instant access to breaking news, the hottest reviews, great deals and helpful tips
Thank you for signing up to Android Central. You will receive a verification email shortly.
There was a problem. Please refresh the page and try again.