Rogers brings full Sportsnet content to cord cutters for $25 per month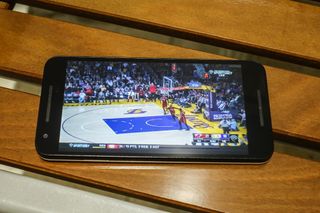 It may have taken Canada's regulator, the CRTC, to force unbundling of television services to make it happen, but Rogers, owner of Sportsnet and many other sources of Canadian content, has made its suite of sports content available to all Canadians for a monthly fee.
Available for $25 per month, Sportsnet Now will be offered to all Canadians with an internet connection, removing the need for an existing television subscription to access content from the MLB, NHL, NBA and more.
The unbundling of Sportsnet Now from television bundles — the actual service will go unchanged, but it will no longer be limited to television subscribers — is a first in North America, according to Rogers. ESPN, which is owned by Disney, partnered with Dish Network's Sling TV to allow customers stream ESPN for $20 per month, but Rogers takes the unbundling one step further, removing the requirement for a third-party subscription entirely.
One of the risks involved with cable package unbundling has been exposing the true costs of television to consumers. As an increasing number of Canadians cut the cord, live sports continues to be a source of leverage for the telcos to encourage customers to maintain their often-expensive monthly service. As of March 1st, all television providers are required to offer "skinny basic" television packages for $25 per month, along with low-cost channel bundles or individual channels. But many Canadians have balked at the relatively high price of total service, since providers like Rogers and Bell are not forced to include the cost of equipment rentals from the $25 base price.
Rogers, Sportsnet's owner, controls the licensing rights for the National Hockey League in Canada, as well as much of the Major League Baseball games broadcast in Canada. It also splits National Basketball Association broadcasts with TSN, its sports rival owned by Bell. Whether Bell plans to offer its five TSN channels to Canadian Internet subscribers remains to be seen.
Sportsnet Now will be offered in the form of smartphone, tablet and, on the desktop through the browser, starting Apr. 1, 2016. Channels include Ontario, East, Pacific, West, ONE, and 360, but not World, which includes content like cricket and rugby. That will still be exclusive to television subscribers at an extra cost.
Daniel Bader was a former Android Central Editor-in-Chief and Executive Editor for iMore and Windows Central.
Like Shomi isn't bad enough already

I signed up for the free trial week. See how good it is. Cord cutter for years, this might be a "nicer" way to follow my Jays this summer. Knowing Rogers though, probably won't be reliable lol

Really? Wow wonderful great...yet in still waiting for marshmallow on my 800 dollar Samsung Galaxy s6 edge+. Get your dam priorities right rogers Posted via the Android Central App

People have been clamoring for internet-based subs for a long time now that are not restricted to having a cable account with a provider. Root/unlock the bootloader on your Samsung and load a marshmallow ROM.

Wow, I'm sure Comcast,att and Verizon will never let that happened in US cause of sports I have to have all Crap that I never tune into. Posted via the Android Central App

I assume that this means no changes for Shaw customers already subscribed to and streaming Sportsnet content through Shaw Free Range TV app.

I signed up for the free week. If the quality is good (read 720p or higher) then I will keep it. My sports sources while reliable are of poor quality compared to BBC/ITV/SKY/NETFLIX/HULU. Hopefully TSN follows suit next.

This is a horrible deal. All you get is Sportsnet??? For $25?? I can get Sportsnet and 100 other channels for $59.

Agreed. Should be $15 max. The quality better be superb.

They said April 1st. Seems it has been for 38 minutes. Won't let me watch on any platform. Kind of the start I suspected from Rogers.

still nothing here either....pre-register link still there and sign-in link still wants provider credentials.

Was this an April fools joke? Still not working and they have my cc info. Very bloody funny Rogers. Haha. Posted via the Android Central App

no idea - i didnt even get to see a place to enter my CC info - there is just the pre-register screen for name and email address

i submitted an email to see whats up with this.

well the website is now working - Android app is not.

Web site isn't working for me yet. Typical. Posted via the Android Central App

K now it is working on app and site. Had to subscribe again. Apparently they forgot I did yesterday. Geez. Posted via the Android Central App
Android Central Newsletter
Get the best of Android Central in in your inbox, every day!
Thank you for signing up to Android Central. You will receive a verification email shortly.
There was a problem. Please refresh the page and try again.