Ring app for Android found to be 'packed' with third-party data trackers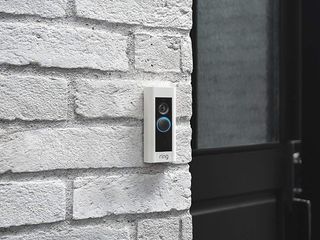 (Image credit: Ring)
What you need to know
An investigation by EFF has revealed that the Ring doorbell app for Android is laden with third-party trackers.
The trackers reportedly send out sensitive information such as the customers' names, sensor data, private IP addresses, and more.
Ring app has been found to deliver users' personal information to four analytics and marketing companies – Facebook, MixPanel, AppsFlyer, and Branch.
An investigation carried out by the Electronic Frontier Foundation (EFF) has revealed that the Ring app for Android (opens in new tab) is "packed" with third-party trackers, sending out a wide range of personally identifiable information (PII) to analytics and marketing companies.
The EFF investigation found that Ring for Android v3.21.1 sends users' personal information to four analytics and marketing companies: Facebook, Branch, AppsFlyer, and MixPanel. Facebook receives alerts whenever the app is opened and upon app deactivation after screen lock due to inactivity. Even if the Ring user does not have a Facebook account, the social networking giant still receives information such as their time zone, device model, language preferences, as well as a unique identifier.
The most information, however, is sent to MixPanel. In addition to device information, the company receives users' full names, email addresses, and app settings including the number of locations they have Ring devices installed in. MixPanel also happens to be the only company to be mentioned in Ring's list of third party services. The Ring Privacy Notice, which was last updated on May 22, 2018, notes that the company uses third-party data analytics platforms "to evaluate use of its website and mobile apps."
More alarmingly, AppsFlyer receives sensor data from Ring devices. On its test device, EFF found the Ring app was sending out data from the magnetometer, gyroscope, and the accelerometer. Additionally, EFF says Ring sends some information to Google-owned crash logging service Crashalytics, although it was unable to determine the exact extent of data sharing with the service.
While the EFF used Ring for Android v3.21.1 in its testing, Ring released v3.22.1 of its app on the Play Store yesterday. At this point, however, it is unclear if the latest version of the Ring app for Android is "packed" with the same third-party trackers as v3.21.1 tested by the EFF.
This concerns me. I use Ring products.

Did android central reach out for comments from Ring?

A bit disappointing, but not at all surprising.

So they share data; what now?? Anyone doing anything about it?? Is there anything I can do about it to prevent data sharing??

We NEED Someone to come up with a FIX to BLOCK Any and All 3rd Party from getting Our Information. This Should ONLY be between Us the User and RING ONLY!!!!!!

The solution is so easy. DO NOT USE THIS CRAP! We got along fine before and will so in the future.

It is not always that simple. Ring and Hello are God send for those with reduced mobility and safety concerns. It is Amazon and Nest responsibility to fix this crap. Third party involvement shouldn't be allowed. As simple as that...

Does this mean that AC just might stop pimping Ring products to collect a commission? Stupid question.
Android Central Newsletter
Get the best of Android Central in in your inbox, every day!
Thank you for signing up to Android Central. You will receive a verification email shortly.
There was a problem. Please refresh the page and try again.