Spigen Ultra Hybrid clear case for Galaxy S6: Protection in the clear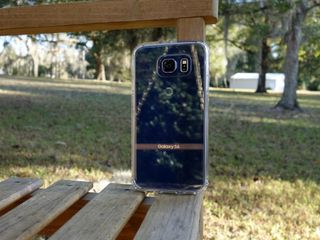 Spigen's crystal clear option to their Ultra Hybrid series for the Galaxy S6 has the advantage of being completely transparent from front to back, utilizing an all-in-one TPU bumper and slim plastic shell. The beauty of this clear cover is in its simplistic design — it might not be ideal for those after a more serious solution against damage, but it's still viable as a light buffer against everyday drops, bumps, and wear.
The case comes with a protective film — not for the screen, but for the back of Galaxy S6. The purpose of the film is to prevent scratches and smudges on the glass, adding a matte feel to the device. While the film did seem to hide smudges better than the bare glass, it also made the phone more slippery while out of the case. I could see this extra feature being beneficial for some, just not for me.
Image 1 of 2
Image 2 of 2
Spigen's Air Cushion Technology — essentially tiny air pockets — is featured on all 4 corners of the case, aiding in impact absorption. The TPU bumper extends over the volume and power buttons of the Galaxy S6 while leaving easy access to the camera, auxiliary port, Micro-USB input, microphone, and speaker. With the bumper being so flexible, installing is on the Galaxy S6 was painless, as was removing the phone from the case when necessary.
It's easy to appreciate how slim the Ultra Hybrid case is around the Galaxy S6. The raised lip around the front keeps the display from rubbing surfaces while faced down, but the raised rear camera still has the risk of wear and tear since it sits about flush with the case. On the bottom right corner of the case is an attachment loop, in case your phone around on a lanyard or strap is your thing. As is the story with most clear cases, fingerprints are a constant battle. It's really no different with the Ultra Hybrid, but at least it's easy to manage.
Overall, the Ultra Hybrid clear case is an excellent, lightweight cover for protecting the Galaxy S6. It's pocket-friendly, works with wireless charging pads, is completely transparent, and isn't as slippery as the GS6 without a case. There are also different colored bumpers to choose from if the totally crystal clear look isn't what you're after.
I had a neo hybrid for my nexus 6 it broke recently and their support don't return emails. Last spigen I'll buy.

Did you buy it on amazon? I would go through them if you did.

I love Spigen cases. The Armor case for my 6P is exquisite. Beats those overpriced Otterbox cases (which they do not make cases for Nexus devices but nevertheless) Posted via the Android Central App on my Frost Nexus 6P

I hate completely clear cases. I like the back clear, but the sides should be a different color or material. Posted via the Android Central App

I have UAG . Rugged beauty Posted via the Android Central App

I might have considered them again if they made something for the Nexus 6P Posted via the Android Central App

I would love spigen if they made cases for Motorola. I have heard really good things about them. Posted via the Android Central App

Had a similar one, fantastic case... I'm considering another one. Posted via the Android Central App

I had one of this case. But after using it for a while (few weeks) I find the case add significant bulk to the phone. It makes the slim phone become bulky... I switched to Samsung galaxy S6 clear cover. Which to me is a better case and feel better on hand. Posted from my Samsung Galaxy S6

I have the Spigen Slim Armor for my LG G4. It's an awesome case. That kickstand is just icing on the cake.

I am reading this on my S6 in this very case. I have had the case since October and it is no longer crystal clear, but a yellow toned colour. It looks awful as I have a white phone, the discolouring is really obvious. I also had slim fit spigen cases in white and mint and found they cracked on the corner without any impact.

Like the quality of this case. However, it does turn yellow after a while. Posted via the Android Central App

2011 - Let's b14ch about the plastic build of Samsung flagships
2012 - Let's b14ch about the plastic build of Samsung flagships
2013 - Let's b14ch about the plastic build of Samsung flagships
2014 - Let's b14ch about the plastic build of Samsung flagships
2015 - Let's praise the latest flagship for it has the build quality we've always wanted
2016 - Let's put a plastic condom on it

Settle down almost everyone puts a case on a phone. Posted via the Android Central App

So, why are we paying a premium for glass and aluminum materials, if we're gonna cover them with cases? :)

Some people like me prefer to protect their 700 dollar phones when outside but when home rock it without a case... Posted via the Android Central App

That I can understand. But most people put a case on the phone and never take it off. Even if it scratches, they keep it on, and brag about the expensive un-scratched phone they have undeneath :)

Putting Case is for reselling value for me.
Like new = high price
Scratches and dents = low price, thus i need to add extra more to upgrade few years later.
Not everyone live in USA or other developed countries where mobile companies subsidized the phone.

So you're paying extra for the premium feel, but cover it with a cheap plastic, and the next owner pays a higher price when they buy it from you, and cover it with cheap plastic, and so on.. Basically everyone ends up paying more but everyone covers it with cheap plastic. Who benefits from this? Only the manufacturer..

Because I want a better grip on my slippery phone.

Wtf!!! Posted via the Android Central App

I have this case on my Note 5. Best case I've ever bought. Posted via my Galaxy Note 5

These cases are beautiful and they protect really well while allowing you to still show off the design of the device, with that said you better beware how you take them off because they can crack extremely easy. I have this exact case on my m9 as well as my s6 edge and both cracked while in the process of removing the case and it didn't take that much pressure either.

Awful and ugly. Samsung spend huge amounts of cash designing beautiful phones it seems such a shame to ruin the design by using a case. My s6e+ is insured against any mishap for a mere tenner a month. I'd rather pay that than use a wretched case. It surprises me that everyone else doesn't do that too.

I have this case on my GS6 and like it, except for 2 issues. As others have mentioned, there is a bit of yellowing after a few months. The back of the case has stayed clear but the sides are slightly yellowed. One of the colored options mentioned in the article might solve this issue. The second issue, which I was able to resolve with a small bit of ingenuity, was that the back of the case sits so tight against the phone that it creates air pockets. I think the protective film that spigen includes for the back of the phone is meant to resolve this but the film was difficult to install. Instead, I took a small wire gauge drill bit and drilled 3 holes vertically down the middle of the case.

Reminds me of when my parents used to put clear plastic seat protectors on their fabric chairs. Ridiculous. I thought we had move beyond this ugly stuff...

I wrote a review for this case in AC Forums way back on July 1st...
http://forums.androidcentral.com/samsung-galaxy-s6/548054-case-review-sp... FYI DON'T GET THE CLEAR BUMPER unless you like the look of a yellowed bumper in a couple months. Even my tinted ("Space Crystal") bumper looks yellowed now, but not as noticable as the clear. I love the case in every way other than that. When I get a case from my new phone, I'll get it again, but in a solid color like the available metal slate or gunmetal. EDIT: I want to mention that this case is quite easy to put on and off, which is super handy for me when I want to use my Gear VR.

This has been my go-to case for the past 3 years. Had the same clear one pictured above on my Nexus 5, my Galaxy S6, and currently my iPhone 6s. The only case I will buy from now on. Inexpensive but still protects your device. I HIGHLY recommend it.

Personally, I live by spigen as I've had nothing but for several years. And they all have saved my phones from drops and even in water with certain ones. I won't use anything else!! Posted via Android Central App

Does the back of the case turn yellow after a few months?

Samsung Galaxy 6 edeg+
Hvordan kan man til koblet lager eller anden enheder
Android Central Newsletter
Get the best of Android Central in in your inbox, every day!
Thank you for signing up to Android Central. You will receive a verification email shortly.
There was a problem. Please refresh the page and try again.