Reminder: Google Maps is looking out for your safety with public alerts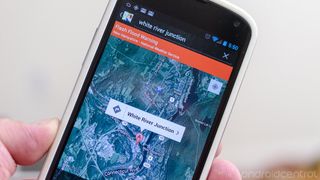 Google's public alerts system can save your bacon by keeping you up to date with important safety information
Michael wrote in about something he noticed in Google Maps for Android. Seems there is a Flash Flood Warning for parts of New Hampshire, and Google Maps made sure he knew about it when searching for a location. It's not only pretty cool and pretty important, but it serves as a reminder that your Android phone can provide safety information as well as play Words With Friends.
Google started adding public alerts to Google Maps in January of 2012, but most of us have never seen them. Besides severe weather alerts from the US National Weather service, maps also has the ability to give safety warnings from the following:
US Geological Survey (USGS)
West Coast and Alaska Tsunami Warning Center
AMBER alerts from the National Center for Missing and Exploited Children
Nixle
Japan Meteorological Agency (JMA)
Environment Canada
These are all trusted partners and verified public safety authorities. The alerts you can see will depend not only on what alerts may be active, but also their severity, location settings and of course your location or the location you're searching. The goal here is to provide relevant safety information tailored to your needs and location. This is a really good thing.
To see all the live alerts, you can visit the Google Public Alerts homepage. While the service has been around a while, it's still fairly new so not every location has pertinent local information. If your hometown doesn't seem to be listing anything, and you're in a position to influence policy decisions (or know someone who is), direct your attention here. Google has set up steps to make it easy to publish the data in a web-friendly format so that they, and others, can use the data to keep people warned.
Thanks, Michael for this great reminder!
Jerry is an amateur woodworker and struggling shade tree mechanic. There's nothing he can't take apart, but many things he can't reassemble. You'll find him writing and speaking his loud opinion on Android Central and occasionally on Twitter.
Just an FYI, before depending on Google over any local alerts you may be using, in the recent bad weather in the midwest Google lagged 10-15 minutes behind alerts both from a local TV station and from Weatherbug Elite. In several cases, the alert from Google came after the threat was already past. Hopefully they'll improve, but don't dump your current choices yet!

My Google Now gives Alerts with an Alarm like the ones from NOAA. We have Tornado's in Missouri and from the 10-15 severe T storm and Tornado warnings Google Now worked well 14/ 15 times. Once it was off by 15 minutes after our Tornado sirens went off. But I live in St.Louis, a major city, I haven't had it go off while out in the country or in small towns and not sure if it works well in less populated areas or the boonies. I also use weatherbug which pumps out 7-14 warnings every time there is a storm no matter how lite or severe.

I had mine setup much the same way, with 1Weather app supplementing my Google Now alert coverage. It did work well when we had those tornadoes and severe storms go through the St. Louis area.

It would be nice if there was a NWS radar layer on Maps. Posted via Android Central App

While Google Maps doesn't, the app Raindar does that, using Google Maps. It won't show all the Google Maps layers, but will allow you to toggle the Traffic layer.

The notifications seem to work ok. I was a few hundred kilometers (or miles, take your pick) from the nearest thing resembling a "major center", in the lowly praries of Canada. In other words, probably not the place you'd be expecting prompt and accurate weather alerts being pushed to my phone, and from especially NOT from Google. Let's face it, Google's focus is on the US and the rest of us get varying amounts of sloppy seconds when it comes to Google's various services. Anyway, my point is I was at a job site a couple weeks ago. We were expecting severe weather (thunderstorms with tornado threat), but low and behold I got 2 severe weather notifications! 1 from my trusty Weatherbug Elite app, and low and behold, a notification from Google about the severe weather as well! Keep it up Google. And please... keep expanding all your services beyond the borders of the US!

Now if only they would look out for my mental health and release that update they announced at I/O.

These are also included in Google Now. Here in northeastern Massachusetts, there were tornado warnings yesterday, and Google Now notified me of those the minute they were issued by the NWS.

I have pondered why there is no radar layer. This would be awesome; or at least in my book it would be.

patiently waiting for the maps update.

i got a Hoboob or whatever you call it warning lol

Yeah you gotta watch out for those Hoboobs.

There needs to be an app where people can set a marker on the map when they think they're about to be mugged/kidnapped etc (or see a criminal/crime), so the public can mount up and take out the trash.

I've been getting severe weather alerts for severe thunderstorms and flash flood warnings from Google Now in the notification bar (with a beep and a buzz to let me know). Opening up the notification takes me to the full text of the alert along with a map highlighting the warning area. A few times I have gotten the audible tomes and a synthesized voice reading the alert aloud (scared the heck out of me the first time that happened!) I wonder how it decides whether to just put the alert up as a notification or to go the whole way with tones and all. Posted via Android Central App

Tones. Not tomes. Posted via Android Central App

I just hope there's an update coming where it won't keep trying to direct me into heavy traffic. Then I won't have to scream, "REROUTE, BITCH!!!!", at my phone.
Android Central Newsletter
Get the best of Android Central in in your inbox, every day!
Thank you for signing up to Android Central. You will receive a verification email shortly.
There was a problem. Please refresh the page and try again.