RCA's new 55-inch 4K Android TV hits stores in June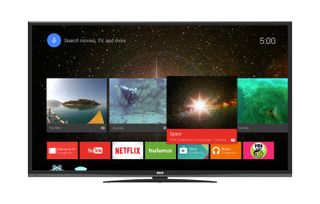 RCA has announced a brand new 55-inch 4K Android TV set. The set features a refresh rate of 120GHz, as well as an upscale engine to enhance 1080p video. The TV, model XLD55G65RQ, will be available starting in June, with RCA also introducing 50 and 65-inch Android TVs.
In addition to the standard array of Android TV features, the new RCA set will come with built-in Bluetooth support, which lets you connect peripherals such as game controllers. The 50-inch model will retail for $499, with the 55-inch version costing $699, and the 60-inch costing $999. All three will come in a slim metal version, which will add $100 to the cost of the base model.
Press release:
RCA Unveils 4K UHD Android TV –
Now, Beautiful Apps and Video For All
Smart TV Hits Shelves in June at Walmart, Target, Sears, hhgregg, Brandsmart and Rent-a-Center among other Key Retailers
NEW YORK – APRIL 7, 2016 – RCA, the iconic brand and long-time symbol of American ingenuity, is providing attendees at Pepcom DigitalFocus @ NYC a first look at its new 55" 4K UHD Android TV today. The new smart TV, model XLD55G65RQ, is now in production and will be available nationwide in June 2016.
With initial retail distribution in Walmart, Sears, hhgregg, Target, Brandsmart and Rent-a-Center, RCA's RCA 55" 4K Ultra HD 120Hz Android TV features stunning 4K video, an advanced upscaling engine to enhance lower resolution 1080p to near 4K quality, and full Android TV Smart functionality - with over 1200 of the leading apps, customized home screen, voice search, Google Cast from smart phone or tablet (iOS and Android), Android Gaming with Bluetooth capability, and full access to the Google Play Store to download hottest apps, music, movies, games and more.
"The RCA brand was built on TV, and that category continues to be a primary focus for the business. Smart TV, featuring full Android capability, truly addresses the future of TV viewing experiences, and offers it at a price point a wide range of consumers can afford," said Marie-Josee Cantin Johnson, VP Licensing, Technicolor (owner of the RCA Trademark). "This new 4K UHD Android TV adds another opportunity for RCA to address retail demand for affordable innovation with a brand that consumers have long known and trusted."
RCA's Android TV will also be available in 50" and 65" models, as well as in both a standard slim line modern high-gloss black cabinet, and premium metal slim line version. Full product details are available here:http://bhipr.co/1M41O6q. MSRP: 50" $499/$599 (premium design), 55" $699/$799 (premium design) and 65" $999/$1099 (premium design).
"We're committed to delivering the value RCA is trusted for at a consumer-friendly cost, and we're not going to cut corners on quality to do it," said Patrick Deighan from Activeon, Inc., RCA's US licensee for televisions. "RCA is building on decades of experience to provide an alternative to overpriced high-end brands, out of reach for averagefamily budgets."
Sorry but smart tvs are dumb. Focus on getting a great picture, and get a roku/chromecast/ps4/etc. They provide quicker firmware updates than a smart tv, and you'll save money. And I'm reading HDR is one of the new tech aspects to focus on Posted via the Android Central App

Exactly why the new Vizio P-series is basically the coolest ish since sliced bread.

It really is... Planning on getting the 55inch next month when i move into a new place. Honestly just the website for the p-series gets me all hot n bothered.

How is this RCAs smart functions any worse than the Vizio? This RCA has chromecasting built into the OS.

smart functions are Dumb - take for example Philips Android TV - they are pushing 720p youtube upscaled to fullHD instead of 4K content. firmware updates do not take place and software bugs are not solved. so if you believe RCA will sell you a TV and then they will keep pushing updates on it, you are wrong - they will not update your TV and they will focus on selling you a new one after this. This is why Vizio is smart being 'dumb' - YOU are in control of the updates TV is just a screen, just a PC monitor, the 'box' you decide to replace but the screen remains the same.

You are not getting it. Android TV has exactly what Vizio has in that it has the google cast app built into the OS. The app is downloaded and updated via the playstore. When google updates google cast on vizio the rca will get the same update since they both run off the playstore google cast app. Ignore the rest of the Smart function if you so please and you have the same experience.

Came here to say the same thing!!! Don't buy a smart tv! Two years on you'll be wondering why it's so slow and clunky, borderline unusable, and you'll have paid much for it than a "dumb" tv. I fell for it about 5 years ago and the tv is great except the smart part which a 35$ Chromecast has since replaced.

Exactly. To each their own, but I'll never understand either. They were great at first but even a smart Blu ray is a better option than a STV. Posted via the Android Central App

Except almost all of the high end screens have smart features built in.

LOL. This TV has chromecast built in and the casting is updated independently of the TV through the playstore.

Android TV is different. An Android TV on Lollipop/Marshmallow is going to smoke a roku/standalone chromecast. Plus it has FULL chomecast built in which is updated via the playstore. Same with the launcher and google play services. This isnt a run of the mill smart tv os.

No it's not,you don't really understand how all this works yet,but that's ok. Posted via the Android Central App

Actually its quite the opposite. You dont. No Smart TV has ever had OS components updated independently of the firmware like Android TV does. Google Play Services, the Entire UI Launcher, and the Google Cast is all updated from simple playstore app updates. Name one smart tv that has major os features broken out of the firmware like that?

Smart TVs are dumb because the operating system adds to the cost and manufacturers don't update them. But Android TV was built to solve these problems. Google doesn't charge a license for the OS and Google handles the updates just like with Nexus devices.

Checking through the specs, and one thing jumped out: 5000:1 Contrast Ratio.
That seems REALLY low for a 4K set. Might seem like a good deal, but I'll pass.

They are probably just stating the real contrast ratio of the panel unlike the inflated numbers quoted by other manufacturers, e.g. the dubious "dynamic contrast ratio" stat.

Your post is not correct. The others like Samsung just lie their numbers on a different scale to fool people like us.

At these price points,I would suspect it is a 120Hz effective refresh rate as opposed to a true 120Hz refresh rate.Look carefully before purchasing. Posted via the Android Central App

Right? Otherwise, that price couldn't be correct. Leaves me scratching my head and curious. Posted via my LG G5

Yeah... im shocked. This is cheaper than I paid for my 4K sony even after it was discounted on black Friday. If its a true 120hz then its probably because 1.) Its not exactly a high quality brand 2.) Color production might not be very good. Posted via the Android Central App

Define high quality brand and over priced brands. RCA used to be one of the pioneers in electronics with so much research data with them for the past 50+ years.

Yes, except NOW RCA is a Chinese brand, as is Philips, Polaroid, Kodak and many others. The Chinese companies have acquired the older companies for brand identification to sell lesser quality products through. Sadly, its very common these days...

Really hope they add a mic in the remote. So many manufactures miss out on a huge easy win by not including it. Voice search is my go to on my Shield TV.

Running Mediatek T624 I believe this is at least 2 years old processor? I could care less for smart TV. However the price is cool. Looked at the extensive stats on it and I don't know much about the internals to say it's good. Posted via the Android Central App

Thats the GPU not the processor and its the same one in the expensive ass 2016 Sonys

It's not full 4K it enhances it to near 4K! It's not a bad tv for the price point, it's just not the super high end 4K ultra hd with all those refresh rates n high contrast ratio, with dark blacks, kinda TVs. But I'll definitely buy one, it's still gonna be a great picture overall!

I love my Sony XBR49 830C. When I was shopping for 4k and saw Sony had Android TV for its operating system, I was sold instantly! Its like getting a smart TV plus a Nexus Player for free. Especially since it was $500 off retail price on black Friday when I got it. If you are heavily invested in the Google Play ecosystem, like you buy movies and music on Google Play. Then Android TV is awesome because all your music, and all your movies automatically sync to your TV. Even though it might not be the smoothest OS for a smart TV on the market, its definitely the most versitile with function and features (excluding web OS 3.0 since its not officially out yet). I'm sure Google will work out the kinks though, just as they did for Android on phones and tablets. Posted via the Android Central App

I have a 4k samsung in the living room that I love and I intentionally bought a 4k Sony for the bedroom because of Android OS on it. Posted via the Android Central App

Which OS do you like more?

Tizen is more mature and pretty slick on a TV.Android TV is nice,but it's not as smooth or polished,yet.As long as Google stays behind it,I believe Android TV can be grown at a rate that will make it very nice.I wouldn't hesitate to buy an Android TV again,but I do have to say,that for now,tizen is a little more polished.I would stay away from the Sharp brand Android tv's.too many issues with initial software,poor reception to "broken" updates,and Sharp was just sold to foxxcon in a fire sale with a boatload of debt.Just my 2 cents,hope this helps or gives some food for thought. Posted via the Android Central App The reasons I brought up the Sharp TV issues are the same in that you wouldn't want to buy a phone from a manufacturer with a lot of problems with the possibility of your phone never being updated,receiving poorly implemented updates,or taking "forever" to do so while you suffer on the user end.

Tone71....it IS A 4K TV. It ALSO has a feature that enhances 1080p to look more like 4k. Its still a 4k. It just supposedly has an added feature to enhance lower resolutions (like 1080) I suspect this is because 4k is still new and those who exclusively watch regular cable or satellite dont have much of an incentive to buy one until all channels regularly broadcast in 4k. Everyone has a 1080p by now because 1080p is the current top standard for cable tv. By doing this i bet they are hoping to sell to more people because it enhances an already widely.supported format so for customers is a win/wi. 4K tv (at a great price...on black friday i believe there were no 4k's under 699 so 500 is a steal)
Plus they can get immediate benefits by watching their regular shows in better resolution

it is too sad that cable TV is stuck into 720p

1080i (not p) for a lot of it.4k streaming services are the easiest access to 4k content right now.You need a speedy Internet connection or it will just be stepped down. Posted via the Android Central App

Is RCA still considered a zombie brand...or are they legit now?

They were one of the first companies to make TV's. Even after GE bought them out in 1986 they were still making them. Hardly a zombie brand.

Nah, Ge split up the brand name. The ON corporation makes them now. They're essentially cheap Chinese knock offs with an RCA branding slapped on them Posted via the Android Central App

Yep Posted via the Android Central App

On Corp are korean just an FYI

GE bought the company and broke up the divisions. RCA does not exist as a company. GE licenses the RCA brand to overseas manufactures who want a brand that sounds legit. The brand is used by other companies including TCL Corp - China based electronics company. More than likely this is just TV is made by TCL. There is no RCA company that produces electronics. The RCA brand today is like the Polaroid brand, its a brand that is sold to slap on cheap products produced by companies that want to sound legit.

That's sad.... Posted via the Android Central App

I find it highly unlikely that TCL is churning these out as they have entered the US under their actual brand.. While it is true that the current "RCA" brand may get cheap companies to make the panels they are more akin to a company like Vizio who don't make their own panels etc either. TCL is actually a pretty decent brand and overtook sony's position as the #3 Television seller some time back. They also own the naming rights to the Chinese Theater in hollywood now. TCL is actually one of the only lower budget brands that make their own panels and they have a production facility that they invested 15 billion dollars into that samsung also owns a stake in and they in fact make some panels for some of samsung's lower end models (sub 1k) They have come into their own and I actually happen to own a TCL brand television that has good color quality and picture, while it's sound could be better I use a sound setup myself so not a big deal. If I recall correctly it is actually a korean brand that owns the name RCA and licenses it out unless that is changed since 2010 (it very well could of) ON Corporation is the company that is making TV's under the RCA brand and it would appear that they still own the license for RCA and are still the ones making the televisions and they seem to make their own displays for the RCA televisions as well. While RCA is a licensed out brand it is more so they can enter the US market easier with an established household brand name that people will remember that are a little bit older. Polaroid on the inverse is licensed out to a horrid TV maker and has HUGE QC issues (I can't speak for RCA on this matter) I tried out a polaroid television and it arrived... broken (wouldn't power on at all) that telvision was returned and I got the TCL I have now for it. My one and only complaint about the TCL is that it could use another HDMI port (4 instead of 3 )

Definitely,yes Posted via the Android Central App

They most definitely are,but that doesn't mean they can't be just fine for general viewing purposes. Posted via the Android Central App

Yes Posted via the Android Central App

Well, it can't be any worse quality than their tablets...

Meh , y'all should see hisense 4k 55 inch curved TV full array with local dimming and still smart for people that need it. $750 at Amazon right now . Posted via the Android Central App

Don't smart TV apps output native framerate from Netflix Amazon etc? One reason why they are better than Chromecast which only outputs 60Hz Posted via the Android Central App
Android Central Newsletter
Get the best of Android Central in in your inbox, every day!
Thank you for signing up to Android Central. You will receive a verification email shortly.
There was a problem. Please refresh the page and try again.