Razer Phone specs: Top-end everything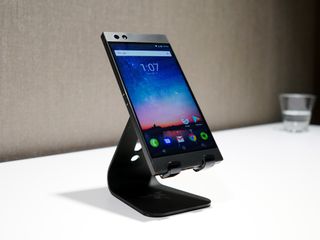 The Razer Phone is official, marking the first entry into the smartphone world for the gaming-focused brand. There's a lot to get stuck into, and you'll want to check out our full hands-on preview for all the details on Razer's latest creation. But if you just want the all-important numbers, then look no further than the chart below.
Behold — your official Razer Phone spec sheet.
Category
Specification
Software
Android 7.1.1
Display
5.72-inch IGZO LCD 2560x1440
120Hz, Wide Color Gamut (WCG)
Corning Gorilla Glass 3
Processor
Qualcomm Snapdragon 835 Mobile Platform
RAM
8GB dual channel (LPDDR4, 1600MHz)
Storage
64GB UFS

Expansion
microSD class 10, up to 2TB
Battery
4000 mAh lithium-ion battery
Qualcomm QuickCharge 4.0+
Rear Cameras
12MP f/1.75 wide-angle
12MP f/2.6 telephoto
Dual PDAF
Dual tone, dual LED flash
Front Camera
8MP f/2.0, fixed focus
Sound
Stereo Front facing speakers
Dual Amplifiers
Audio Adapter with THX certified DAC
Security
One-touch fingerprint sensor
Wireless
802.11ac Wi-Fi, Bluetooth 4.2, NFC
Network
GSM: Quad-band GSM UMTS: B1/2/3/4/5/8
LTE:B1/2/3/4/5/7/8/12/17/19/20/25/26/28/29/30/66
TDD LTE: B38/39/40/41 TD-SCDMA: B34/39
Size
158.5 x 77.7 x 8 mm ( 6.24 x 3.06 x 0.31 in )
Weight
197 g
Alex is global Executive Editor for Android Central, and is usually found in the UK. He has been blogging since before it was called that, and currently most of his time is spent leading video for AC, which involves pointing a camera at phones and speaking words at a microphone. He would just love to hear your thoughts at alex@androidcentral.com, or on the social things at @alexdobie.
No Verizon compatibility. Can't be surprised about that.

Why market it for the largest subscriber base in the US? It might be successful then.

looks like no wireless charging... is there at least a finger print sensor?

All metal, so no wireless charging. Yes, fingerprint sensor in the power button on the side.

Gorilla Glass 3?
64GB (at least it's expandable)? Everything else looks solid. And looks hella nice. Wonder the price for this.

$699. I find this to be an interesting possibility. Edit..except VZW issue. Oops

Yeah I saw that in the previous article. I read this one first w/o seeing the other one. The price point is very good. And comes with a 24bit DAC which is also a plus, but would been nice to include wireless charging.

Looking forward to camera tests. Might be my new phone but it's probably better to wait for year 2

This really is a year two product. Nextbit Robin gen 2.

Agreed, it seems unusually polished for a first try. Not sure what they paid for Nexbit but it was worth it. They brought the phone to market in 10 months. Hopefully it works out well.

Interesting, but there's nothing really to pull me away from my Oneplus 5...

What is the obsession with wireless charging though? Really? I have a charging pad but it's less convinient than conventional cable charging, where I can use my phone and charge simlultanously. Stop acting like a smartphone lacking wireless charging is a deal breaker.

Surprised no one is complaining 'only 8gbs of RAM and not 10?? only 4K mAh and not 6K mAh?!?!?!'

I was honestly expecting those complaints too lol seems like a solid phone to be honest

Hell yea it does, wonder if it's faster than the wife's Shield tablet

It basically goes something like this; almost nobody gave a shít about it for a decade. Then Apple included it, so now it's "cool" and if you don't have it you're, like, so last year.

Yes,, humans,, unless they're complaining, they're not happy

Yea tons of people want this imaginary perfect phone for under $500

Realistic expectations not included

Damn, that's the phony I want! I'm just enough of a realist to know it isn't gonna happen. Had a phone with wireless charging in 2012, I think it's cool in a sci-fi way, but I don't actually care about it in the slightest. My current phone lasts a full day usually and can charge from 0 to 65% in about half an hour which is way more useful to me. And I can actually use it while it charges.

Not obsessed with it but it's nice to have. I can see how on occasions it isn't as useful as plugged in charging but it is definitely convenient for bedside overnight charging. After all, I believe in having more options than less. As an overall package I am extremely impressed with this bit of kit though.

I swear less than a year ago most people I saw commenting on sites like this were lamenting the fact that so many OEMs were moving to glass phones because the cons outweighed the pros. Now people see a phone made of metal and complain about a lack of wireless charging. So odd.

Now if only someone woukd makes a half glass/ half metal phone then we could have both! Sorry, my bad, there already is one and it doesn't have wireless charging either. SMH

Considering how finicky wireless charging can be (in terms of placement on the pads), I'm not sure why anyone would expect an aluminum phone with a relatively small glass window to support the feature. Especially given that the glass is at the top rather than the center.

The actual wireless charging coil is relatively small (check out JerryRigEverything on YouTube) and would definitely fit within a glass window of moderate size but the point I'm trying to make is that it is conceivable to do both if manufacturers decided to. That being said I would prefer a plastic build in the style of older, solid Nokia phones than either metal or glass. Wireless charging would have zero issues with that.

I agree about the wireless charging, and with USB-C it's so easy to plug in that it actually takes more time to settle a phone on the charging pad than it does to plug it in..

That's really the only con of wireless charging, not being able to simultaneously use it and charge at the same time in a convenient way. I was at first skeptical of wireless charging, but it's actually really convenient to just set it down and have it start charging and just pick it up to use it. Now, if you're like at 5% battery you of course cant afford to lift it up to use it because the phone will die. It's feels much more convenient in practice than on paper. i also used to think it wasn't a deal breaker but it became one for me at some point. The only reason why it's not a deal breaker for me anymore is because of fast charging/quick charge/etc. which charges phones so quickly that I can just plug it in for 15 minute and be good.

It may not be a deal breaker for you, but for some it could be

Hey let's make this really cool affordable phone, but let's also not make it compatible with the #1 carrier in the US...

Time to cut the fossils loose.

Fossils? Or... the only network that covers my house. If the non-fossil networks would give me service, I would consider them.

There is a brilliant answer. Sell my house so I can use a different wireless carrier. SMH.

Blame Verizon. It's their bully tactics that keep many phones from their network. Instead of complaining that the other networks don't provide service that you can use, complain to the one you're on about micromanaging every aspect of every phone on their network and making it too expensive for smaller manufacturers to get approval for their network. BTW, my previous comment about moving was a joke.

Yep. Stop using CDMA networks and see how fast vzw gets into the modern world

Just needs 8.0 and 5.0 BT

No BT5.0, not waterproof, no headphone jack, DAC is weaker than the V30. It's a good phone for the money but not one I'd get. Honestly don't see how this is any better than the current flagships.

Well a few things are the higher refresh rate on the screen, the 8 gb of ram, the large dual front facing speakers, the massive 4000 mah battery, the vanilla-like OS and the DAC. Some flagships like the top dawg Note 8 have none of these while some other flagships have some of these but none have them all.

Wish it had 128GB instead of 64Gb

Do you think anyone wishes for 64gb over 128gb? Unless the price changes, of course. I am guessing (and it only a guess) that this will allow adoptable storage, if necessary (yes, I know the arguments against). Near stock Android would lead to this guess.

If you know the arguments against adoptable storage then you should already know this almost certainly won't and definitely shouldn't support it.

I just got off live chat with Razer. It does (per the rep) support it. Whether it 'should' has no bearing on what it does. BTW: I also sent an email request for the info as well. I have had less than knowledgeable reps in Live Chats too often.

Yeah, I suspect your feeling about the people running live chat will prove correct, because I'll be surprised if Razer made the mistake of having this support adoptable storage.

They did. It does actually support adoptable storage.

No headphone jack? Instant blacklist. You'd think that Razer of all companies would keep the headphone jack given they sell a lot of headsets that use it.

Keep? You mean like on their other phone that had a headphone jack?

Waterproofing at all? Surprised didn't go 128GB to hold more games.

Sounds like an absolute mega-beast. Too bad there's no jack. I hope the dongle works with laptops though like the one bundled with the Pixel 2.

I'm gonna be able to destroy all those bases easier in Clash of Clans with that 120Hz display. LOL. Kidding aside, hopefully there will actually be games that will benefit from that display panel.

Well its not exactly pretty but it is interesting looking. Too rich for my blood but the specs are awesome.

64GB storage for gamer's phone. Hmm... Games are big these days, you know. SD card is just not as fast as a built-in storage. Also, I would rather have a water resistance rating than these huge speakers. I don't use speakers on my phone in public places, cause I'm polite. And at home I have a tablet for media consumption. Otherwise sounds like a beast of a phone

Isn't aspect ratio part of the specification?

I'm down. It'll make a nice backup phone.

Love the phone and will be waiting for full review on battery life/camera but what would be totally awesome is a Dex like feature or something like Nvidia Shield Tablets do to let you connect to a TV/Monitor.
Android Central Newsletter
Get the best of Android Central in in your inbox, every day!
Thank you for signing up to Android Central. You will receive a verification email shortly.
There was a problem. Please refresh the page and try again.