Rayman Jungle Run arriving in Google Play on September 20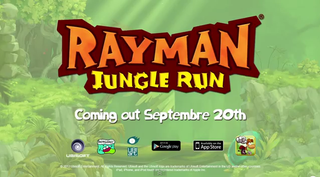 Rayman sure has been around a long old time, but that's not stopping him from appearing in a brand new title heading to Android this month. Rayman Jungle Run is the latest outing for the lovable character and is set to arrive in Google Play on September 20.
Unlike the classic 3D titles, Jungle Run is of a side scrolling variety. It still packs some really nice looking visuals, what one would imagine is a simple enough tap and jump control system, and is a title we're very much looking forward to wasting a couple hours on. Or, you could say you're getting it for the kids. Whatever suits.
And it's coming out on SEPTEMBRE 20th... how do they miss those type-o's? ¬¬ or is it the British spelling? :P

I think it's more a case of it being the French spelling perhaps? ;-)
Android Central Newsletter
Thank you for signing up to Android Central. You will receive a verification email shortly.
There was a problem. Please refresh the page and try again.