Quick comparison: Samsung Galaxy S7 edge versus Galaxy S6 edge+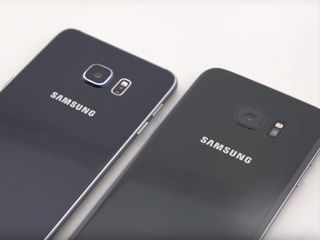 Last year Samsung gave us the Galaxy S6 edge and S6 edge+ — two dramatically different sizes for the same curvy smartphone. However as we kick off a new generation of Galaxy phones, the Galaxy S7 edge mixes things up by coming between the two. It's got a 5.5-inch display, making it bigger than the regular GS6 edge, but smaller than the GS6 edge+.
But size is just one of the areas of contrast between last year's big-screened "edge" variant and this year's. For as much as these two are alike, there are plenty of small changes that total more than the sum of their parts.
But first, the specs. Here's how the Galaxy S6 edge+ and Galaxy S7 edge — let's just call them the GS6 and GS7 for simplicity's sake — stack up on paper.
Swipe to scroll horizontally
Category
Galaxy S6 edge+
Galaxy S7 edge
Operating System
Android 5.1.1
Android 6.0.1
Processor (U.S., China, Japan)
Exynos 7420 Octa-core
4X ARM Cortex-A53, 4X ARM Cortex-A57
Qualcomm Snapdragon 820 quad-core
2X Qualcomm Kryo + 2X Qualcomm Kryo
Processor (Rest of World)
Exynos 7420 Octa-core
4X ARM Cortex-A53, 4X ARM Cortex-A57
Exynos 8890 Octa-core
4X ARM Cortex-A53, 4X Samsung Exynos M1
RAM
4GB
4GB
Storage
32/64GB
32GB + microSD
Display
5.7-inch QHD SuperAMOLED
5.5-inch QHD SuperAMOLED
Main Camera
16-megapixel + OIS, f/1.9 lens
1.12μm pixels
12-megapixel + OIS, f/1.7 lens
1.4μm pixels
Front Camera
5-megapixel + f/1.9 lens
5-megapixel + f/1.7 lens
Battery
3,000mAh internal
Adaptive Fast Charging, Wireless Charging
3,600mAh internal
Adaptive Fast Charging, Wireless Charging
Connectivity
802.11ac Wifi, 2.4/5GHz, MIMO (2x2), 620Mbps
Bluetooth v4.2 LE, ANT+
NFC, Location (GPS, Glonass, Beidou)
Wi-Fi 802.11 ac MIMO, Bluetooth v4.2 LE, ANT+, USB 2.0, NFC
Water resistance
None
IP68 rating
Dimensions
154.4 x 75.8 x 6.9mm
150.9 x 72.6 x 7.7 mm
Weight
153 grams
157 grams
Fingerprint security
Yes
Yes
Colors
black, white, gold, green (varies by market)
black, white, gold, silver (varies by market)
Unsurprisingly, a new generation of smartphone hardware brings with it improvements in performance, imaging and battery life. What's interesting, however, is how Samsung has achieved these improvements. The GS7's camera, for instance, takes a step down in resolution from the 16-megapixels of the GS6, but uses a brighter lens and larger pixels on the sensor for improved low-light pics.
Samsung has also placated fans by bringing back removable storage in the GS7 — though Android 6.0's Adoptable Storage feature isn't supported.
And although it's got a smaller screen, this year's model ups the battery capacity significantly — a 20 percent jump, in fact.
All this stuff has to go somewhere, which is why the GS7 edge is a good bit thicker than its predecessor. It's also worth remembering that the new phone's water resistance requires the use of internal gaskets, which can contribute to a device's thickness too. Fortunately this thickness comes with one welcome side-effects: The GS7's camera hump doesn't stick out anywhere near as much as the GS6's.
The basic physical design of the phone hasn't undergone any huge changes, but there are subtle differences worth pointing out. As well as having a rounded display, the back glass of the GS7 is also curved, in a similar style to the Galaxy Note 5. (And in contrast to the flat back of the GS6 edge+). This means the metal trim becomes incredibly thin around the sides, making the newer phone a little more slippery in the hand. Aside from that, the glass is now ever so slightly curved around the top and bottom, in addition to the sides, making for a more organic feel device overall.
Other visual differences include some subtle accent color changes — the black GS7 models, for instance, use darker accent colors around the home key and camera lens.
On the software side, the latest version of Samsung's TouchWiz lives atop Marshmallow on the GS7 series, while the GS6 edge+ remains on Lollipop — Android 5.1.1 to be precise — at the time of writing. An update to Marshmallow should be imminent, as other GS6 family phones have already received the latest version of the OS. And with it, Samsung's 2015 lineup will inherit many of the features and visual changes that come in the GS7.
These include a move away from the bright teal and green colors seen in last year's UI, along with updated weather widgets and a significant overhaul for the Edge Screen. In Marshmallow, the software part of the "edge" experience becomes more useful and more customizable, with larger panels and a focus on information feeds as well as shortcut buttons; you'll want to check out our hands-on video with the new Edge Screen features for more specifics.
It's too early to come to any firm conclusions about the Galaxy S7 edge, but at a glance it seems like a solid improvement upon an already fantastic phone — assuming a slightly smaller display is a deal-breaker for you.
Galaxy S6 edge+ owners, are you considering trading up and buying a GS7 edge? Shout out in the comments!
Android Central Newsletter
Get instant access to breaking news, the hottest reviews, great deals and helpful tips
Alex was with Android Central for over a decade, producing written and video content for the site, and served as global Executive Editor from 2016 to 2022.
They really stuck to their design language

Of course, it worked very well for them and is almost universally praised.

S6E+ never came in green.. Only the S6E came in green ( I had it) Not sure I can go down in screen size from my current S6E+... And am I the only one liking the sharper edges on the S6E+ ?? Great writeup, Alex

Green colour in the UI man

It came in Emerald in certain parts of the world ( the UK for one ). I guess it depends on your market though I'm not sure why.

The S6 Edge came in Green Emerald (I bought one!), but the Edge Plus did not come in green.

I double checked and you are correct, apologies. I googled it and found results with O2 but they were actually only the S6 edge

Np dude.. like I said, I had the Green S6 Edge, and I really really wanted the Plus to be available in Green as well.. but I had to settle with Gold.. I think I'll be getting the Gold S7 Edge... if rumours that it's more cobber-like are true... gotta see it in person..

For some reason the S7 Edge really pops out and grabs your attention. Really nice design. Posted via the Samsung Galaxy Note 5 on the Sprint Network

I know right the 7 edge in gold looks so much better dare I say then my gold 6 edge plus last I heard the edge version is out selling the cheaper 7 by 3 to 1 Posted via the Android Central App

Does anybody proof read these articles before publishing them? I mean, good read and everything... But most things published here are apparently not checked for errors (like missing words and pluralizing a singular) before posting. Maybe it's just a pet peeve, but it's a little distracting.

It's a pet peeve of mine as well. Nearly every article published on this site has some type of grammatical mistake or misspelled word. I understand that spell correct can often change a word as you're typing but it's not that difficult to catch if you proofread before publishing. Posted via the Android Central App

We all do I'm sure, and for what were paying I'd say start a revolt. Unfortunately by the time it takes to do that, not to mention the cost of operating a revolt, we'd already have read 27 more articles and would forget about the previous errors. Essentially moving on with our lives and perhaps making a few informed decisions on future devices, or maybe even finding out about some freaking awesome Amazon or Google Play deal. If you're looking for the perfect grammatically correct online news site, I would suggest The Onion, North Korean Weekly, or Fusion.net. The tip is not included! So tip your Uber driver.

No revolt here. As I said, just a pet peeve. If I was being paid to write for a living I would be darn sure to proof read everything. People used to take some measure of pride in doing things well. Posted via the Android Central App

I've given up on correcting people because there are people always sticking up for people who should use correct spelling/grammar, but don't and you end up looking like the bad guy.

At first glance it may look the same but the curves on the back and top corners makes it a big jump in refinement. Only thing is i'm starting to believe the screen is closer to 5.4 than 5.5

You mean like the 5.69 screen on the s6edge +

I personally am planning on trading up my Galaxy Note 5 for the new Galaxy s7 Edge. I wanted the S6 Edge+ last year, but decided to go with the Note 5. This time with the updated Edge panel software looks pretty amazing.

Just ordered the silver S7 edge. Once it arrives, I have 2 weeks to decide if I want to keep it or stick with my Note5. I'm pretty sure I'll end up keeping the edge though. A free year of Netflix and a free GearVR is a pretty sweet deal... 64gig Gold Note5/AC App

I'm guessing both of you are the type that are going to jump to the Note 6 as soon as it's released in a few months as well since your jumping from a practically brand new phone now. Not that there's anything wrong with that. Posted via the Android Central App

You sir are correct. 64gig Gold Note5/AC App

Nah, I'm almost certain I'm gonna be sticking with the s7 Edge. I really don't use my Note to its fullest, ie S Pen, etc.

Verizon is offering a free Gear s2 or a free Gear Vr. I'm taking the free $300 smart watch.

Yea that's a sweet deal. I wish T-Mobile was giving away a free S2. What color S7 edge are you getting? 64gig Gold Note5/AC App

Ditto, but I went with black. Can't decide if the Gear S2 is worth the extra $5 a month for the 3G service. You keeping yours?

Nah, not planning on it. I already have a Huawei Smartwatch. Most likely going to try selling it along with my Note 5 and buy a new Gear VR lol, and pocket the extra $$. ;)

I've given the S2 a try twice now (first when it came out and then after the first software update) and ended up returning to my Huawei both times. If I was in the market, I'd do the same, take the watch and sell it. Then get the VR plus... Posted via the Android Central App

I highly doubt that the free Gear s2 will be the model that uses 3G monthly service.

I've decided to go for it. I've pre-ordered through Samsung and gone for the new upgrade deal where you pay over 24 months but get a chance to upgrade after 12 to the latest, without having to pay the rest off. There is a bit of interest but negligible as they are giving away the Gear VR with the pre-orders. Never had any issues with my s6 edge plus, but have been swayed by the what seems to be yet again improved camera (not that s6 edge plus is poor) and also by step up in battery. Posted via the Android Central App

Where did you find this option? I tried their site and couldn't find the plan available. Is this in the US, or elsewhere? Thanks Posted via the Android Central App

It's in the UK through Samsung website. Posted via the Android Central App

Thanks. Figures they won't do it in the US because they are slaves to the carriers here :-(. Posted via the Android Central App

Yeah I think it's the first time they are doing it here. I like the idea of it as I'm a sucker for wanting the latest phone and this way I've got my pick of networks by taking up a sim only plan. Have to say though I've been really happy with this s6 edge plus and haven't really felt like changing it but with what appears to be an even better camera again along with bigger battery again plus opportunity to keep changing up every 12 months swayed me. Disneyland Florida is my holiday destination this year. Had a Lumia 930 last time I went there and took some great photos so looking forward to putting the s7 edge through it's paces. Hopefully they'll introduce same plan in U.S for you. Maybe they will do it on the next Note or next Galaxy. Posted via the Android Central App

Owning both the gs6 edge plus and note 5 . I don't have a obvious reasons for wanting the 7 edge other then the better camera . Until I had a chance to handle it in the flesh at best buy. ..wow there's a difference particularly in gold and silver those two phones are stunning and the fill in the hand makes both my old 6 plus and n5 fill bulky by comparison long story short I ordered a silver one only cause my 6 plus is gold .I can't even imagine what's in store for the note 6 Posted via the Android Central App

I heard a foldable display and six gigs of ram but that seems a bit optimistic. And it may cost over $1000.

So far as I seen. That is the SG7 is lacking the nfc and location. And the 6 is still better. But I would still choose the note 5 Posted via the Android Central App

Not sure which model you're referring to by '6', but the SG7 supports both, and it murders the SG6 specs. Samy also cleaned up TouchWiz which is reason enough to upgrade for me.

Not sure where you reed that at but the gs7 has all the features of the 6 and more and of course it has nfc and locator my old blackberry Q10 has that .rather it's a worthy upgrade is all depended on which phone your coming from . If you have the regular 6 then hell yah . But if you have the 6 edge plus are note 5 then maybe not unless your a phone geek like myself who gotta have the latest version Posted via the Android Central App

She's getting it from the table in this article. It shows the S7 Edge missing it and the S6 Edge+ having it.

Totally missed that... well played on the proofreading comment lol

Mainly bringing back the waterproofing and SD support. I also loved the Always On display from my Moto X 1st Gen and looking forward to having that back... oh, and that battery boost :)

I don't know what you seen.... but it hasn't been anything regarding the GS7 that's for sure Posted via the Android Central App

What I really want is a S7 plus. No curved edges, but a 5.5" screen and a big battery.

I need help with upgrading from S6E+ to S7 and am on the AT&T Next plan and haven't paid off yet. Would it be better to change carrier? All suggestions appreciated. Thanks!

I would say you have multiple options: 1.Pay off device and be eligible to upgrade again on Next.
2. see how much you can sell the phone (swappa, eBay,etc.) Pay phone off prior to selling device. Buy new phone on Next or outright.
3. Pay full price for phone.
4. Take advantage of Sprint or TMobile offers to pay you up to $650 to switch over from a competing carrier. Option 3 may be the hardest during launch cause I would guess most carriers want people on their payment plan or contract (where applicable).

So with my limited hands on experience as I've only had the new S7 Edge for 8 hours.... the S7 is an nice update. It's great to hold, feels like a much smaller phone, the curved back makes a world of difference and it's just fast... like very very fast. I'll be the first to admit I was never a fan of TouchWiz but.... on the S6 Edge+, the Note 5 and now the S7 Edge I'm liking it Solid upgrade Posted via the Android Central App

Samsung has scaled back their TouchWiz skin greatly compared to earlier versions. I absolutely hated it during the days of the Galaxy Note 3, Galaxy S4 & s5. They have really made it much more enjoyable with these newer generations.

I heard that there won't be an S7e+ this year. Not sure if it's true, but given that they gave the S7e a size bump, it's somewhat plausible. We'll only find out later in the year, but for now, take whatever I said with a tiny grain o' salt.

I really like the Note series, but I'm seriously considering getting the S7 Edge. Posted via the Android Central App

The Note has always been superior to the S line. It's the "highest end" Android phone, albeit at the highest price. I'm waiting to see just how much better it will be. The Note 5 wasn't enough of an improvement for me over the 4. In fact, the removable storage & battery downgrades outweighed the RAM & CPU upgrades for me. My 4 is still fast. But I don't know how long I can resist the Note 6.

It's only superior for half the year. The other half the S series is superior as we see now with S7 duo being decidedly superior to the Note 5 in all specifications, unless you absolutely have to have the S pen or a larger display.

Does not look that compelling or necessary to switch from one to another. Posted via Android Central App

The Connectivity comparison chart appears incomplete!
Either an unusual AC error, or Samsung is measurably reducing its capabilities ????

I've pre-ordered a Black S7 Edge... coming from a Gold S6 Edge Plus. I am a little disappointed that they've made the screen a bit smaller but hoping it won't be too noticeable. Most everything else (with exception of not having adoptable storage) seems to be an improvement so should more than compensate. Can't wait to try out the new camera and give the Gear VR a go too. Now I just need to find a decent wallet style case that I like,,,

I've ordered the Gold S7 edge in the UK direct from Samsung. Puts my on their automatic upgrade plan as well. I really loved the Note Edge and the way it worked. This did not translate to the S6 edge so I stuck with my S5. The functionality we now see is what I expected in the S6 edge. I do not understand why Samsung actually took functionality away for the S6.

The S7E is a good looking phone but I have to say I liked the original top and bottom of the phone (without the rounding) better than the newer design. Just an opinion. It won't stop me from picking one up though.

I think I will wait until i get 6.0.1 on my TMOB s6e+ to see if they incorporate all the new edge features, also to see if doze impacts my battery life. I may just wait it out and get the note 6 in Sept.

Haha what is it with many Americans and their frequent tendency to say the opposite of what they actually mean? "it seems like a solid improvement upon an already fantastic phone — assuming a slightly smaller display is a deal-breaker for you"

Pretty sure that's a typo, not an American-centric "tendency to say the opposite of what they actually mean."

Both are ugly. Thank god for LG as an option.

That 32GB for apps and other system stuff is far too small and not being able to use the microSD for apps blows me away. They add the microSD card back only to gimp it? I was going to buy two of these devices before I found out that 32GB (24GB) is it for all apps, games, etc! Other than that I love the phone although I wish I could remove the battery. I hope LG pushes out a large screen phone like the G5 but with a huge battery and a stylus!

Not much difference in specs, even it has lower specs as compared to their current device. Over all not worth an upgrade. Posted via the Android Central App

The main upgrades are the processor and battery; but there's also the 1.7 lens vs 1.9 on the S6, faster focusing and internal cooling.

Both are super nice phones, I almost pulled the trigger on the S6 edge a couple months ago but pretty glad I didn't seeing they added a larger battery, better low light cam with faster focusing and thank god they brought back the SD slot to the 7, pre-ordered mine in silver a couple days ago.. Hope the ship dates hole true.

I actually skipped the GS6 for various reaasons, being it that the regular being too small and the plus being too big, the lack of microSD, among others. Guess what? This year I am just one happy camper. Maybe Samsung DID read my letter.

I held both phones in the shop. The edge is much nicer than the standard s7. The s7 feels small and nothing too special. It could be any phone. I'm getting the edge. Posted via the Android Central App

I want this phone, but I just can't do it until I see if people start complaining about the keyboard lagging like the S6 did.
If the keyboard still lags, I won't buy it. if apple can make their stock keyboard NEVER lag with 2 cores and 2GB ram, so can samsung with 6 more cores and double the ram.

Apple has much better control over the hardware and software then Samsung does.

That's strange, my Galaxy Note 5 keyboard isn't lagging and works fiber.

Compare the Galaxy S7 Edge to "the best Android phone you can buy", the Nexus 6P. I want to see how the Nexus fanboys react when they're totally humiliated.

Going to stick with my G6e+ for now. I've read multiple articles like this and even looked at the S7 in my local bestbuy but I don't see much of a reason to upgrade. It's like a very minimal upgrade at best, nothing is sticking out as something that is so much better than the previous model. Ok, it's got a bigger battery and it's great that they've re-added the microsd expansion but that really doesn't seem worth the money to me. I haven't gotten anywhere near close to filling up my 32GB yet, I don't "live" on my phone so my battery tends to last longer than others. Then again, my previous phone was a Lumia 925 so what do I know.

Not impressed. The Note 6 better blow me away in August.

I preordered the S7 on Friday from Verizon and it was scheduled to be delivered on the 11th.. I found out that Best Buy had it on display today so I went and checked it out. I didn't order the the Edge because I don't like the bigger phones. But when I saw them side by side I realized that there really isn't that much difference in size. The edge looks nicer and with the bigger battery I decided to cancel my S7 order and ordered the Edge. I have a S6 less than 6 months old and the battery life is terrible. That's why I'm going with the S7. I also will be eligible for the Gear 2 watch promotion. I don't really want it so I'll sell it to offset the cost of the phone.

It is very useful blog and this concept is new for me.It is a new Technic and is worth also.I will like your creative mind.It's totally awesome and also i will looking for your future updates.
<a href="http://www.javatraining-chennai.in/">Java Training in Chennai
</a>

It's a nice phone, but I'll stay with the the Note family. No phone came close to the Note yet.

Im hoping they have 2 versions of the Note 6 this year like the Note 4 & Note Edge of 2014. But this years Note edge should be a dual edge like the S7 edge. That would give us everything. Plus they should be able to at least match the battery size of the S7 edge 3600mah if not go to a 4000mah. And it should be waterproof. Finally make the move to usb-c. And they need to figure out how to get 2 speakers installed. Front facing or top and bottom edge. Also 64gig system storage AND sdcard.
Android Central Newsletter
Get instant access to breaking news, the hottest reviews, great deals and helpful tips
Thank you for signing up to Android Central. You will receive a verification email shortly.
There was a problem. Please refresh the page and try again.