Quick comparison: The LG G4 vs. Samsung Galaxy Note 4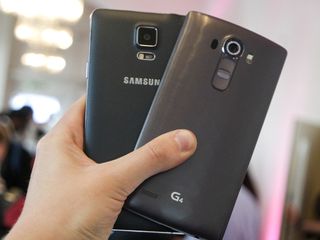 Released in late 2014 and recently updated to Lollipop in many countries, the Samsung Galaxy Note 4 still ranks among the best Android phones available. High-end specs, a gorgeous SuperAMOLED display and a camera almost as capable as the Galaxy S6 make the Note 4 a strong rival to any of the 2015 flagships we've seen thus far. However LG's new G4 could give power users a reason to look beyond Samsung's big-screened, stylus-toting device.
Both the Samsung Galaxy Note 4 and the LG G4 are built around exceptional smartphone displays from their respective manufacturers. For Samsung, it's the latest Quad HD SuperAMOLED at 5.7 inches diagoally. On the G4 you get LG's impressive new 5.5-inch IPS Quantum Display at the same resolution, a vast improvement upon the company's original Quad HD panel.
These two phones aim to differentiate themselves through build quality, but both take contrasting approaches. The Note 4 packs its tapered glass display around a metallic frame with a painted matte finish, while the G4 frames its screen in regular shiny plastic, but with a choice of more exotic back panels. Unlike the leather-effect soft-touch plastic on the Note's rear, LG's device offers a genuine leather back in a choice of several colors. That's assuming you don't opt for the regular plastic back — and you shouldn't, if you have a choice.
The G4's curved display and rounded body also contrast markedly with the largely rectangular Note 4. That, combined with the slight size difference, makes the G4 more hand friendly — through some may prefer the gripability of the more angular Note.
On the inside you'll also find a few similarities — 32GB of storage plus microSD expandability and an ample 3GB of RAM, removable batteries (3,000mAh in the G4, 3,220mAh in the Note 4), along with wireless charging support through an accessory. The Note 4 does one-up its newer rival with support for Qualcomm Quick Charge 2.0, however, which is a little surprising give that the G4 packs a newer, 64-bit six-core Snapdragon 808 processor. Meanwhile the Note 4 runs Qualcomm's last high-end 32-bit chip, the Krait-based Snapdragon 805 in most countries.
In real world performance, our first impressions are that the G4 edges ahead of the Note 4, and that's about software as much as anything. LG appears to have gone to war against the lag seen in some of its previous phones, smoothing out animations and producing a generally fast, responsive UI. (By contrast, there are still occasional instances of slowdown on the Note, most noticeably in the recent apps menu.)
LG UX 4.0 also incorporates neat software tricks like Smart Notice for timely reminders, and new gallery options for grouping photos into events based on time and location. Other features, like LG's dual window, have clearly taken some inspiration from Samsung's TouchWiz.
Speaking of which, a fully upgraded Galaxy Note 4 will bring you some, but not all of the software experience of the GS6, including Material Design-inspired apps and lighter, more consistent visuals throughout. Meanwhile LG has brightened things up with more vivid colors, while sticking with the largely geometric UI first seen on the G3.
Both pack what look to be excellent 16-megapixel, optically stabilized cameras — Samsung using Sony's top-notch IMX240 sensor with its own realtime HDR and post-processing tricks, LG with its trademark laser autofocus and color spectrum sensor for more accurate colors. We've taken some fantastic shots with the Note 4 over the past six months, and it'll take something special to usurp it (and the GS6) as the top Android cameras. LG seems well placed to do just that, though, with fast focus, a bright f/1.8 lens a redesigned camera app bringing manual image controls.
These are both impressive, capable Android smartphones, but we don't think we're jumping the gun by saying the G4 may turn a few heads away from the Note 4. We'll need to spend more time with the LG's 2015 flagship before coming to any firm conclusions here, so keep watching in the weeks ahead.
LG G4 versus Samsung Galaxy Note 4 — key specifications
Category
LG G4
Samsung Galaxy Note 4
Dimensions
148.9 x 76.1 x 9.8 mm
153.5 x 78.6 x 8.5 mm
Weight
155 grams
176 grams
Processor
Qualcomm Snapdragon 808 hexa-core
Qualcomm Snapdragon 805 quad-core
(Exynos octa-core versions also available)
Display
Quad HD LCD @ 2560x1440
Quad HD SuperAMOLED @ 2560x1440
RAM
3GB
3GB
Storage
32GB + microSD
32GB + microSD
Camera
16-megapixel with OIS 2.0 and laser autofocus
16-megapixel with OIS
Front Camera
8-megapixel
3.7-megapixel
Battery
3,000mAh removable
3,220mAh removable
Software
Android 5.1 Lollipop
LG UX 4.0
Android 5.0 Lollipop (with upgrade)
Samsung TouchWiz
Alex was with Android Central for over a decade, producing written and video content for the site, and served as global Executive Editor from 2016 to 2022.
Both are Great phones. Each offer something different. Choice is always a good thing.
I love the S6 Edge and of course, I think it's better than G4, but that's just MY OPINION.
The S6 Edge finger print reader and sleek design makes it my favorite device I have ever used.
The G4 is a decent device. I think it will sell well, but will stick with my S6 Edge and be perfectly happy.

Well your opinion sucks and lacks expandable storage and a removable battery. Posted via the Android Central App

You are an idiot ralph. That's why he said it's his opinion. That's what he likes and as such is not wrong or bad and it doesn't suck. And your opinion is not the definitive answer. Posted via Android Central App

Calm down Sheldon. I believe it's called sarcasm. Posted via Android Central App

Nah I to think that guys a idiot he's got mad hate for people that love samsung products . Well he can hate on me to cause I have both s6 and note edge love them both . It's folks like him that really need to come out of there mom's basement and get a life Posted via the Android Central App

It was sarcasm genius, last time I checked opinions did not require batteries or storage. Posted via the Android Central App

+1 Posted via Android Central App with my LG G3

Please don't go full retard again! Find your own gripes, as battery and storage is starting to sound like a stuck record.

Stuck record just because the reason a person needing the ability to swop out battery and Micro SD card when they want too. As a New Yorker on the subway, I am never home, I hate the idea that I have to stop my day like the average fools look for an outlet in NYC to charge my cell. Makes me laugh seeing people look like chicken with their head chop off piercing through a Starbucks window to see if an outlet is available, then RUN in to grab it before someone grabs it, like some crazy zoombie. Sorry I will continue to swop and continue my day.

You will continue to "swop"? Can you teach me how so I can swop too? It seems unfair that it's only you who gets to swop.

+1 I'm right there with ya Posted via the Android Central App

Man.It must be lonely.You sure don't worry about looking like a ?????Fill the blank.No,make you look like a arsehole.Yes,I figured you have been a prick.

Me too! Top reason for me owning a smartphone is having the ability to swop out battery and Micro SD card when I want too. I don't want to like those fools look for an outlet in NYC to charge my device. Swop and continue my day.

This article is not about the S6 edge, but the G4 vs the Note 4, some people apparently can not read. How does your opinion of the S6 have anything to do with this article. Posted via the Android Central App

I said both phones are great. then talked about MY phone choice, then closed with G4 selling. At least MY comment was directed at the article and NOT like YOUR comment that is JUST BEING A DOOOOOSH.

LG made the G2 a real power house. But again I have to tell them that they aren't giving me a reason to update. I dislike the fact that I stuck with no sdcard or removable battery, but battery life is pretty great with the G2. (And there's OTG) At last I must say, if you have a Note 4, you already have a G4. Rooted LG G2 Rooted GSIII
Stock Galaxy Note 4
(The Sprint Lover)

That Note 4 screen though Posted via the Android Central App

Best like....ever! And overall it's also got the G4 beat. Not by much, but
Since many of the specs on each are almost identical it comes down to functionality/capability IMO. And the wacom tech + everything else makes the Note 4 is the most functional smartphone ever built. Posted via the Note 4 or Tab S 10.5

it's a great phone but still lags pretty bad. S6 doesn't have the lag like the note 4. I had it, the lag drove me to get rid of it.

Absolutely not. Not even remotely. The only areas that the Note 4 lagged on KK was recent apps/app switching (which is fixable by disabling the talkback service) and switching from camera to gallery (fixed with the LP update). The Note 4 is insanely fast on both KK and LP. More so on LP. Really only one tweek is necessary and that's disabling the talkback service like I mentioned Posted via the Note 4 or Tab S 10.5

I agree. When going from camera to the gallery with KitKat is was slow. Since upgrading to Lollipop it runs nice and smooth. Great transformation. Plus I Lollipop has a better ram management than KitKat. Posted on the fast Samsung Galaxy Note 4 running Lollipop 5.0.1

I agree also the note was really slow going out of Camera to photo watch but is a little better now with lollipop . Other then that my note edge is pretty fast . That being said my s6 edge is just crazy fast . But where the note kills it is with the all mighty S pen love that pen Posted via the Android Central App

I've heard about the edge having some significant performance issues that you don't really see on the regular note 4. There's a lot of stuff going on on the note edge. Posted via the Note 4 or Tab S 10.5

Glad to hear. I got rid of the Note 4 before Verizon released LP. I was basing this off KK when I actually owned the phone.
it WAS laggy. if they fixed it, great. It wasn't fixed when I had it.

I agree my Note 4 needs a reboot once day or more so that it doesn't lag, I'm on at&t so I'm unable to root and really see what this phone is capable of, I'm leaning toward the S6 but I really wish it was a little bit bigger 5.2-5.5 would be perfect for me. The G4 808 thing bothers me, maybe the next nexus will be the one that gets it right. Posted via the Android Central App

My aunts note 4 lags. Every note I've ever used lagged. The screen rotation is ridiculously slow too. It's all about what works for you though. The note just isn't it for me. I'd take a look at the note 5 so long as Samsung continues to refine TouchWiz. They are making progress but it's still TouchWiz. Posted via the Android Central App

I noticed display rotation was an issue at times on KK depending on the app but never on LP. Maybe your aunt didn't disable "double tap home button to launch S-voice"? Most people dont. Other than that just disable the talkback service to eliminate recent apps button lag. There is no more lag the note 4 than any other phone with the same hardware unless you're comparing it to the nexus 6 running 5.1, which the SD 805 has been highly optimized for. Posted via the Note 4 or Tab S 10.5

If your on the fence about the galaxy s6 don't be had mine for 2 weeks now . And that thing is still fast . Now if you truly want the best of the big phones wait 5 more months for the note 5 Posted via the Android Central App

It's crazy. I've heard pretty much the same thing about every android phone at 1 time or another since the LP update. Posted via the Note 4 or Tab S 10.5

OK we get it, you like your S6 purchase, but again it has nothing to do with this thread, there are already tons of S6 threads. Posted via the Android Central App

Best post ever Posted via the Android Central App

Never experienced any lag on Note 3 or 4 so IDK. Posted via the AT&T Note 4

can't wait to see what Samsung does with the Note 5 ... nice to see competition is making better devices for consumers benefit ... excluding HTC of course Posted via the Android Central App

I'm worried the Note 5 may go the way of the S6 and drop the Micro SD slot. That would be a shame if it happens. Otherwise I'm looking forward to the Note 5 as well.

I dunno. The removable battery seems like the more obvious sacrifice, given Samsung's new design approach. The SD slot's a much tougher call what with LG offering up to 1 TB of SD expansion. The Note 5 may need more generous SD specs to hold on to its king of all phablets title.

1 TB? I read 128GB ... where'd u see that? I'd be ecstatic with 256, but a TB would be ridiculous! Posted via the Android Central App

LG's website says the g4 takes up to a two terabyte card Posted via the Android Central App

That would be a feat. Biggest available right now is 512 GB.

It's no feat at all; it's the standard that SDXC can max out at. Any phone with SDXC should support By SDXC card, and that standard caps out at 2TB. SDHC capped at 32GB, SDSC capped at something like 2GB. If a phone is capping support at 128GB, it's either marketing (because it can actually support more) or a bad choice for formatting of the card using a filesystem with a lower memory limitation (probably because they're not willing to pay Microsoft for use of exFAT). Posted via the AC App on my Nexus 6

interesting, i never knew that

I learn something new everyday. Thanks for setting me straight.

Glad to share. You're still technically right, as the largest manufactured microSD (that's the physical form factor) capacity is 512GB-ish, but that's just because that's the biggest that companies have the ability to produce. It also means we're only two standard steps away from hitting SDXC's cap (1TB and 2TB), so a new standard will probably crop up once we actually have cards that size. (That said, there's no reason they have to stick to factors of 2; a 1.5TB card is perfectly possible. SanDisk has actually made a 200GB microSD, I believe.) But yeah, you /should/ be able to use a 2TB card in any phone that supports at least 64GB storage. Even low-end phones today are starting to support SDXC, so that's cool. Posted via the AC App on my Nexus 6

I don't think Samsung will give much weight to users that say it is a deal breaker for no sd card and no removable battery. Look at the S6 sales. They have picked up far more buyers than they lost. Like I've said before, the average user (which is most users) don't even know there is an SDcard slot in their phone and never swap a battery nor care to mess with it. Of course readers here might care, because we are in the minority and don't drive the true sales.

Yup. I've seen it too many times to think otherwise. Some of the stuff I've seen man, hhhhhh..... Posted via the Note 4 or Tab S 10.5

And this is unfortunate, though I hope it doesn't happen. I plan on sticking with the Note 4 for a while anyway. I'm very happy with it. Posted via the Android Central App

That is what I fear in a nutshell. If Samsung drops the swappable battery , it's going to be a real downer for the Note 5. Hate to see them take the beast of all phones and neuter it. Here's to hoping they actually have a pop-culture strategy for the S and a Swiss-Army-Knife strategy for the Note. If Sammy seals the battery in the Note 5, I probably won't upgrade and will probably put the G4 at the top of my list. But, without Wacom support I'll be in a quandary.

I really think the note will keep those features bc the phone is big enough 2. Posted via the Android Central App

No worries. I think Phil is correct from his prediction here: www.androidcentral.com/editors-desk-some-spring-predictions "If you've just got to have a removable battery and microSD card, Samsung will continue to offer them ... in the Galaxy Note. The Galaxy S line will continue to be the sleek smartphone, and the Note will be the workhorse."

I sure hope so. Only problem is I'm not sure how much different they can make the Note 5 from the 4 if they keep the removable backcover. I think they might want to switch things up and and follow the S6' design. Posted via the Note 4 or Tab S 10.5

Word Posted via the Android Central App

If the only thing Samsung can think of to improve the Note 4's design is by taking away the removable backing and curving the screen, they are in trouble.

i hope you're right ... i've never been more excited for a phone to drop than i am with the note 5. i have two devices (S4, Nexus 4) that I'm upgrading this year, once the Nexus drops this fall. if the battery is sealed on the note 5, but it has a 3500+ i'll be satisfied, especially if it's as gorgeous as the S6. SD doesn't bother me one way or the other, obviously prefer it, but 64GB is enough for me. i do agree that they'll keep the removable battery though, not so sure about the SD since there's so much money in storage upgrades.

When did it get to the point where ppl are saying "if u just got to have a removable battery/additional storage"...really? I like 2 have options, I don't like features taken away. If u like being told this is what your gonna get take it or leave it, there's a company called apple familiarize yourself w it Posted via the Android Central App

So you guys are saying 128 gigs and the cloud is not enough for a phone . Which I'm sure the Note will the same gig combo as the gs6 . My local bb said that the 64 gig gs6 is there most popular model I would think that's plenty for even power users Posted via the Android Central App

The removable battery isn't an issue at all for me as the Note has great battery life. If they also get rid of the SD card then I will just have to get the 64 GB version of the Note 5. As previously stated the GS6 is flying off the shelves so the average person doesn't seem to mind. Posted via the AT&T Note 4

Agreed, thats why we choose Android, isn't?

If they are so close on all fronts then the total lack of a stylus like the Note's should be the difference maker. Posted via the Android Central App

except that nobody uses the stylus for anything practical. Posted via the Android Central App

I certainly wouldn't say "nobody" given the Note's popularity. Posted via the Android Central App

Google digital art on Note 2 or Note 3. It's plenty practical for some of us. Posted via the Android Central App

Depends. What is your definition of practical? I use my stylus 3/4ths of the day. Posted on the fast Samsung Galaxy Note 4 running Lollipop 5.0.1

Ditto, when I first got my Note 4 I hadn't used the stylus much. Months later, I find myself using it quite a lot each day. It replaces the simple pen and paper for quick jots; which is basic but is so important. I use it at work to take down client info, inventory and more.

just curious, what do you use the pen for mostly?

Calender, writing real estate contracts, documents. Posted on the fast Samsung Galaxy Note 4 running Lollipop 5.0.1

I ONLY use my stylus with my Note 4....

Maybe you don't, but I use it. I even bought the Wacom stylus for heavy writing and drawing. If you bought a Note and don't use the stylus...is it possible you bought the wrong product?
Please respond and explain why you bought a stylus based system and don't use it. Posted via the Android Central App

As they say, speak for yourself...please! Posted via the Android Central App

I use my spen for almost everything. Posted From MY Next Big Thing!!

+1 Posted via the Android Central App

If Samsung does away with removable batteries and SD cards and Stylus's...... People will applaud Sammy for making a phone for the masses. You can never make a Samsung fanboy mad by releasing a Samsung phone. They love it all! Posted via the Android Central App

I'm too spoiled with my s6 edge as it is. But note 5 is worth me waiting for and definitely should not dissapoint. I'm curious to see how Samsung will improve on the edge screens, they already pack their flagships with plenty of muscle, and are just showing off now I believe, but I'm having fun.. Posted via VZW GS6 Edge

For users that love the S-pen, I don't see them switching. My wife uses a Note 4 and she's already mentioned that she can't go back to a phone without one.

#1 Posted via the Android Central App

Excellent! Posted via the Android Central App

I have the Note 3 and will likely wait for the 5. The G4 has my attention though. Hopefully Samsung keeps the removable battery & card slot but I'm ok if they get rid of it as long as the battery is a beast and I have 32-64GB internal.

I went from the Note 2 to the G3, same size screen, way easier to hold due to being smaller and noticeably lighter. I never found a good use for the seen other than doodling. I love the G3 and am excited for the G4. That said I think the Note line will always have a place for some, I just didn't find a need for the pen. Posted via the Android Central App

Same here. I have the Note 4 now and I love the screen and size but I never use the spen and I'm very annoyed with some of the lags. I think I will be trying the G4 next. Posted via the Android Central App

I'm a Note convert, and will probably will be one for life, but my love is all about the S Pen. I'm happy it's been as successful as it has been, because it's allowed them to keep making better devices, but it boggles the mind that there are Note users that don't use the S Pen. Without this feature, it's just another phone to me. This phone gotten me drawing again. Even if I wind up getting something bigger for digital art, having this little guy around to sketch ideas on has changed my creative life 100%. Posted via the Android Central App

I have the note 3&4 and I rarely use the s pen, yet I consider the note 4 the best device on the market if you can take the size Posted via the Android Central App

And I love that you love it, because that means they'll make a Note 5. Seriously, my opinion is just that--mine. I don't hate on anyone who doesn't use the S Pen, but to me it's like saying you don't like cheeseburgers (or insert the decadent, indulgent food of your choice to make this analogy work.) Posted via the Android Central App

I don't like cheeseburgers. I love cheese and I love burgers...I just don't like cheese on my burgers. I use a Note 3 and never use the s-pen either but, I can see how it's a huge benefit for any level of artist/creative type.

They have this burger that the bun is 2 grilled cheese sandwiches..... Its flucking amazing!!!! Posted via the Android Central App

Why not, it's not hard to remove it from it's location. I use it to browse the Web, type or swipe, pretty much doing everything with it, plus it keeps my screen smudge free. I also love the way you can use it to scroll up and down in almost any Web application, apps, photo gallery, you name it, and let's not forget the Note taking features, copy and paste features, the list goes on and on, maybe this device is not for you. I use it in the AC app forum to scroll up and down posts, slightly hovering over the on screen arrow is for slow scroll, and when you touch the on screen arrow scrolling picks up speed. The features are endless for the Stylus with the Note 4. Posted via the Android Central App

+1k Posted via the Android Central App

Come on AC please fix the gallery in the app! I haven't been able to any thing since yesterday :( Posted via the Almighty One M9 or my retired Nexus 4

I don't even have to test g4's camera and I know it's better. The reason why is that I use Note 4 for pic taking (instead of horrible X) and I'm not too happy in low light or moving objects, whereas I was blown away w G3 performance under the same conditions. I bet the color reproduction is gonna be more accurate for pic taking too. Posted via the AC App
VZW Moto X DE, N7,Note 4

I'm more than a little worried about the cpu/gpu in the G4. It is encouraging to hear that seems to run better than the note. Waiting for the full review on the G4 before deciding to upgrade...

Running better than the note? Lol. CPU benchmark comparisons thus far show that the 2 are pretty much equal. They both score between 31-33,000 on geekbench multicore and between 1,050-1,200 on singlecore. Antutu also shows almost identical scores. But the adreno 420 that the Note 4 has is a notch above the 418 in the G4. Posted via the Note 4 or Tab S 10.5

Come on now. You know benchmarks mean nothing in real world use. I disappointed in you. Lol Posted via the Android Central App

He's the one that said "it seems to be running better than the note 4." Lol I had to laugh at that. Posted via the Note 4 or Tab S 10.5

He also read the article that said that it was running better than the note 4..... But if you didnt read it then that's cool. Posted via the Android Central App

I did read it....and for them to say something like that in the first place is just ridiculious Posted via the Note 4 or Tab S 10.5

The only way this is any type of comparison is to completely ignore the Note's S-Pen (its defining feature). Even then I think one would be hard pressed to say the G4 is better. Note still has the better display and premium design with its metal edges.

This review in no way answers the real world question of how good the G4's camera is compared to the iPhone 6. I bought a G3 after reading that it takes great pictures due to it's lens and aperture. On paper the specs seemed awesome but in reality the camera is a huge disappointment and produces awful pictures in comparison to the iPhone 6 or Lumia 1520 with its grainy images, overblown whites and inconsistent results, coupled with an amateurish camera experience.

LG's website says the phone can take up to a 2 terabyte SD card!! It says it in black and white right underneath the specifications! Posted via the Android Central App

If the Verizon G4 can be rooted, that will be an easy choice.

What I'm curious about is the bloatware. My S4 is chock full of the stuff!! I understand that the S6 cut back on it, some, but I can't see Samsung going very far to lose out on all that data collection. My last LG did have some bloatware, too, but much, much less. (All manufactures and carriers install bloatware to some degree, of course.) But I was shocked to see how much there was on the S4, even after having been warned, and how invasive much of it is. That said, I chose the S4 mostly for the camera. I'm looking forward to seeing some in depth camera comparisons, as I may be upgrading, soon. Thanx for this comparison, Alex!

Coming from a GS5, most bloatwares or google's one. There's also facebook/messenger/instagram. For the reste everything is fine

LG'S phones are a straight up bloatfest. Just a little fyi Posted via the Note 4 or Tab S 10.5

Really depends on the carrier. I'm on AT&T where every Android phone is a bloatfest. I don't think LGUIX has any more bloat than TW. I'd would be curious to see an article that states the major UI's for Android and the mandatory apps each comes with. That would be pretty interesting.

Qualcomm's website says that the 808 does support Quick Charge 2.0.

Both are great phones and have excellent camera's. I don't think you will be disappointed with either one

This was a really great read, and a welcome breath of fresh air. I wonder in real-world use how much difference it would make to NOT have Quick Charge 2.0 on the G4?

As a Note 4 owner I would say that compared to the Note 3 battery life is abysmal. The one thing that makes up for it is to go from less than a 10% charge to a full charge in an hour. My question would then be, What's the battery life on the LG? I don't know because I haven't even checked it out and prolly won't.

Screen is noticeably nicer on the Note 4 in the pics.

You really have to see this in person. Camera's don't seem to do well when they try to focus on two different light emitting sources at once. One always seems blurry and washed out compared to the other. I think you are kind of at the mercy of the reviewer until you can hold the two together and compare for yourself.

I really wish AC would install the same wallpaper on both phones to make display comparisons a little easier.

Inorite. Posted via Android Central App with my LG G3

As for that "yellowing" issue...The Note 4 has multiple display settings: cinema, photo, etc as well as auto tone options...it needs to be compared to the G4 using multiple combinations of settings before we start saying which is better....that said, give 'em hell G4!! Posted via my Note 4

AND it will be $100 cheaper.

Exactly, because it's a cheaper phone.

LG needs to dump the curved screen. It's a lame feature on a handheld. And in a TV for that matter too. Of these two, I'll take the Note 4. Expanadabilty, versatility, a record of updates (Which LG has been poor at) and a great user base for ROMs. The stylus is merely a bonus if I feel like using it. And the leather back is silly. I use my phone too hard for the leather back to have appeal.

The update comparison is old and no longer applies. For example, on AT&T, the LG G3 received the Lollipop update on 10 FEB this year, the Note 4 received the update on 24 March (according to this site). I think it's time the update issue gets dropped. It has become an old criticism that people throw around because they've seen others use it.

The screen on the G4 is probably the best screen every installed on a mobile device.!!! Posted via the Android Central App. On my Samsung Galaxy s6 device.

Haha I don't believe you actually own a gs6 and still make a statement like that cause if you did then you'd know that nobody does screens like Sammy . The screen on the LG g3 was no match for the note 4 . And by the way how would you know how the screen is on the g4 since it's not even out yet Posted via the Android Central App

Well you seem very sure that the G4's display won't be as good as a Samsung display, despite not having used a G4. Pot, meet kettle. Also, despite the fact that displays can be measured for accuracy, quantitative tests are not the final word on the user experience. Back when Sammy was still out of control with their over-saturating madness, the Samsung faithful were every bit as dogmatic about their displays' superiority, despite the tests. And there will probably always be those of us who view AMOLED as too cartoonish, no matter what the benchmarks show. I used to be an AMOLED devotee, but once I got my hands on a truly high quality IPS display, I was never able to go back to the extreme of AMOLED. The truth is that this debate will always be include subjectivity, so there's no point in ardently insisting that Samsung rules all. Every time I read a comment like that, I immediately think "fan-boy", which may actually be unfair to you, but that's how you come across.

I love the Note series but after a while I realize that I don't use the stylus much at all and neither do anyone I know that owns one...that quite a few. With that said, I will not waste money on the next Note because all I really wanted was the bigger screen and the smaller bezel 5.5" screen of G4 will fit the bill. From my Note 3 to thee

I think this argument will all boil down to if you actually want a stylus or not for most people. The note series has always been the best Samsung has to offer and I don't think that will ever change. That being said, I firmly believe that LG hasn't been setting idleling by and has caught up with Samsung and has surprised them with the G4. While Samsung has been getting all the attention with their Galaxy line of late, LG is going to steal a great deal of their thunder with this phone, and once it is truly out and in everyone's hands, is set to be the best smartphone to date. People want to slight LG for going with the 808 vs the 810 and their included Adreno chipsets but when a company actually optimizes the software for it's internal configuration far better performance is possible and this will be shown more and more once full reviews are available. Personal bias and fanboyism aside from everything that has been shown so far, this phone has raised the bar significantly for smartphones for usability and performance in day to day experience. It's time for those who have access to this phone to do some serious comparison testing and stop the conjecture with spec's comparisons and synthetic benchmarks... Please Posted via the Android Central App from my HTC m8

I'll take both phones Thank you :) Posted via Android Central App with my LG G3

I almost had to make this agonizing decision but went with a Nexus 6 instead and couldn't be happier. There's not many flagships that you can use a free hotspot with Verizon's service so that was a major selling factor for me. And the lack of any discernable lag is a breath of fresh air. I'd prefer to have a MicroSD card slot but can make do with 64gb. Posted via the Android Central App

Free hotspot. Whachu talkin bout Willis? I am using FoxFi on my Note 3. It's a $10 app and no monthly fees from the tyrannical carriers who disable my phone's functions in order to charge me $20-30/mos to use those features again. This only works because FoxFi works around VZWs block. Is the Nexus 6 legitimately free to tether on VZW?

People really think it's competition that drives the incremental updates each year?

The smaller top and side bezels on the G4 are much to be desired over the Note 4. The Note 4 is slghtly larger than the Note 3, with the same size display. Samsung has been moving in the wrong direction here. LGs design (not to mention the ergonomic shape of the back) keeps and otherwise huge phone more pocketable than Samsung's design. They should be commended for that. These 5"+ screened devices are getting hard to pocket comfortably. Reducing length and width is very important IMO. Here's to the Note 5 getting smaller physical dimensions than the 4, yet have an equal or larger display. Samsung user here BTW.

The G4 is still quite a large phone. The S6 is far more pocket friendly looking at the dimensions and the photos. Posted via the Android Central App

Both of these phones are great. Way better then the crap Samsung just pushed out. Non removable battery and no SD on the s6... They are really trying to become apple aren't they.

I don't know if I would say they are trying to be like Apple. The Android community is already used to this design (Galaxy Nexus, Nexus 4, Nexus 5, Nexus 6) so I think its more about Samsung having more options. So what if you can't remove a battery (Get a portable charging device) or have no memory card slot ( Use the cloud or a usb storage solution) Samsung has to do this kind of stuff to keep its hold in the market.

How is taking away features having more options? Why would I want to carry around a portable charging device when I could just swap out a battery and be back at 100%. Why do I need to carry around USB storage when I micro SD is tiny and fits inside my device? These changes aren't gonna keep me as a customer. Def looking at the lg g4 right now, they have the right idea.

...more options meaning the Samsung we know now (Removable items) and this new chapter (non-removable) but most power users will not care about carrying extra item to enhance their day to day.

The G4 and Note 4 are almost the same size. I feel the G4 is too big to compete in the main flagship market S6/M9/iPhone 6 etc. In shots with the S6 it looks quite a bit larger LG it seems didn't know how to position the device so they've gone somewhere in between. But in terms of size and power user features (removal battery, SD card) this is leaning toward Note 4 phablet territory. This is why I feel it won't sell too well. As good as the Note 4 is, it's not the large end of the flagship market. The S6 and iPhones of this world are closer to the sweet spot. Posted via the Android Central App

All I can say, is that looks don't tell the whole story. When I was shopping for a new phone, I held the G3, Note 4 and N6. Really liked all three phones, but it came down to feel. The N6 and Note 4 felt angular and large in my hand, the G3 just didn't. It feels like a small phone. I know it doesn't look like it, but it does. If you haven't held it, give it a chance and see what you think.

I have both the G3 & Note 4 and to be honest the feel is almost the same to me b/c my devices are in heavy duty cases.

I can't see this a truly fair comparison because that S-Pen makes the Note a whole different type of device.

The LG G4 should've had the Snapdragon 810. But since its the 808, i bet in real world use, its identical to the Note 4's 805. Hexa 6 core? what the! The G4 is their flagship isnt it? and that deserves an Octa Core, no less. Note4 wins this one, by a hair. Note 5 with Snapdragon 815 be coming right around tax time for sure :)

I just keep hearing the same thing over and over or a binch of insane arguements. Here's what id like to know. What's the difference in the screen's, does the screen on g4 get hot like the screen on galaxies? & how about that camera, shouldnt the fast shutter speed account for some major hipe w/ this g4? I keep reading about the 805/808 processor, but is this of real value to the avg user? The one whom mainly texts,snaps photos, listens to tunes and reads posts. One last thing when comparing the note 4/g4 (mind you) how about the call sound and speaker quality? That's a definite deciding factor. Input appreciated.

Thanks for the great top photo showing the G4 and Note 4 side by side to show the comparative brightness. I ruled out last year's G3 because of the dingy scree and terrible white color temperature - which appeared as light grey rather than white. The G4 looks much better in the top shot and actually looks brighter than the Note 4. Thanks as well for changing the G4's desktop wall paper to something besides the 2 really ugly themes that are mostly cyan and magenta. Why LG thought those looked good enough for the phone's debut is mystery to me. They probably looked at the fashion industry ... which should never be applied to phones.

Ok slow down guys. Geeeezzz what is this the Ford and Chevy battle of phones here? Look everyone has their own preferences (not saying you're wrong or right Ralph and not really so much directed at you just commenting here) . I thought I was going to be proud of Apple on the 6+ and now I'm sitting here six months later saying wtf is so great? iMessage ?pffftt if I want you knowing I read your message I'll be sure and let you know hell otherwise I have fb for that. Now this is my preference just off of the review alone. I would go with the G4 however would like to see something like this with a pen. That would be the only thing I could see me switching over to the Note 4 for. I am a storm tracker and would definitely put a pen to use. Not fond of "styluses" like you pick up in store off the shelf. They're too fat tipped for me and anyway the 6plus isn't really geared to be able to quickly tap and draw when need be. Instead you ha e to screen shot and open in an app that allows for use of a stylus soooooo I'm a little torn at this point and will keep researching other devices until I am satisfied. Have a great day boys and please for the love of humanity quit measuring your egos it's really not that big of a turn on factor for us ladies. Have a great weekend!

All these comparisons I've read of these 2 phonee have all failed to make note or mention how the note 4 has been available sense October last year and still manages to give competitors who are just now releasing there phones a run for there money and not only that the note 5 is right around the corner which surly (aside from all the protest about the expandable storage and removable battery which I'm sure everyone will eventually get over) will again set the bar and then standard for phablets for all the competitors to work at trying to oneup... All in all the g4 is an awesome phone but the note 4 even after after being out for almost a year an in today's times that's a long time, still manages to be as comparable to there newest phone IMO they brought nothing new ornexciting to the table just a fancy leather black
Android Central Newsletter
Get the best of Android Central in in your inbox, every day!
Thank you for signing up to Android Central. You will receive a verification email shortly.
There was a problem. Please refresh the page and try again.