Quick app: Battery Core Live Wallpaper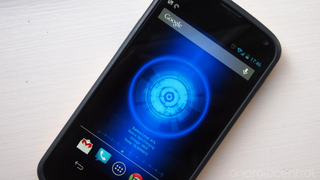 We've taken a look at several different great live wallpapers out there, and we've stumbled upon another that's worth showing off. It's called Battery Core Live Wallpaper, and it's nice to look at but also functional for monitoring your battery state and usage. Live wallpapers have come a long way as device specs have improved, and this is a nice example of a wallpaper that can be turned on and not be a big resource drain.
With a whole bunch of features even in the free version, it's certainly worth a look. Skip down past the break and see a little more of what Battery Core Live Wallpaper has to offer.
The "Battery Core" naming really gives you an idea of both the design and function of this wallpaper. The visuals are based on interesting cores, reactors or batteries with a dark motif and neon lights coming from within. The functional part is a display showing battery level, status, voltage, temperature and a visual bar indicator of your battery left -- all situated in the bottom third of the screen. The circle in the middle of the screen slowly rotates with an industrial feel, fitting in well with the black and blue design of stock Android.
The spinning changes speed based on the amount of battery you have left as a quick visual indicator of your charge state -- which also has the added bonus of draining less battery on animations as it gets low. You also get a nice slowly moving background, which is by default on but can be turned off to a blank black background if you prefer. The battery information displayed underneath the "core" is comparable to what you'd normally get in a battery widget, which is handy.
Battery Core has a great group of settings to change and customize the wallpaper to your liking, which are also extended even more if you spring for the $0.99 paid version of the app. In the free version, you have access to 7 different core styles, an adjustable core size, some movement settings and basic glowing effects. On the battery data side, you can move its position, modify the text or even remove it all together if it's not that important to you. The paid version basically doubles every settings area with extra features, adding color customization, different layers with the core styling and of course an ad-free experience.
Live wallpapers don't appeal to everyone, but for those who are looking to liven up their home screen experience Battery Core Live Wallpaper may be worth a quick look. The free version will give you great representative taste of what the app has to offer, and the paid version is cheap (opens in new tab) to boot.
Android Central Newsletter
Get instant access to breaking news, the hottest reviews, great deals and helpful tips
Andrew was an Executive Editor, U.S. at Android Central between 2012 and 2020.
I actually purchased this on a whim. I haven't had time to play with it fully, but I like it so far, and it doesn't seem to be a battery drain.
I have the 99 cent version which the dev also said is less battery hungry due to no ads.

Hrmph... an app that drain's the battery... and gives you a visual of you dying at the same time. Neat...???

Ha! Exactly what I was thinking. Personally, I hate live wallpapers with a passion. It doesn't matter so much anymore since most phones have 2GB RAM, but back in the day when I had Droid Incredible with somewhere around 500MB RAM & I would hate to see about 20MB going to a silly wallpaper. I generally just use a pitch black wallpaper since my Note 2 has a AMOLED screen.

I've never understood the bad rap LWPs have for battery drain. I've switched between several LWPs and static backgrounds and have been completely unable to tell a difference. I'm sure there's some bad apples out there, but the high end ones don't seem to effect battery enough to tell.

I'm curious what other's have found to be the most *useful* live wallpapers. The only ones I can think of are the Google Maps live wallpaper and Radar Livepaper: https://www.androidcentral.com/e?link=https2F2F...

I have been using this the last couple of days. Really like it so far. https://www.androidcentral.com/e?link=https2F2F...

Used this app and its nice.

Hello?! It's designed after Iron Man's arc reactor :)

I really like the aesthetic of this app. What I don't like is the average 20% battery drain per day it accumulates. None of my other live wall papers show up in my top battery usage stats, second only to my screen.

nice looking app but severe battery drainer. Tried free version and it was up to 8 percent usage after an hour when phonehas been unplugged for 6 hours before installing. So i tried the paid version and it was using 4 percent of battery after 10 minutes so for a refund.
Also, if you adjust the text or gauge locations it screws up background and you have to stretch it. Needs a lot of work.
Android Central Newsletter
Get instant access to breaking news, the hottest reviews, great deals and helpful tips
Thank you for signing up to Android Central. You will receive a verification email shortly.
There was a problem. Please refresh the page and try again.