Qualcomm Snapdragon 855: Everything you need to know about the latest mobile platform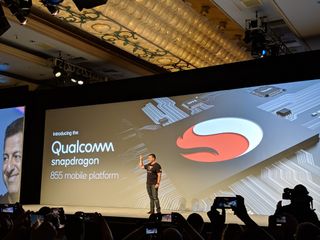 It's official: the latest and greatest mobile platform from Qualcomm to lust after is the Snapdragon 855. The new SoC, which is poised to power 2019's high-end phones, makes strides in performance, power consumption, networking, gaming, photography and more.
Qualcomm is, of course, talking up the Snapdragon 855's 5G capabilities as we get ready to head into the new frontier of the latest and greatest wireless networks. The 855 is the first commercially-available mobile processor that supports multi-gigabit 5G connectivity for Sub-6 and mmWave networks, using its X50 modem. Qualcomm also provides an all-in-one solution for antennas to connect to all of the forthcoming networks. Having a ready-to-ship SoC with an integrated 5G modem will hopefully ease our transition into 5G networks without the need for a complicated or inefficient secondary chips.
Consumer-ready 5G networks have yet to be deployed in earnest in the U.S., but Qualcomm is getting ahead of the curve by announcing its latest processor and modem so that it can be integrated into upcoming smartphones as the first networks go live. It's also working hand-in-hand with network partners for their 5G deployments, as there are dozens of carriers around the world committing to launching some sort of 5G network in 2019. Many have also committed to launching a 5G smartphone within the year as well.
The 855 of course still has the standard X24 modem for multi-gigabit LTE as well, which is what a vast majority of people will be using with their Qualcomm-powered device in 2019. The platform is also Wi-Fi 6, 8x8, and mmWave Wi-Fi ready — in a word, it's futureproofed.
The forthcoming 855 has a whole host of other improvements over the current Snapdragon 845, including dedicated AI processing and XR (extended reality) processing for the future of mobile device capabilities. The processor is based on Kryo 485 CPU cores in a new "prime core" configuration — that means there's one primary core to lead the charge at 2.84GHz, backed up by three additional "big" cores at 2.42GHz and four "little" cores for efficiency at 1.8GHz, each with their own L2 cache. Processor performance is up to 45% improved over the Snapdragon 845, and graphics performance from the Adreno 640 GPU is up to 20% improved. Qualcomm quoted up to a 2X improvement over competitors' 7nm processors.
Qualcomm debuts ultrasonic in-display fingerprint sensor tech, launching in 2019 phones
On the photography front, the 855 also has an all-new computer vision Spectra 380 ISP (image signal processor) for new computational photography processing and video capture improvements. The ISP is now handling computer vision processing itself, leading to dramatic improvements in computational photography processing times and efficiency. It's capable of capturing 4K HDR 60 fps video with hardware-accelerated depth sensing, opening up the possibilities of applying realtime portrait mode effects even to video. It also has hardware support to capture HDR10+ video, and capturing advanced images in the new HEIF file format.
Following the typical release cycle, Qualcomm is already well into sampling the Snapdragon 855 to partners, and expects flagship-level devices with the platform to launch in the first half of 2019. It's completely expected that the Snapdragon 855 will power the forthcoming Galaxy S10, and just about every other major device of the year. It's incredible to see the continued improvements Qualcomm is capable of pushing out year after year, and we once again get to enjoy the fruits of those developments in our phones.
Andrew was an Executive Editor, U.S. at Android Central between 2012 and 2020.
Those claimed performance improvements are massive and I won't believe it until I see it.

The article isn't lying, but isn't as clear as in other articles. The 3x performance increase is for AI, not overall.

95% of phone and tablet users don't need a faster chip. 100% of phone and tablet users would appreciate a less power intensive chip. I would wager folks would be more interested in purchasing the next generation Pixel, Galaxy S, or Note if it had better battery performance.

Hopefully the Samsung one will get a bigger battery like the Note 9. I doubt this one will be more power hungry.

100% agree. That's why my Note 8 is sitting in a drawer and was replaced with a Mate 10 Pro.

Agreed. My 4g data speed is already twice as quick as my WiFi speed. Do I really need it to be any faster than that?

It depends. For current regular use, no. But for 4k streaming and new technologies (on-demand apps, for example) then yes.

The new chips are less power intensive. But there are still some scenarios in which CPU performance boosts are appreciated.

exactly. I never get the 'it's already fast enough' guys. No, no it isnt.

What do we want? BETTER BATTERY LIFE!

WE WANT PIZZA AND KRABBY PATTIES

This guy right here for president 2020

S9+ gets me all day and leaves me with some change in the pocket at the end of the day. It's so nice to not have to worry about topping off midday.

Definitely. I feel the same when I don't feel like getting up out of bed to charge my phone at night since I know I can go 2 days without charging it. (Mate 20X)

But what is 'AI' actually doing for phones, apart from being mentioned as a pretend feature that has the real life effect of increasing the price?

Looking forward to replacing my S8 with an S10

Looking forward to replacing my S6 with your used S8!

The X50 modem is not on the chip ('integrated'), it is a separate optional component on motherboard that is compatible with the chip.

I'm looking forward to the new Wi-Fi protocols. I stuck with my Galaxy S7 this year because it seemed NEXT year is going to be the big leap in phone tech, this year seemed to be mostly advertising hype about who has the greatest camera.

When ATT announced 3G I bought an LG 3G phone. 3G didn't come for anther two years! We will see how fast it is rolled out across the country.

Looking forward to see what this one can do. There was not a significant performance difference between the 835 and 845, but this is their first 7nm SOC, so we shall see. The core arrangement is unique, or at least I don't recall that configuration before, and I wonder if it will change the "single core" benchmarks which not as many people take seriously anymore since the Apple A11 fiasco.
Android Central Newsletter
Get the best of Android Central in in your inbox, every day!
Thank you for signing up to Android Central. You will receive a verification email shortly.
There was a problem. Please refresh the page and try again.