Qualcomm announces the Toq smart watch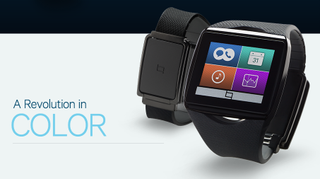 Update: We just found out that the device will retail for "about $300". Pre-orders start immediately, and it should enter the market in early October. Be sure to sign-up at the source link.
If the fact that the Galaxy Gear will be a Samsung device-only affair has you down, Qualcomm wants to help. They too are getting into the smart watch game and have announced the Qualcomm Toq — a wearable that has quite a bit of nice hardware features on board.
The low-power Mirasol display means no back lighting is required, and that the Toq absolutely sips the battery life. In fact, there is no power switch on the device at all. The always-on device will last days between charges, which are simple to do thanks to the built-in wireless charging in the Toq's case.
Like all smart watches, consumers will be able to manage smartphone calls, text messages, meeting reminders and various notifications from their wrist. All from any smart phone running Android 4.0.3 or higher. For developers (Qualcomm's bread and butter) the Toq app will connect to the watch, which uses the AllJoyn Notification Services Framework. This one will be a hackers dream.
Also available will be a new type of wireless Bluetooth headset that pairs with the watch, sitting outside the ear canal. The headset features individual woofers and tweeters for great sound quality. These also charge wirelessly through the Toq case.
For more information, and to sign up for all the details, visit the source link.
Source: Qualcomm
Senior Editor — Google Ecosystem
Jerry is an amateur woodworker and struggling shade tree mechanic. There's nothing he can't take apart, but many things he can't reassemble. You'll find him writing and speaking his loud opinion on Android Central and occasionally on Twitter.
ill buy this over the galaxy gear any day, now its between this and the smartwatch 2!

wait for google watch. it gonna be cheaper and I assume can be used with any android devices.

Well, waiting is sound advice, with these things showing up like ants to a picnic. In spite of the price, this Qualcomm device sounds the death knell of the Samsung smart watch. Runs days, works with lots of phones, better styling. I'm not going back to wearing a watch anytime soon, (took years to get away from that), but If I were, I'd be considering this and what ever is next.

I second that. Posted via Android Central Beta Tablet App!
Hisense Sero 7 Pro

price? availability? Posted via Android Central App

Yes... Come back with price and availability... Hopefully the slick charging won't price it out of the market.

Samsung's attempt now seems even worse. I'm interested in this Posted via Android Central App

Agreed. The Samsung phone had looked good at first, until I saw what it was limited to. Since the Toq appears to be easily tweakable, I like the potential of this one more.

No pricing or availability info was given. Trust me, when I find out you'll know. This is on the DO WANT list for me.

Can you see it in the dark?

This. Posted from my phone, using your girlfriend's Internet, while you're at work.

Yes, definitely interested. I think Samsung shot themselves when it's Note3-only; this is what everyone will be getting in the meantime.

$300, pre-orders start immediately, supposedly available in early October. http://news.cnet.com/8301-1035_3-57600775-94/qualcomm-jumps-into-wearabl... Interestingly they aren't all that interested in selling a ton of them. "The company will sell only a limited number of smartwatches -- in the tens of thousands -- to show customers what its technology can do"

If the $300 is correct than this has also failed. The charger would be worth a few bucks but not $300. Plus... if the CNET lady isn't 12 years old... this thing is huge!

It's obviously not a consumer device, but rather more of a reference device designed to get their partners interested in their tech. That said, I don't see a compelling reason to pick one up myself. None of the first gen smart watches have really interested me yet.

Yeah, that is an odd picture...

Agreed UNLESS it comes with those headphones which from the sound of it they don't come packed in.

This certainly looks to be an improvement over Samsung's already failed attempt--on battery life alone. I still don't see a need for this though unless it can operate on its own -- or remotely. (Meaning you leave your phone at home and it can still connect) Need more details though.

Curious to see what this has in store for runners. Although the 24 hours of charge and large size of the Galaxy Gear is unfortunate, it does have the RunKeeper integration going for it... Posted via Android Central App

As a Pebble owner I have no interest in the Galaxy Gear. This looks like it has potential, though.

I like the Samsung watch better. Design wise also Posted via Android Central App

The smartwatches were all I was interested in today. I like the wireless charging but I don't like the look of the stereo Bluetooth ear buds. It's probably going to be at least another 4 months before you see one of these and seeing I'm in Canada that could be even longer if ever. It looks like Sony is going to get my money with the SmartWatch II. S voice function is just not enough for me to pick up the Gear.

I like the size of this one more. I dont want to wear a samsung phone on my wrist. Plus something that can easily be hacked for a developers dream, means more support and ultimately better performance and features in the long run

Forget the watch, hire a copy editor. Posted via Android Central App

Smart watch will be like those color changing shirts in the 90's... Out as fast as it comes in. Posted From my HTC One running PlayBook 3.0 via Android Central App

Qualcomm made the right move by choosing a landscape design over the gear's slightly portrait design IMO

The screen tech is neat, but seeing as how Qualcomm isn't really interested in putting much effort into this, I'd say pass. If they succeed and are right about others using the mirasol screen tech, then those will probably be the products to... watch.... for.;)

Mirasol. It's about damned time. Thanks, Qualcomm.

While I am completely uninterested in Samsung's smartwatch, this on the other hand has caught my attention.

I like the looks of it overall; I just have 2 questions. - What is the size of the watch face? (I was thinking about the Galaxy Gear, and the huge face size was the first of several reasons that ruled it out for me.) - According to CNet, the battery is in the clasp, to make the watch face smaller, and you can cut the watchband to fit. Can you replace the watchband (provided, obviously, you leave whatever connects the battery to the rest of the watch in place)?

Yeah this has beautiful esthetics! The Samsung one looks like !@#$. WTF Samsung were your designers not feeling well?!

Not expected that Qualcomm will hit the market Posted via Android Central App

That price isn't worth it. Posted via Android Central App

Although this is somewhat promising, the timing of the announcement is plain bad manners.

I signed up. I want to hear and see more about this. Sent from my bada$$ GT-I9505G

I'll take the black one please!

Not bad.. I don't think I like bluetooth headsets that look like hearing aids tho..

Cool step from Qualcomm Posted via Android Central App
Android Central Newsletter
Thank you for signing up to Android Central. You will receive a verification email shortly.
There was a problem. Please refresh the page and try again.