PSA: Some of the more popular Android phones don't yet work with Android Auto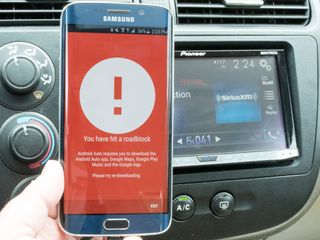 Some of Android's more popular phones — as in some of 2014's biggest models as well as new entries in 2015 — are not playing nicely with Android Auto. On one hand we're not all that surprised. Android Auto is a relatively new feature, and being an early adopter often means putting up with a headache or two. But on the other hand if you're looking at upgrading your car's stereo to Android Auto, you're looking at an investment that's roughly on par with purchasing a new phone, so it's important to do your homework. Nobody wants to plunk down $700 or so only to find their phone doesn't work with their new car stereo.
We've been using Android Auto for a month now, and this is what we've seen so far.
We've used a number of phones with the Pioneer AVH-4100NEX head unit. Other folks in our forums have the higher-end models. Some phones have worked great. Some don't work at all.
In the good column we have the Nexus 6, HTC One M8 and M9, and the 2014 Moto X. That's not a complete list — it's just what I happen to have used.
More telling, however, is the list of phones that don't work. Google's got a couple of known issues that we've experienced as well.
The LG G3 — hardly a niche phone — is out. It just doesn't connect at all, and that makes sense when you see what it does when you plug it into a computer.
The Verizon Galaxy S5 also officially isn't supported, and other folks in our forums have reported issues with voice control on the GS5.
And when I can actually get the Galaxy S6 to talk to the 4100NEX, it thinks I'm in motion all the time and won't actually start up Android Auto.
(Update April 22: An update to Google Play Services has the Galaxy S6 working with Android Auto now!)
So that's three, and three big ones, in our opinion. But consider this a PSA, really, and not so much us sounding the alarm. Google's aware. Samsung is aware. And those of us behind the wheel are waiting on fixes.
But if you're going to invest in Android Auto, you're going to want to do your homework. So swing by our Android Auto forums and ask a question or three.
Get the Android Central Newsletter
Instant access to breaking news, the hottest reviews, great deals and helpful tips.