Project Fi app now lets you record and manage voicemail greetings with a tap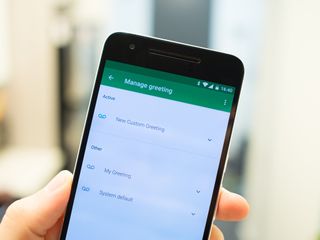 The Project Fi app has received a small, but nonetheless useful update, bringing the ability for users to easily record and manage multiple voicemail greetings right from the app. Of course, there are some bug fixes coming along for the ride as well. Here's the full skinny on what's new:
Record, manage, and switch between multiple voicemail greetings directly from the app
Bug fixes and performance improvements
With the changes, you'll be able to use a new interface inside of the app to tap and record new greetings, rather than dialing your voicemail and navigating a phone tree to record. Once recorded, you can manage and switch between different greetings as necessary — for example, have a specific greeting ready to go for when you're on a trip, and switch back to your normal greeting when you return home.
If you're interested in checking the feature out for yourself, you can go ahead and download the latest Project Fi update (opens in new tab) on Google Play now.
Good to know. I usually just keep the plain "You have reached...", but now I can have a few for different reasons and use them as I need. Timers would be good for this though. Fi, if you are listening. Posted via the Android Central App

Well I have a friend that tapped on his Nexus 6p and it exploded!!! Dam It Feels Good To Be A Google Gangster

Wasn't so great to be a Google ganster that day was it? Posted via the Android Central App

Hahahaha! That was funny, I must admit. Posted via the Android Central App

It's all good. After his unfortunate incident we jumped in the mother ship, headed on down to Best Buy and got him a Note 5. I also got him a sweet deal on a life proof case. All is well in Googleville. Dam It Feels Good To Be A Google Gangster

Other than the Google search app, is there any software made by Google for Windows Phone? I don't think so. I haven't seen anything other than the Google Search app for My Lumia Icon. However, the ProjectFi SIM works well for data-only usage on my Lumia (and my iPhone 5S, for that matter). In the Bay Area I'm finding in most cases that ProjectFi is comparable to Verizon in terms of coverage and speed (phone is Nexus 6P).

Of course it is comparable. Your get the better of two carriers (both of which by themselves have some shortcomings). Sprint should have been able to buy T-Mobile, that would have shaken up the power structure in the US more than having 4 carriers Posted via the Android Central App

I just figured out how to set up a greeting the other day, had the service for months and someone commented that my voicemail greeting was "funny." Now they need to figure out how to let users control how many times the phone rings before it goes to voicemail, or the voicmail delay timer." Real happy with the service though, especially the price.

Still waiting for Google Fi to be cheaper than my T Mobile unlimited data and then I will switch. Posted via my Nexus 5X & T-Mobile Unlimited
Android Central Newsletter
Thank you for signing up to Android Central. You will receive a verification email shortly.
There was a problem. Please refresh the page and try again.