PopCap Games officially announces sequel to smash hit Plants vs Zombies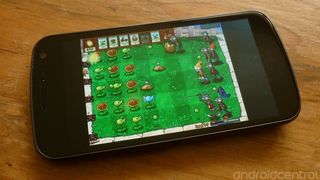 Plants vs Zombies has been around for a while now, and is genuinely a smash hit across multiple platforms. Word now comes from the developers, PopCap Games, that a sequel to the hugely successful title is on the way. Slated for release by late Spring 2013, there is a bit of a wait to be had. Android isn't specifically mentioned, in fact no platform is specifically mentioned, but we're sure we'll see it. Check out the press release after the break.
Plants vs. Zombies Sequel Will Feature Hordes of New Plant and Zombie Types and Mulch More
August 20, 2012 -- Dublin, Ireland – August 20, 2012 — PopCap Games, maker of some of the world's most popular video game franchises and a division of EA, today announced that the underground growth of the sequel to Plants vs. Zombies™, one of the world's most popular video games, is germinating and advancing with rigor.
The sequel to Plants vs. Zombies is expected to launch by late spring 2013, and will include a bevy of new features, settings, and situations, designed to delight the franchise's tens of millions of fans around the world. No other details of the highly anticipated new installment in the franchise are available at this time, beyond the following comments from some of the game's denizens.
"Spring is crullest curlie ungood time, and plantz grow dull roots," noted an unidentified spokesperson. "So, we are meating you for brainz at yore house. No worry to skedule schedlue plan… we're freee anytime. We'll find you."
"There was a time we relished a bracing, hearty blend of zombies, in the morning," said Sonny F. Lower, a representative of the Flora Forever Foundation. "But first, a brisk shower and some strategic pruning are required. Tomorrow is near!"
Known for its quirky, one-of-a-kind blend of art, humor, polish and attention to detail, PopCap has been a mainstay of casual, mobile and social gaming for more than a decade. More than a billion people around the world have played PopCap's video games, including the award-winning, blockbuster franchises Plants vs. Zombies, Bejeweled®, Zuma®, Peggle® and Bookworm®. The breadth of PopCap's audience is similarly impressive, as its games appeal equally to both genders and all ages.
Get the Android Central Newsletter
Instant access to breaking news, the hottest reviews, great deals and helpful tips.
I like popcap games and this sounds like good news, but wtf popcap? please update your EXISTING apps to work on, you new, NEW devices. As evidenced by the photo above, thats just unacceptable, not to mention they dont even have all the features that the iOS versions do. But that doesnt even matter yet, just PLEASE get them to work on phones that arent over a year old

Thats just a picture on the screen, not the game. Sadly the game doesn't show up in the play store in the UK for me :(

good thing, here i thought that was actually gameplay, and i'm like what is up with the screen estate

It's one of the only games that doesn't run on my Prime.

It does but its a different unreleased version google plants vs zombies 1.0hd android apk

I have both Plant's Vs. Zombies and Peggle and they both look and run very poorly. I'm not going to buy PvsZ 2 if they are going to take the make it just good enough to work then let it die approch that they have been when it comes to android. It's no wonder they haven't put out a game since they were swallowed by EA.

They owe me a version that works on my nexus.

How about updating PvsZ first? I got my copy on Amazon & it is quite a few versions behind the Play version. It didn't work for quite a while on my Prime. They seem to have abandoned their current users.

This case is ridiculous. The Google Play Store version of Plants vs Zombies doesn't work on either Galaxy Nexus, nor Galaxy S III. Yet the original, old Pop Cap version (from before they were swallowed by EA) available on Amazon works flawlessly on both. And if that's not enough, the EA has a version of this game working on GS3 too, because the Samsung Apps store, that is on the Galaxy S III has this game available, but of course I would have to pay for it again. The same thing is with NFS Shift, The Sims 3 and probably some other games (I just list the ones I've already paid for in Google Play Store).

Until they fix the original to work on newer devices they can kiss my.... As mentioned the Amazon version works on my Galaxy Nexus, Xoom and Prime. The Google version works on none of them. I decided to drop Amazon Appstore from my devices because I believe it drains the battery somewhat for no reason.

Aside from the comments about updating (which does need to happen), I am excited about a new Plants vs. Zombies. It is perhaps my all-time favorite Android game. Second place goes to Peggle. (But I went through both on a Xoom, not a phone).

Another angry PVZ customer.
Me too, I won't install the Amazon App, and I've already bought PVZ from Google Play.
Since the galaxy nexus launch, no signs of a working version for it. I won't buy another game from EA/Popcap ever, period.
And I hope EA go bankrup and be sold for pennis.