Polar announces new Vantage V2 smart fitness watch with advanced training features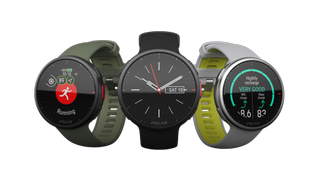 (Image credit: Polar)
What you need to know
Polar announces the Vantage V2, a lightweight and premium multisport smartwatch.
The Vantage V2 is 21% lighter than the previous generation and can last up to 100 hours in training mode.
The Vantage V2 will retail for $500, with an option to add a Polar HR10 heart rate monitor and extra bands.
Polar, the Finnish fitness company, today announced an update to its popular Vantage smart fitness watch, the Vantage V2. The new model has a refined design, and boasts a number of advanced training modes and features to help all levels of athletes maximize their performance. This upgrade comes fast on the heels of the Polar Grit X, which was launched earlier this summer.
Justin Chacona, Chief Marketing Officer at Polar, said the company wanted to release this product now because "people are turning to fitness as a release during what has obviously been a stressful time." Chacona said the advanced training modes and guidance of the Vantage V2 are important because "listening to your body is one thing, (but) understanding what it is telling you is an altogether different story." Polar believes it is in a unique position to help users collect, interpret, and act upon their personal health data, having been one of the early pioneers of wearable heart rate and sports technology.
This second version of the Vantage series has a sleek new design, with clicky, tactile buttons and premium aluminum casing that is 21% lighter than the previous version. Users won't have to worry about battery life with the V2's multiple power-saving options that can get from 40 to 100 hours of training time. The always-on color touch display is also water-resistant up to 100m.
In addition to a redesigned web interface to Polar's Flow service (opens in new tab), the Vantage V2 features several elite performance tests to help users better measure, improve, and track their fitness metrics. These tests include running performance, cycling performance, VO2 max estimate, a leg recovery test, a Functional Threshold Power (FTP) test, Training Load Pro, and Recovery Pro, just to name a few. Users can get personalized, ready-made workouts and daily guidance with Polar's Fitspark (opens in new tab) program, and they can learn how to properly refuel and maintain adequate energy levels with smart fueling reminders. There is also advanced sleep-tracking and something Polar calls Nightly Recharge, which analyzes how well you slept to determine your overnight recovery.
Of course, the Vantage V2 can do just about all of the basic smartwatch things you'd expect, like relay notifications (though not during workouts to minimize distractions), customize your watch faces, and provide music controls.
The new Polar Vantage V2 is available for pre-order now on Polar's website in three colors — green, black, and grey-lime. Customers can choose to bundle it with the Polar H10 heart sensor, and they can also purchase additional first-party bands in black, white, and rose-plum.
Maximize your potential
Body signals
The new Polar Vantage V2 sports a svelte new design, longer battery life, and advanced training modes for all athletes, from the weekend warrior to the Olympic hopeful.
Jeramy is proud to help *Keep Austin Weird* and loves hiking in the hill country of central Texas with a breakfast taco in each hand. When he's not writing about smart home gadgets and wearables, he's defending his relationship with his smart voice assistants to his family. You can follow him on Twitter at @jeramyutgw.
Android Central Newsletter
Thank you for signing up to Android Central. You will receive a verification email shortly.
There was a problem. Please refresh the page and try again.