Pokémon Go updates: Everything you need to know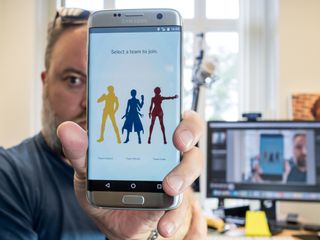 Pokémon Go updates aren't common, but they are a big deal. Here's what you need to know about each major one!
Update, December 12: Added information about version 0.49.1!
Version 0.49.1 - December 8
This is a fairly big update, because it sets in motion a bunch of workflow improvements and adds at-a-glance details for veteran players. Specifically, the ability to transfer more than one Pokémon at the same time saves a lot of energy when you have dozens of the same creature.
Trainers will be able to transfer multiple Pokémon at a time to Professor Willow. To use this function, press and hold on a Pokémon.
Pokémon type icons have been added to the Gym battle approach and Gym battle screen.
The total Candy count for your Buddy Pokémon has been added to the buddy information screen.
The total kilometers a buddy has walked has been added to the information screen of each Pokémon that has ever been your buddy.
Minor text fixes.
As of December 12, there are dozens of new Pokémon added to the game as well, including Raichu and a limited edition "holiday" Pikachu.
Version 0.45.0 - November 7
This is a fairly minor update, but some of the gameplay changes will be a bigger deal for daily players.
The first Pokémon catch and PokéStop visit each day will earn you bonus XP. There's a larger bonus for playing 7 days in a row!
Gym sniping is no longer possible, and if you take a gym down you'll be able to claim it right away.
Prestige balancing means you get less for training at a friendly gym and rival gyms are harder to take down.
Niantic has also added additional driving deterrents by making Nearby and Stops inaccessible while driving.
More: Pokémon Go just got a lot more tedious for power users
Version 0.43.3 - October 23
This minor update makes changes to the way eggs hatch, depending on how long you have to walk to access them.
Professor Willow discovered that Eggs have different patterns depending on the distance required to hatch them.
Pokémon type icons have been added to the information screen for each Pokémon.
Low battery indicator added for the Pokémon GO Plus.
Minor text fixes
Niantic Labs also points out that from October 26 to November 1, "you'll earn double the amount of Candy every time you catch, hatch and transfer Pokémon! Don't forget your Buddy Pokémon, because they will help you earn Candy four times as fast."
Version 0.41.3 - October 12
This update focuses on the Catch Bonus, which offers a bonus for catching more of a specific type of Pokémon.
Catch Bonus: Trainers can earn a catch bonus for a Pokémon type as they catch more of a specific type.
Updated Gym Training: Trainers can now bring six Pokémon to battle at friendly Gyms. The CP of the Pokémon you are battling may be temporarily adjusted lower for your training session.
Egg & Incubator Screens: These will periodically update the distance walked without the Trainer needing to close and reopen the screen.
Audio fixes
Decreased the evolution animation time
Minor fixes
Version 0.39.0 - September 24, 2016
This update focuses on Pokémon GO Plus improvements and bug fixes, with only one major feature added: the ability to check out whether your Pokémon was caught.
Here's the official change log:
Capture location: The location where a Pokémon was caught will now be displayed on their information screen.
Pokémon GO Plus and Incense: Trainers can attempt to capture Pokémon they encounter from using Incense with the Pokémon GO Plus accessory.
Fixed a bug that caused some users to get stuck on the loading screen, even after restarting the app.
Fixed a bug where the camera sometimes moved at slow speeds during battle.
Minor bug fixes
Version 0.37.0 - September 10, 2016
This update is all about Buddy Pokémon, allowing you to choose one Pokémon to be a "buddy," for which you will earn extra candy by walking certain distances. Think of it as an egg for existing, hatched Pokémon.
Niantic also says that it is focusing on "eliminating bots and scrapers from Pokémon GO," and that "rooted or jailbroken devices are not supported by Pokémon GO."
Here's the official change log:
Implemented Buddy Pokémon: Trainers will now be able to choose one of their Pokémon to be their buddy. A Trainer can earn Candy for their Buddy Pokémon by walking a certain distance.
Made it easier to select smaller Pokémon on the screen.
Fixed an issue where Eggs would sometimes hatch without displaying the animation.
Improved performance reliability when a device switches networks to no longer cause the application to hang or stop updating.
Pokémon GO Plus support
Minor text fixes.
Version 0.35.0 - August 23, 2016
This update introduced the Appraisal system, which allows players to ask their team leaders to analyze captured and evolved Pokémon to determine the best way to use it. This relies on the Individual Value of the Pokémon being analyzed, which will tell users whether their version of a Pokémon is good for attacking or defending Gyms.
Here's the official change log:
Implemented Pokémon Appraisal: Trainers will now be able to learn about a Pokémon's attack and defense capabilities from their Team Leader (Candela, Blanche or Spark) to determine which of their Pokémon have the most potential for battle.
We are still working hard on several new and exciting features to come in the future of Pokémon GO.
Minor bot fixes
It's unclear if Niantic has invited more users to try out the Nearby beta system that has been in place since the last update, but currently there is no way to request access.
More: How to check your Pokémon's stats with the new Appraise feature in Pokémon Go
Version 0.33.0 - August 8, 2016
This version introduces a number of new features, including the ability to rename your trainer once — so consider it carefully — and a warning when the game detects that you're moving in a vehicle, asking you to confirm that you are not actually driving while playing.
Here's the official change log:
Added a dialog to remind Trainers that they should not play while traveling above a certain speed; Trainers will have to indicate they aren't the driver
Fixed a bug that prevented "Nice," "Great," and "Excellent" Poké Ball throws from awarding the appropriate XP bonuses
Enabled the ability for Trainers to change their nickname one time, so please choose your new nickname wisely
Added visuals of Team Leaders Candela, Blanche, and Spark.
We're currently testing a variation of the "Nearby Pokémon" feature with a subset of users. During this period you may see some variation in the nearby Pokémon UI.
With this update, the game also introduces a change to the "Nearby Pokémon" box in the lower right of the screen, changing the wording to "Sightings", along with the graphics behind the Pokémon in your vicinity. While we're not sure how the new "Sightings" feature works just yet — and how different it is to the original "Nearby — we are exploring it and will update when we know more.
Version 0.31.0 — July 30, 2016
This version introduces a number of big changes to the game, including the contested removal of footprints for easily tracking nearby Pokémon. It also allows for the customization of Trainers after they have been outfitted, and introduces warnings to players against trespassing and playing the game dangerously.
Avatars can now be re-customized from the Trainer profile screen
Adjusted battle move damage values for some Pokémon
Refined certain Gym animations
Improved memory issues
Removed footprints of nearby Pokémon
Modified battle damage calculation
Various bug fixes during wild Pokémon encounter
Updated Pokémon details screen
Updated achievement medal images
Fixed issues with displaying certain map features
Minor text fixes
Version 0.29.2 — July 13, 2016
This update fixes problems with Android Nougat Developer Preview users.
Version 0.29.1 — July 5, 2016
This is the original release for Android. Happy catchin'!
Sign up for Black Friday email alerts!
Get the hottest deals available in your inbox plus news, reviews, opinion, analysis and more from the Android Central team.
Daniel Bader was a former Android Central Editor-in-Chief and Executive Editor for iMore and Windows Central.