Can the BlackBerry KEYone win back the mainstream? [#ACpodcast]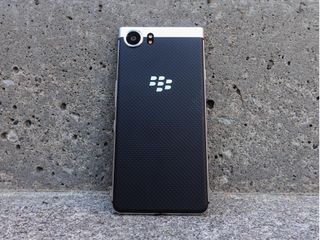 The AC podcast duo of Daniel and Jerry needed some reinforcements this week to dive into the new BlackBerry KEYone, so we called CrackBerry Kevin and Bla1ze of the CrackBerry team and MrMobile himself, Michael Fisher, to help us talk it out!
Is the BlackBerry KEYone a phone that everyone should be excited about, or just hardcore BlackBerry fans? And how come it took the company so long to make a phone like this? Get the inside scoop on why a phone like the KEYone took so long to come to market!
Show notes
Daniel Bader was a former Android Central Editor-in-Chief and Executive Editor for iMore and Windows Central.
Canadians LOVE to talk Blackberry..... If only other midrange phones got this much love.

You don't live here do you?

Other midrange phones do get this much love.

100% niche product. It should sell but don't ever think many people used to virtual keyboards are going back.

When's the last time you were in Canada? Nobody here loves to talk about BlackBerry.

Best androidcast on The net!

Maybe not..the pass days no one really commented on the subject!..but its a nice phone..more business like!

I loved the Blackberry Classic since I work near my computer all the time and can type messages text or email on my computer I dont often need a physical keyboard and enjoy my Pixel Xl something very cool about the feeling of the metal and rubber backing of this keystone that is unique to only blackberries, it is a phone you do not put in a case!! Were it not for the Pixel I would use the Blackiberry Keystone or Samsung Active s8 I would say that people should give the keystone a try, not only is it a solid phone and much less money than samsung galaxy or android pixel but for those making a statement of being different this phone is the only one! Also a physical keyboard plus the shortcuts each key offers, these are superior to glass! Now with all this said finally Blackberry has the right phone and Android... Windows would be wise to investigate a phone with superior hardware with all the benefits of Android and Windows combined or they will likely never enter the current cell phone game until the game changes ( ahhps and all in one service that Android offers) Finally Apple sales are slipping, after all you dont have a choice in cell phone hardware, the one size fits all must be tiring
similar to eating at the same restaurant day after day.

I remember when Keystone was $2.99 for a 6 pack of 16 ounces

Grossest ish I ever drank.

Very good & informative podcast, loved it!

I'm getting one, I know that.

I'd love to see a passport2 with something like a 4:3 screen. I would even give up the physical keyboard, although a slider would be cool.

I will be picking one up. Blackberry is all I have ever really used since my 9000. I picked up a Samsung S7 Edge off of AC T-Mobile promotion that had them on sale for 360 outright for one day. First thing I did was buy the Blackberry HUB and throw on Nova Launcher to try and emolate my prior Z30 and DTEK50 all touch experience. No doubt it is a very good all touch mobile device. Now I use my Passport and Classic teathered because of those keyboards!!! ( The Classic being my favorite all time. Yes more than my 9900) The KeyOne seems to an answer. And I love the reports on battery life. The 625 vs. 800 series is not an issue for me and how I use my mobile devices.

I am on board with the KEYone I'm glad I have a path forward after the PRIV dies, that might take a few more years but.. Yeah nice to know something will be waiting with a keyboard!!

It's going to win me back for sure!
Anyone want to buy a Pixel XL?

Absolutely no chance that this phone sells in any meaningful numbers given the price other than to few die hard blackberry fans and tiny percent who prefer physical keyboard. Rest of the world has moved on to other nicer things and software keyboards doesn't suck from a long time.

I hate soft keyboard and have had horrible problems getting used to it after a year of use. I will be watching ng the keyone.

No way, its a niche phone for the few keyboard hold outs. Besides, it doesn't mimic the IPhone so, it won't sell much.

Jerry. You said that a 1:1 screen would be difficult for developers to support on android. However the LG G6 has a 2:1 screen and can run two apps in dual screen. This is effectively 2 apps running in 1:1 windows.

I think it's a sharp mobile device. Different from the masses. Makes my dick hard just thinking about it.

Lol. Hey, same thing happens when I get on certain Harleys.

Since moving to Samsung I've come to the conclusion that I absolutely HATE typing on a virtual keyboard... I am SO HAPPY this phone is coming out! definitely my next phone! I will also be buying the KEYtwo!
Android Central Newsletter
Get the best of Android Central in in your inbox, every day!
Thank you for signing up to Android Central. You will receive a verification email shortly.
There was a problem. Please refresh the page and try again.