Android Central 203: Moto Moto Moto!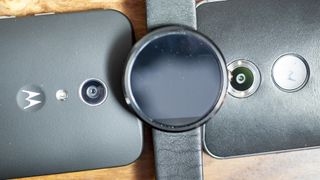 We've got most of the gang back together to round up our reviews of the best of Motorola's new lineup. Plus what we're expecting in the weeks ahead, and we answer a slew of your questions live on air.
Thing 1: Reviews!
Thing 2: Other stuff
Galaxy Note 4 is available for preorder today on two carriers
Android L phones will shut out NSA for increased privacy
Moto X, Moto Hint and Turbo Charger preorders start NOW!
The Moto 360 with the Pebble Steel bracelet
This week's sidebar poll: Leather or links - which Moto 360 looks better?
Eight reasons to buy a Moto X 'Pure Edition'
Thanks to this week's sponsors!
GoToAssist: Use offer code GoToAssist3030 for 30 percent off!
Lynda.com: Get a 7-day free trial of more than 100,000 professional video courses.
Backblaze: Get a free trial of safe, secure computer backup.
Get the Android Central Newsletter
Instant access to breaking news, the hottest reviews, great deals and helpful tips.
Sick of the watch podcasts. Wish you could do a separate one. No interest in a watch Posted via Android Central App

Neither am I but I bet there are many who are. I realize the world does not revolve around me. Part of being and adult and what I teach my kids. Posted via Android Central App from Samsung Note 3 or Surface Pro 3

Same. Bored of it now. That and the fact they seem to have sponsorship from Moto. Moto is pants by the way. The hardware is last years. The only good thing is the software due to keeping it "pure" or as close too. Posted via Android Central App

Run out to your nearest Best Buy and bring me back a phone that has a Snapdragon 805 in it along with a QHD display. Go ahead. I'll wait for you. Posted via the Android Central App

I should have said the current one. **Backs out of the room and closes the down very quietly** but still bored of Moto talk and watches. ;) Posted via Android Central App

Exroot That's why I said wish they did a separate one for watches. All I know when the podcast turns to watches I stop listening. Posted via Android Central App

In a way I'm with you on this mainly since mobile nations has Connectedly. Maybe do a special guest one and bring Adam in when they talk about that stuff. I also think that they need to get one more android guy but one that's a phablet fan. It seems like phablet don't get enough love. Moto and HTC get quite a bit of attention. Posted via Android Central App

Oh snap! It just got real up in here.... Posted via Android Central App

I never understood this site s obsession with Motorola in particular. Is Moto paying you guys with all these articles? Posted via Android Central App

Until the X, there was not a ton of praise for Moto here. I'll admit before I owned one I questioned how good it could possibly be, but after having one for the last nine months I am so friggin happy with this phone! It's fantastic! Posted via a Republic Wireless Moto X using the Android Central App

No. But it's almost like we have new hardware in our hands and are writing about it. Crazy, I know. Posted via the Android Central App

Don't bother with the haters. Keep up the good work! Posted via Android Central App

Maybe because they make good phones, have you ever thought about that? They can run full site ads about Samsung or LG and I never will buy them, I don't want crappy plastic design and those UI bloats, it's like the diabetes phones.

Question: do you have someone proof read your post before releasing? Just wondering as the first line doesnt sound right with "game" in it. "Gang" would sound way better. Lol Posted via Android Central App

Gang, game. Whatever. We got both. :p

I just want to thank Jerry for mentioning that the leather backs on the Moto X should be treated like any other leather item. It sucks when you get you first scratch but leather keeps looking better as it ages.

I have no problem with moto. I have the moto x and just ordered the new moto x. Best phone I have ever owned. I have listened to this podcast since almost the start. It just seems as though most lately have been about watches. I broke myself of watches when I started carrying a smart phone. . I don't plan on going back. I don't think smart watches will be nearly as popular as the tech market thinks. Posted via Android Central App

Does anybody know how to root this prepaid (3g only) galaxy s3? If so please help me!

You gotta love those comments where the person reads AC for a week and sees mainly articles revolving around one manufacturer in a row, then flips out and writes the infamous "how much are they paying you guiz??? LOL!" It's almost as if two weeks later a different manufacturer's device will be released and discussed here! Strap in, dipsh*ts, and keep visiting the site. There's a reason they have been accused of being paid by EVERY SINGLE MAJOR MANUFACTURER here by ignorant fools; when they release something new, AC focuses on it for a week. Shut up and move on. God, gonna have to start copying and pasting this one a week. Posted via Android Central App

Well it makes sense what you are saying but there are other phones not only not that old but also on its way. Even on the Connectedly podcast they spent most of the time talking about the Apple watch and not more than 20 seconds about the gear s. Here they seem to have a bias towards the X which to each their own, I just want info on everything android. Posted via Android Central App

Johhen. Your joking right? 2 weeks. I have followed AC for a longtime dude. I just don't comment on every post. Just of late its been Moto and watches which both bore me. I get that its the new tech to talk about. But thats all its been for weeks now. 2 weeks...gggeeeeessss. Posted via Android Central App

Pk Posted via Android Central App

Band 12 ?
It is going to be used as a supplement like Verizon uses dual bands to get their great coverage and strong signal.
The problem is initial production Moto X's [XT1053] doesn't have it active. [That could and should change.]
New XT1053's band 12 are active.
I'm stating this as a fact....nobody who knows will say yes or no; true or false .

Thanks for letting me know that the 3rd party watch faces drain the battery. I'll stop spending hours looking at watch faces on the forums and reddit...

Until the Podcast I did not know about third party faces draining battery. I haven't seen anything from you guys in any of the reviews about it thus far but you talked about it on the podcast like it is common knowledge. I have even ran several Google searches about it after the podcast and come up with nothing about it in any review. So as far as battery life it would be nice to point this little fact out in the reviews, Not complaining just making an observation, Thanks

I don't alway listen to the podcast. I downloaded it and started listening laying in bed. I honestly can't remember the last things discussed as I dozed off. But that was only because I was exhausted, not on your part--good show. I like that all devices and all things Android are discussed here whether for tablet, phone, wear, or the car I'll never afford. Thanks.

hey jerry, i too am a fan of saddle soap, i have five saddles in my den that are waiting to be cleaned... yet again. but i was just doing some research and aparently saddle soap is actually harmful to leather goods. i know it has been used for decades/centuries or whatnot... but the science behind it cannot be denied. check this link out. it might be a something worth a writeup for all of the moto xes shipping out.
http://info.mannapro.com/mannaproanimalcareblog/bid/122659/Busting-the-S...

If you're not interested in the subject matter don't listen. Personally I find this site to be the most objective and informative. Their coverage of any particular piece of tech is very in depth and much more than you will find on most other sites. Keep up the tremendous work guys, love the site. Posted via Android Central App

Oy the unfunny small talk again from the Bizarro World Howard Stern.

These guys are shills for the companies. The success of their careers depends on how well Android succeeds, so don't take any of these guys seriously. They won't have consumers' interests at heart. These companies charge hefty premiums for their devices ,but these guys will always defend the manufacturers / Google at the expense of consumers. Again and again they jump through hoop after hoop to justify why these companies fail consumers. There's nothing wrong with that, just don't claim to be unbiased, objective or neutral in any way.