Android Central 199: Phunk Edition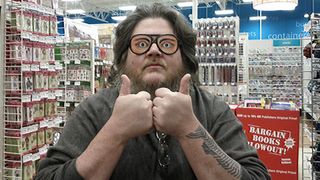 The HTC One M8 is now running Windows Phone, Uber's API may see it come to all the apps, we break down the latest FUD of the week, and we edge ever close to the release of the Moto 360, and Motorola's next smartphones. Plus, where we stand with the next Nexus, and we answer your questions live!
Thing 1: The HTC One M8 now runs Windows Phone
Verizon-exclusive HTC One M8 with Windows Phone is official
Verizon gets its HTC Ones confused in new commercial

Thing 2: Last week's FUD scare
Thing 3: Uber in all the things
Thing 4: Other stuff
Another Android 'fragmentation' report misses the point
Flappy Bird developer returns with new frustrating game Swing Copters
LG bringing L Fino and L Bello to IFA, targeted at teens and emerging markets
Verizon said to be taking on Google Play with its own misguided app store
'Moto X+1' leaks again ahead of Motorola event on Sept. 4th
Coin, the one credit card to rule them all, now available for backers, sort of

Thanks to this week's sponsors!
Love this shot of Jerry doing his best Terry Richardson!

Is Terry Richardson some well known person or something? Posted via the Android Central App

Apparently not. He's a controversial fashion photographer who sports plastic aviator glasses and frequently poses thumbs up. Ask Google to show you a picture of him.

Gay? Posted via the Android Central App

MOTO X+1:
porthole=yes
back button=unknown
Qi=unknown
extra dots=weird sensors a la Tango devices
looks (based solely on evleaks renders)=a (few) step(s) in the wrong direction NEXT NEXUS [PHONE]:
wholly agree with Nickinson: "i like being surprised." deuces

GoGo AC HTC Desire S»HTC Desire HD»HTC One S»HTC M8 (Naked)

I totally get the need to advertise, but I wish the sponsorships would be done like other podcasts where it is simply a description of the service. It feels disingenuous to constantly try to tell us how the service is the greatest thing ever and you use it constantly. Feels like you sold out, more so than just doing it to pay the bills. The nature box ad was an example of this, where Phil purposely or otherwise made the spontaneous observation that the box was behind him in the shot. It feels like if you were watching a TV show and the main character pulls a Pepsi up and looks into the camera and says "Mmm, Pepsi is the cola of choice here at CSI: Miami!" I would appreciate more separation between show and ad. Posted via Android Central App

The thing with most of the companies they get sponsorships from are because they actually use and like the product. Posted via Android Central App

Yeah and I don't have an issue with them using it and liking the product, I just think the current format feels fake and forced. I prefer the format of some other sites where they take a 'break' where a premade video clip is played where they pitch the product. Posted via Android Central App

Considering it is live i like it the way it is.A premade clip wouldn't feel or seem right...i love hearing how Phil uses lynda.com for quick things Posted via Android Central App

On the up side, I get to hit the head and grab a fresh beer!

I don't mind the adds at all. I know they need money to put these out, i support advertisers and the shopandroid store whenever i can.
The alternative is that you all pay like a buck per month, and its behind a pay wall.
LOL look at tv programs , they do that, look how they hold products. And thats live ads compared to a caned ad.

Also, if you want to try android wear, think about your use case.
I don't get many calls texts or emails, it mostly sets and tells time. The best part is when i'm traveling, my job is driving, at night. when it vibrates or my phone chimes, i can look quickly, if its important, i look at the notification, next time i can safely do so. If its a stupid Gamestop Gmail or a # i don't know i swipe it away and don't have to pull my phone out.
Is it worth it to you? for me i won't buy another in its current software state. But i have it so i will use it til it breaks.

A *LOT* of misinformation on the Coin Beta program, so let's clear that up (I'm a backer, I don't work for Coin): - The Coin has completed an extensive alpha/beta test in the San Francisco region. What was learned was it isn't working with 100% of all card readers. It was decided a more extensive nationwide beta was required to gather more information on more readers. The beta is now being expanded to 15,000 additional Coin backers. - The beta is all about Coin swiping - it has nothing to do with testing the security features of Coin. You run no more risk of handing someone your Coin with your debit card info contained within than you do handing them your actual debit card (*start soapbox* although I never use debit cards except when its my ATM card, and then only in an ATM machine - use a zero liability credit card for all other purchases! *end soapbox*). - Coin doesn't store any PIN information, so if you lose your Coin, or someone swipes your Coin into a card reader to "steal" your info on an ATM/Debit card (or regular credit card for that matter), they still don't have your PIN. - That said, if you're parinoid about your Debit/ATM card, don't enter it in your Coin - it's your choice, it's that simple. - If you decide to opt into the Coin beta, you will get a Beta Coin which you can expect an 85% success rate when used to swipe a transaction. Coin recommends you always carry your regular cards like you do now. The is a Beta to help Coin understand why certain card readers don't work. So in the BETA yes, just add this to your wallet and keep your other cards there too. Not that unreasonable. ITS A BETA. The beta is ABSOLUTELY FREE for those backers who opt in. - If you opt in the Coin beta, you will receive the 100% perfect "Gold standard" production Coin when its ready at the end of the Beta for NO ADDITIONAL CHARGE. So here's my example: - I backed/pre-ordered my Coin in 2013 for $50
- I'm getting a Beta Coin to help test - $0 additional
- After the Beta I get a Production Coin - $0 additional
- Total cost of pre order, beta and production units: $50 - Initially Coin blundered and made a couple of bad choices on how the Beta program should work (8/22), but almost immediately realized the error of their ways and complete revamped the program as stated above (8/23). Good for them. So there you have it. I personally am excited to help out in the Beta in order to help make the Coin 100% compatible with all readers when the final production model is available - because I really want a single device that stores all my credit cards and reminds me if I walk off without it. That's why I backed Coin, and I'm happy to help make it a reality.
Android Central Newsletter
Get the best of Android Central in in your inbox, every day!
Thank you for signing up to Android Central. You will receive a verification email shortly.
There was a problem. Please refresh the page and try again.