Pocket Casts app acquired by NPR-led radio group, will continue development [Update]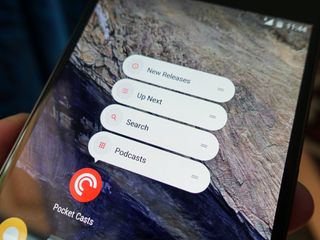 Updated 5/9/18 – Following the announcement of the NPR deal, Pocket Casts has since addressed a few of the concerns its users have brought up. You can read through the full rundown here, but essentially Pocket Casts says that its privacy policy remains the same, it won't share/sell user data, give special treatment to NPR-owned podcasts, push ads on users, or track your location.
Pocket Casts, one of the best cross-platform podcast apps and my personal favorite, has been acquired by a group of public radio-focused companies headlined by NPR. The group, comprised of NPR, WNYC Studios, WBEZ Chicago and This American Life, is acquiring Pocket Casts in pursuit of synergy — after all, this group comprises some of the most popular podcasts available today, with hits such as This American Life, Serial, Radiolab and Planet Money.
The entire Pocket Casts team is joining the new group, and they are adamant that Pocket Casts will continue to operate (opens in new tab) and be improved. "Together we have the passion, scale and laser focus needed to achieve some truly great things," reads their blog post on the acquisition. "Nothing about the app is changing. Going forward our aim is to make it better, like we always have, year in, year out." The app will retain its paid model, and the pricing isn't going to change. This pretty much sums things up:
The Pocket Casts app will remain focused on podcasts of all kinds, from every sort of creator around the world, and not simply turn into an app for these public radio shows from the acquiring group. NPR's existing app, NPR One (opens in new tab), will also continue to be maintained. Former iHeartRadio General Manager, Owen Grover, has been named CEO of Pocket Casts.
The stated goal of the acquisition is to make podcasting better for everyone, both creators and listeners, through collaboration — not about selling the app and walking away. Pocket Casts has already garnered huge mind share and is synonymous with podcast listening for so many people — we can only hope that it grows and improves with the backing of this larger group.
Andrew was an Executive Editor, U.S. at Android Central between 2012 and 2020.
I really don't like how some places make their own apps for streaming just their podcasts. Just focus on making your podcasts and let other people maintain the universal podcast players. It'd be like buying a radio that could ONLY tune to NPR stations. I mean, I love NPR... but that's stupid. Meanwhile, I'm a BeyondPod user.

Did BP ever fix the issues with v4.x? 4.2.19 absolutely destroyed it for me and got me to try PocketCasts after being a diehard BP supporter since back around 2010ish.

Really love Pocketcasts and the developer provides terrific support, I'm sure they deserve this and good luck to them. Heart always sinks when an app I like gets bought out though, can't help fear that long term it'll be for the worse.

If it goes to hell, Google's making a standalone podcast app. At least the guys on All About Android said as much. We should be good.

Again? Is it going to be a new Google Listen? https://www.androidcentral.com/tag/google-listen

I think Google has offered a way to subscribe to podcasts through Assistant, haven't they? If they can figure out how to save your place in a podcast, I'll probably go that way.

You actually can, and then continue from your phone to your Google Home. It's surprisingly usable. If you say "listen to <name>", it brings up the podcast 'app', which you can then add to your home screen and use as any other podcast app. I'm trying to use this exclusively in place of pocketcasts and like it so far.

I saw that earlier this afternoon, and found that you can even change the playback speed and download for offline playback. Appears you can set them to delete after a period of time. Two things I'd like to see added is the ability to create a playlist, and better control in Android Auto.

I hope they don't start pushing podcasts that are only in line with NPR's point of view.

Lol 😂, prepare to be disappointed. 😉

That would be unreasonable.

It's not owned solely by NPR and they still have a fair level of autonomy. No concerns here.

Ahhh. The initial promises of the acquisition / takeover. Hook line and sinker.

Hope you're not the betting type lol.

You mean a view with facts,

I hope they update Pocketcasts so that it can be launched by voice on Google Home devices. Also, really would like them to add playback capability on Wear OS devices.

The developer has stated that he'd love to make Google Home and Alexa integrations but neither company has made any APIs available for it. +1 for wear os I use an app called wear casts but it doesn't sync with Pocket Casts.

Welp. T'was good while it lasted.

I first tried out Podcast Addict three years ago, paid a token one-time fee to remove the ads and it's been great.

This is not a captive market and the stakes arent that high anyway. Im a PocketCast paid user, love the app, but if they decide to ruin the UI and go against what made them famous then so be it, they'll have dug their own grave and I'll just go elsewhere. The app has paid itself over the years, and Im sure there are some other equally capable podcast players out there. Fingers crossed that it remains the way it is, but no real problem if it doesnt.

Does this mean that the app will eventually be free?
Android Central Newsletter
Get the best of Android Central in in your inbox, every day!
Thank you for signing up to Android Central. You will receive a verification email shortly.
There was a problem. Please refresh the page and try again.