PlayStation Vue app now streaming on Android devices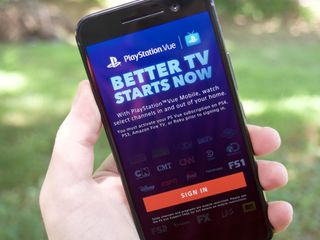 The PlayStation Vue app is now officially available for Android phones and tablets (opens in new tab). Sony recently announced that it would be releasing the app and held to its word. Vue is a streaming service that lets you watch movies, TV, sports and more without a cable subscription.
From the app's description:
If interested in trying out the service, you can start a free trial now to check it out. After the trial there are a few different subscription plans, ranging from $40 to $55 per month. You can get started with the PlayStation Vue app (opens in new tab) on your compatible Android device now. Are you excited to see this, or are you content with your current streaming setup?
Android Central Newsletter
Get instant access to breaking news, the hottest reviews, great deals and helpful tips
Jared started off writing about mobile phones back when BlackBerry ruled the market, and Windows Mobile was kinda cool. Now, with a family, mortgage and other responsibilities he has no choice but to look for the best deals, and he's here to share them with you.
Oh I'm certainly happy to hear this. The more options that become available to use to get away from cable companies the better.
More options is always a good thing.
Does anyone know if Vue is on roku Posted via the Android Central App

Yes, Vue came to roku last week.

Cool Posted via the Android Central App

The app on Roku is there but it's very limited in functionality right now compared to the app on Amazon Fire TV Posted via the Android Central App

I just signed up last night live the service on playstation just was upset no Android app. Posted via the Android Central App

The subscriptions start at $30 if you live in a market in which PS hasn't signed the local channels.

Yup Posted via the Android Central App

can you add that the range of price is less for areas that dont have live stream local channels

Awesome! I just began paying for this service on the news that it would soon be on Android. Good to see they made good on it. The app is not bad at all either. The iPad app is great also.

Will it work with Chromecast? Posted via the Android Central App

I haven't installed it but one of the screenshots for the app in Google Play indicates it does.

Yes, but no Android TV app yet. Posted via the Android Central App

Might want to update the post that it also works on Android TV. At least it is available to install on the Nexus Player anyway.

Really? I just looked on my Nexus Player, and I couldn't find it on there at all. Did you have to side-load it?

Click the link in the article. You can install it from the web version of the play store. There are lots of Android TV compatible apps that don't necessarily show up on the Nexus Player directly.

Hmm...Now that I am at home and have my Nexus player fired up I agree it is not showing up. It allows an install over the web, but thus far it hasn't showed up for me. I've never had this issue before. Posted via the Android Central App

Yeah, looks like I ran into the same issue on my Sony Android TV. Shows up in the web store but never installs on the TV. Oh well.

It installs, it just doesn't create a shortcut. You can get it to launch using an app like ES file explorer. But even once you do that, the app isn't designed for the remote, you can't select anything. It appears to be touch only.

Apparently it only works on your home Wifi or the app needs some wrinkles worked out. Literally all content is blocked with "mobile restricted" stamped over every show. That being said it's still better than the SlingTv app. Posted via the Android Central App

Maybe your phone settings are restricting use over cellular?

You can use PS Vue credentials to login to a lot of other apps though.

No, that is the "catch" with Vue. You only get full access when you are on your home network. You get limited mobile access only when not on your home network. SlingTV's "catch" is no DVR, Vue's is this.

Hmm, mobile restrictions seems dumb. Does this apply to iOS devices? I just installed and set it up and was disappointed that it restricts to my home network/location. But maybe that is how they got the deal to be able to have multiple simultaneous streams per account. Guess I will just authenticate through the various apps. Kind of a bummer but still a better deal than SlingTV for a family.

You're correct, it's how they deal with multiple streams. You get 5 simultaneous for the cost of the subscription. If they didn't limit it to one IP (your broadband Internet IP) there would be rampant abuse. I'd bet they add a mobile surcharge option in the future for allowing viewing outside the home. There's no real easy way to control it via IR or I'd use my Slingbox...

Thanks for the explanation. Makes sense. Posted via the Android Central App

This actually isn't completely correct. You can definitely use the mobile application outside of the home, you just need to make sure you've established your home location on the device FIRST, then you can use it. Check out the PS Vue Mobile section of their FAQ page. It walks through In and Out of Home use of the app for both iOS and Android devices: https://www.playstation.com/en-us/network/vue/faq/#h87

Yep. I use mine outside of home all the time. Not all channels are available but they usually have an app you can sign into with vie and use that way. Espn for one. Not really sure why anyone would watch that channel tho

If folks are running into issues with all content being listed as "Mobile Restricted" they should make sure of the following: 1) Make sure you log in/activate on a tv-connected device (PS4, PS3, Fire TV, or Roku device) BEFORE signing in on the PS Vue Mobile app on Android.
2) If you're logging into the PS Vue Mobile app for the first time, make sure you are doing so while you're on your home network.
3) If you've already logged into the PS Vue Mobile app outside your home network, and you see everything as "Mobile Restricted" - Sign out of the app, connect to your home network, and sign back in. Then you should be able to use the app out of the home and access select content.

Must Have PS4/3, Roku, or AFTV to sign up prior to activating on the Android App. "Broadband internet & compatible viewing device required. PS4™ / PS3™ system, Roku, or Amazon Fire TV is required. See psvue.com/FAQ for details"

Sounds good. I'll have to verify it through my PS3 when I get home. There is now a pop up when I start the app saying something like "Startup your console before starting the app again. We may have your location incorrect." Wonder how many of the people already giving the app negative ratings are going to try and troubleshoot anything? Posted via the Android Central App

Yes, this is very annoying. Also, you can't edit or add profiles from anything but a ps console or a fire device. The roku app makes one profile only. Also, the first one you enter is the primary profile and I don't think you can ever change the first profile. (I made the first profile for my wife and now I can't switch it to me ... had to buy a fire stick to make more profiles, but now I am going to return that garbage).

It looks like u can also just use the vue webpage to make profiles Posted via the Android Central App

You can use your ps vue credentials to login to other apps. So the mobile restricted is not the end of the world. That said, Sling TV does not restrict like this. You can use anywhere. That said, Sling TV is riddled with problems at least when it comes to using it with Chromecast.

Using the credentials for other apps is great. It helped overcome the limited app selection on my Surface RT by being able to watch ESPN, ESPN 2 (on the Watch ESPN app) when we had SlingTV. PlayStation Vue is so much better and robust. We've almost had zero technical issues in the three months we've had it. SlingTV was nothing but trouble. Even with the discounted T-Mobile price it wasn't worth it. Right before we cancelled only the Travel Channel would load. Couldn't even install the app on my phone (it did work when they first launched it though).

Correct. SlingTv's ultimate limitation is no DVR, Vue's ultimate limitation is limited access outside your home network.

Yup. I found that to be the greatest benefit of this service. For $29.99, u can use all of the TV apps. I found the Fire Stick interface lacking, but usable. The unlimited DVR was very useful. I called to cancel Cox, but they gave me a deal I couldn't refuse to keep cable and internet. So I'll stick with Cox for another year, not in contract, and I'll keep my eye out for better deals. Posted via the Android Central App

Not in the store for nvidia shield tv

Took apk off phone and installed on the shield and it works. Posted via the Android Central App

Oh snap. My Sony TV shows up! Can't wait to give this a try tonight.

If the price of my Verizon (now Frontier) FiOS goes up when my two-year commitment is up, I'm going to take a good hard look at Vue. Posted via the Android Central App on the Moto X Pure Edition

Is it just me or is this app totally useless outside of your home network? If that's the case and you can't use it mobile, then I don't understand what the purpose of the app is.

So far its a joke. I've logged out and back in on my home network, every single program is mobile restricted as soon as I go off WiFi. Posted via the Android Central App
Android Central Newsletter
Get instant access to breaking news, the hottest reviews, great deals and helpful tips
Thank you for signing up to Android Central. You will receive a verification email shortly.
There was a problem. Please refresh the page and try again.