The Play Store will no longer inform users when apps have been updated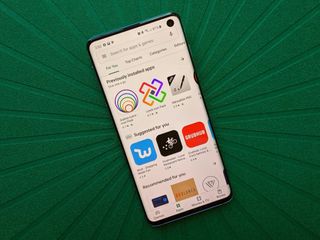 (Image credit: Android Central)
What you need to know
Google is seemingly working to reduce the number of notifications originating from the Play Store.
A Google spokesperson has confirmed that it's testing a change where confirmations for app updates won't be sent out.
A bug may also be causing errors in notifying users that an app update is available and asking for their permission to download it manually.
The Google Play Store is exhibiting some strange behavior, according to the folks at Android Police. The publication earlier today reported on a number of threads on Reddit about users not seeing any notifications after apps were automatically updated.
While they initially assumed it was a bug, a Google spokesperson has now confirmed that the lack of confirmation notifications for updated apps are a deliberate change by the company's engineers, likely aimed at reducing the notification spam from the Play Store.
While it's nice to know which apps have automatically been updated, having your phone ping every time this happens may also get a little annoying, and it seems Google is erring on the side of caution here and has decided that telling users every time an app has been updated is probably not very useful. We tend to swipe them away anyways, so why bother sending them in the first place, I guess?
For users on capped connections, the Play Store offers a choice between automatically updating apps when connected to a Wi-Fi network or asking for permission before downloading an app update. And while confirmations after an app has already been updated may be going away, Google is likely not going to remove these notifications asking for a user's permission before downloading app updates as a change to those could affect users' data plans or hamper their ability to know when an app update has become available.
However, some users — including those on our own forums — have reported that they've also stopped receiving the latter type of notifications and are not being informed of app updates as they become available. We've reached out to Google to clarify if these issues are the result of a bug related to its change in policy for Play Store notifications or if they're the result of some other, unrelated issues on users' phones. We'll let you know if the company responds.
One more thing to do on Sunday night then. I have auto update turned off, in part because there are several Samsung apps ready for updates but since they're disabled, I have no desire to update them. I do get notifications for any others though and I update them manually. I think I probably won't like not getting notifications but...Google...

Fine with me. I don't need a notification for something I just chose to do. (I don't auto-update.)

I don't auto update. Once a week I wash clothes at a laundry near my house with free WiFi. I get all my updates then. Saves my data for Disney+ and Hulu.

I want the notification as I auto update. The best thing to do is to give the option to notify or not. Don't just take it away. I thought Google was all about options... Group think is the ruination of ingenuity and change...

Fine with me. My Launcher tells me the same info!

Not thrilled about this but it's minor.

Thanks Google. I hate it.

Not a fan but I don't do auto-updates on my phone. I just check manually a couple times a day and update myself. I wonder if it will still give notifications when updating manually?

Just manually updated an app and did not get a notification. Not a big deal but I don't really like it. I'd rather have the notification.

This sucks, I can only see this leading to google complexly controlling updates, and especially breaking your phone at any time they choose or something goes wrong. I never use automatic updates as there is not a single app that has not stopped working at least once after an update. I find more than 90% of updates give more adds and more bugs, less performance, and less functionality.
Android Central Newsletter
Get the best of Android Central in in your inbox, every day!
Thank you for signing up to Android Central. You will receive a verification email shortly.
There was a problem. Please refresh the page and try again.