Plague Inc. Mutation 10 will have you spreading holiday cheer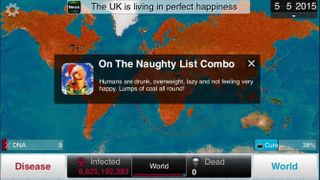 Infection strategy game Plague Inc. will soon gets its Mutation 10 update, which adds a couple of new scenarios. The Mutation 10 update will also bring changes to core disease types, progress tracking, and more.
The major addition with Mutation 10 is the Santa's Little Helper scenario. Rather than spreading disease and death, you'll need to spread holiday cheer to countries where it's been banned. You can give humanity presents, recruit Rudolph, the Red-nosed Reindeer, and more. The other new scenario is Teleportation. New technology has given humans the ability to instantly transport themselves to another country if they feel threatened, making it more difficult to infect them.
Mutation 10 includes other important updates. A new progress screen makes it easier to track your completion percentage. The Parasite, Prion, and Neurax Worm have all been updated thanks to player feedback, and the human AI has also been upgraded. Country selection has also been improved.
You can look forward to Plague Inc. Mutation 10 arriving on the App Store/Google Play Store (opens in new tab) later this month. The Santa's Little Helper scenario will be free to all players during the holidays, and will be available for $0.99 afterwards.
Love the game. I just wish they would add cloud save so that I can play on both of my tablets and on my phone.
Android Central Newsletter
Get the best of Android Central in in your inbox, every day!
Thank you for signing up to Android Central. You will receive a verification email shortly.
There was a problem. Please refresh the page and try again.