In pictures: Two generations of Nexus 7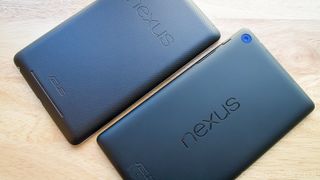 The original Nexus 7 was a serious improvement to Android tablets when it was announced last year, and Google is trying hard to build on its success with the newest iteration of the device. Dubbed the "New Nexus 7", it packs a new set of internals -- Snapdragon S4 Pro processor, 2GB of RAM, rear camera and stereo speakers. We also have the pleasure of seeing a full 1920x1200 display around the front, showing off Android 4.3 in all its glory.
These internal updates are all wrapped in a new casing that adds a few things -- such as a soft touch back and thinner profile -- but drops the charging pins and relocates the headphone jack and microphone. All together we find this to be a leaner and better looking Nexus 7 that is worthy of the name. Hang with us after the break for a full side-by-side comparison of two generations of Nexus 7 hardware from ASUS and Google.
More: The new Nexus 7 is official
Image 1 of 21