Android Oreo's picture-in-picture feature now usable in Google Maps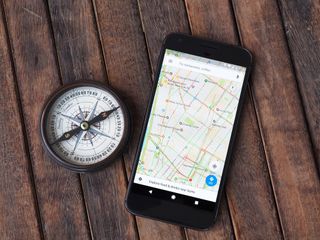 While Google Maps added support for Android Oreo's Picture-in-Picture mode a few weeks ago, it wasn't actually any good. Users reported rendering issues and application crashes, prohibiting the PIP experience. That has been fixed with the latest update to Google Maps.
Android Police reports that Google Maps 9.60 has fixed the previous issues with PIP, meaning all Android Oreo users will now be able to take advantage of the feature. Update: kolyan2k in the comments section has pointed out the feature appears to be tied to a server-side roll out.
Also spotted in the update file were references to a new "personal notes" feature. This would presumably allow users to jot down specific information for a location, such as a gate code, that you wouldn't want to share with the general public or save in a permanent Google Keep note. Another feature will allow business owners to publish events through the smartphone app. Owners can already put events information in Maps via the website, but being able to publish events through the app would be great for adding or changing events quickly.
The one (possible) feature that I'll be most excited for is shortcut support. Rather than dig through the hamburger menu every time one opens the Maps application, users would be able to pin shortcuts to a specific location in the interface to save a few seconds. Another cool feature will allow for restaurant goers to add photos and reviews of their food dishes, with a basic rating system consisting of a thumbs up. Hopefully, Google fleshes that out before launch, with a 1 to 5 scale to let users know about "meh" food offerings. Google Maps 9.60 is rolling out to users now.
Have you received the latest Google Maps update? Let us know down below!
Get the Android Central Newsletter
Instant access to breaking news, the hottest reviews, great deals and helpful tips.
Cool, don't have to choose between Netflix and navigation in the car anymore!

Samsung has had this for years. - Samsung guy

That's what i was thinking.

Ah, but were you thinking it sarcastically?

Yes, but they've just started getting rid of bloat in the last few models, by definition, Oreo itself can't be bloat. I say this with an S8+ in my pocket, but the amount of apps I can't uninstall (without rooting/tripping knox) on this is insane.

I am on Oreo and maps 9.6, but I don't see a way to trigger the PiP. What am I missing?

I have 9.60 and Oreo, there is no PIP. Its some server side roll out

Thank you for that, will update the article.

Lol, I didn't expect you to include me in update. That's just my assumption base on the fact that I don't have PIP in my maps. But here is whats over at Android police: "Many people are also reporting that PiP mode doesn't activate through the use of the Home button. If you set up a custom keycode to activate PiP mode during the developer previews, it will continue to work. I'm not aware of a solution to trigger Maps PiP mode if it won't work with the Home button."

My Pixel won't update. Still stuck on June security patch. Thanks Google. You guys are awesome

I shouldn't have to. I don't have time like I used to.

Agreed you shouldn't have to but it only takes 2 minutes. 15 at most if you haven't done it before. The same thing happened to me around the Nougat roll out because i enrolled/unenrolled in the beta. Once the official OTA was posted I flashed and was back on the regular monthly update cycle.

I used to root and whatnot back in the Nexus S/4/5 days. But it's been a while since then. Do you know if I'll lose my data if I flash? I will if I unlock bootloader, right?

Unlocking the bootloader will wipe your device but you don't need to unlock to flash the ota. AC has a pretty nice guide: https://www.androidcentral.com/how-manually-upgrade-your-nexus

Thanks, I'll check it out

So I just added another app to my list of supposedly capable of doing PiP, but don't. Home button is doing the same thing it has always done. Does it matter what launcher you are using?