Pebble's sold more than 1 million smartwatches, has new products in store for 2015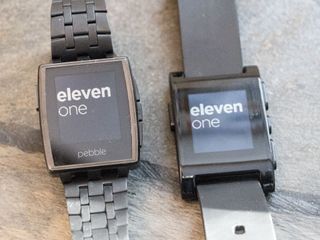 Pebble CEO Eric Migicovsky has revealed that the company has now sold over one million of its smartwatches. This number is over double the 400,000 devices the company said it sold back in March 2014.
In an interview with The Verge, Migicovsky also stated that that Pebble would not only launch new hardware products in 2015, but also reveal a new software platform for the devices. It stated:
Details about the new Pebble products and software won't be revealed until later in the year, according to Migicovsky.
Source: The Verge
Ha what a tease. I am far more interested in this, than I am in most other tech announcements this year. Pebble has been an absolute improvement in my ADD life. Posted via the Android Central App

I loved my Pebble.. However... imho.. Google Now || GTFO

Note the past tense..... Posted via the Android Central App

This is called INNOVATION. Rooted LG G2.
Rooted GS3, Stock Galaxy Note 4
If it ain't Tech, it ain't Right!

They might be releasing a watch with a colour e-ink display (and yes those do exist) and I love my original Pebble so far and can't wait for what they announce. Posted via the Android Central App on my Nexus 6

Hopefully we start seeing the prices of smart watches drop this year. Posted via the Android Central App

Hmm. This sounds like it will either pull me to Pebble or push me to Wear. Good for them for trying to distinguish themselves though. It takes some work for a startup to compete against tech's biggest giants. Posted via the AC App on my LG G3

Love my Pebble and its battery life. For what I use it for (notification/Caller ID/texts), the eInk display is fine. Can't wait to see what the next generation will bring to the table

good to hear. A smartwatch needs to be focused on notifications not apps.

I'm hoping they stick with e-ink. Love the battery life of the pebble. Posted via the Android Central App

E Ink in color would be way cool, looking forward to what they have in store. Posted via my Nexus 5

I really, really hope that they are able to stick around for years to come.

I'm pretty certain they will. They'll just be the option for the low feature seeking and budget conscious. There's nothing wrong with that. Posted via the Android Central App

I love how my pebble adds value to my daily routine. Hopefully their new products keep doing the simple things well and with good battery life. Posted via the Android Central App on my OnePlus One

I am going back to the Pebble from my Wear device. The nightly charging bugs me more than the 'limitations' of the Pebble.

I went back to my Pebble Steel from my Moto 360 and I don't regret it for a single moment. I LOVE my Pebble and can't wait to see what comes next. Pebble is just a better fit for me.

Pebble, whatever you do, do not sacrifice battery life for a better display. Keep that five day battery life, and I'll buy the Pebble 2 without hesitation. Posted via the Android Central App

I was looking at maybe getting the basic $99 Pebble, but when I found a brand new LG G Watch for $10 more, it's not a contest. I picked the G Watch and have it shipping now. I'd much rather stick with Android Wear and think the functionality is much better there, and will only get even better with updates. Yes, I know the battery life is worse, but the added benefits of wear and much better display work for me. I don't mind charging....I mean I have to charge devices every day anyway. Can't wait to get the G Watch!

Can't wait ! My original pebble is holding up pretty well - performance and battery, but the body is too cheap and shows a lot of wear.
Love this watch Posted via the Android Central App

Fingers crossed for a heart rate sensor.

I love my Steel, it's a far better daily driver than the Gear 2 I tried for a few weeks. Posted via the Android Central App

I love my Pebble, and I can't wait to see what they have in store.
Android Central Newsletter
Get the best of Android Central in in your inbox, every day!
Thank you for signing up to Android Central. You will receive a verification email shortly.
There was a problem. Please refresh the page and try again.