Pebble Time Steel production begins this week, shipping to backers later this month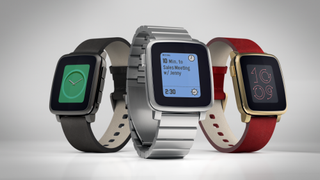 Pebble has announced that the Pebble Time Steel will begin production this week, and will begin shipping out to backers at the end of July. Backers who ordered their Steel a little later in the campaign should expect their tracking numbers at some point in August.
The Pebble Time Steel will ship out to some backers with both leather and steel bands, though due to limited availability, some backers will receive their metal bands later as a separate shipment. The metal band will not be included in retail units of the Pebble Time Steel, but will be sold as a separate accessory.
Pebble began shipping out the standard Pebble Time to backers in May, and everyone else can currently pre-order the watch from Best Buy right now.
Excellent, I won't get mine till the end of August probably but I am still excited.

I feel like I'm missing the hype. Except for not having to plug it in at night, it seems like every other feature is worse than the android or apple options. I guess it's cheaper than an apple watch but it's pretty ugly compared to just about everything else Posted via Android Central App

I think their value proposition vs android/apple watch is basically: always on, longer life, simpler. A bit less "smart" a bit more "watch" I guess. I ordered a steel, (backed?) because i liked the look overall and the interaction model, and always on display which also gets good life. However, if i want I suppose down the line i can nab a moto 360 or zenwatch for dirt cheep like 3 months after the new model comes out to experiment with.

Also: easily readable in bright sunlight and waterproof.
However, it also has a smaller, lower resolution screen compared to, for instance, a Sony SmartWatch 3 - i.e., 144x168 compared to 320x320. It's as if the Pebble screen is about one quarter of the SW3 screen.

If battery life isn't super important to you, then you're definitely better off with Android Wear or Apple Watch. Personally, I like having a smart watch, but not enough to justify having to charge it every night. The other options definitely offer more and better features, but the value added doesn't make me want to carry an extra charger with me wherever I go. Posted via the Android Central App

They're also completely waterproof, so outdoor types find them real useful. My friend keeps his smartphone in a water proof container while he goes sailing. Interacting with it solely with his Pebble. He can also trigger an SOS text with his LatLon using it, in case he gets separated from his sailboat. Posted via the Android Central App

Anyone know where I can pre-order the gold/red with white/red band? I can't seem to find that one. :(
Android Central Newsletter
Get the best of Android Central in in your inbox, every day!
Thank you for signing up to Android Central. You will receive a verification email shortly.
There was a problem. Please refresh the page and try again.